Image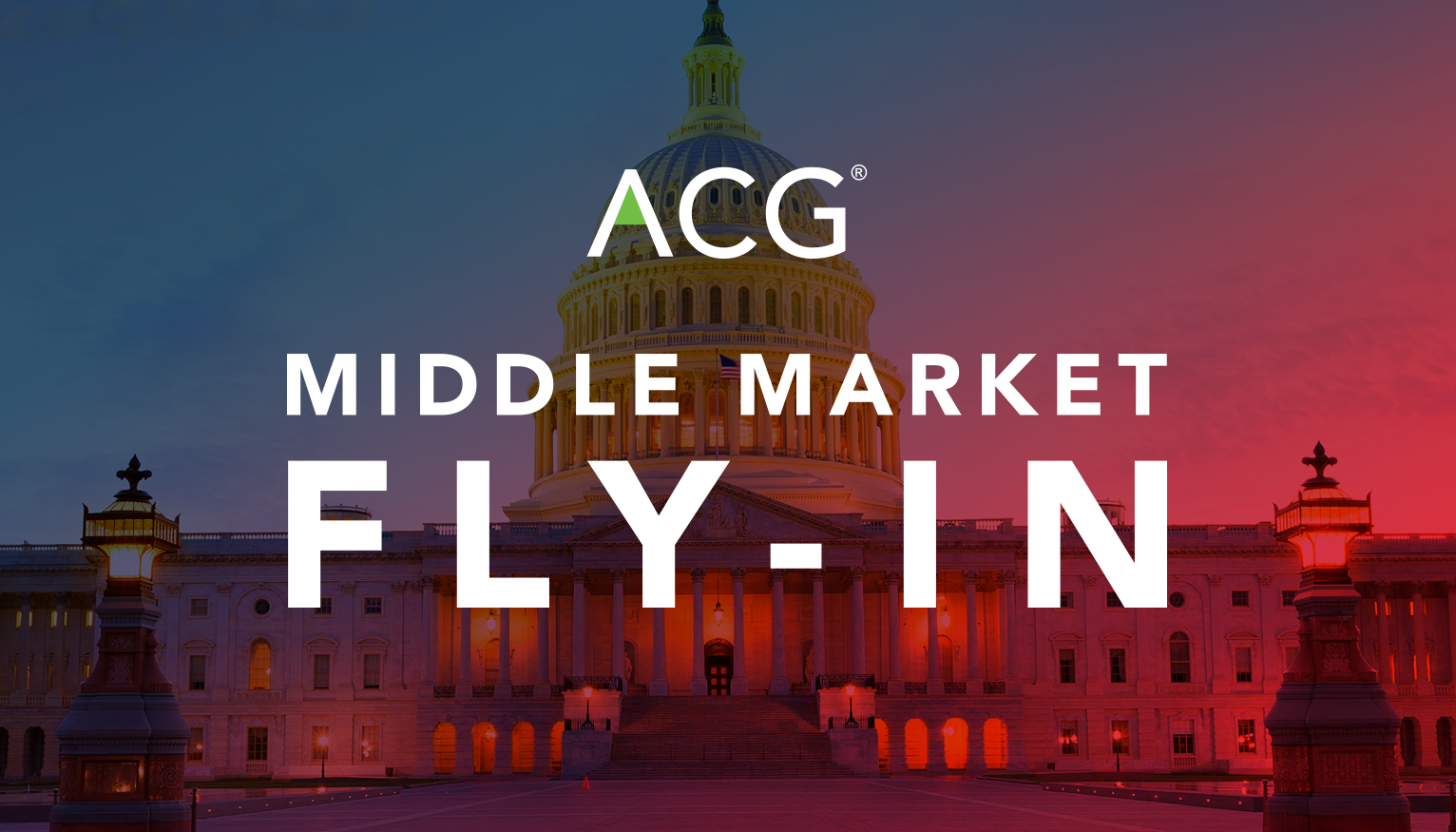 Event Details
When:
June 19, 2019 11 AM - 6 PM EDT
Where:
Location Name
Capitol Hill, Washington DC
Add to Calendar
Overview
Body
Join ACG for the annual Middle Market Fly-In on June 19 to strengthen the voice of the middle market on Capitol Hill! 
This is an exciting opportunity for ACG members from across the country to come together in Washington, D.C. to speak to their elected representatives about the important role played by the middle market in creating jobs and boosting revenue, as well as the need for policies that promote middle-market growth.
Take Your Seat at the Table. Despite the powerful impact of the middle market on the U.S. economy, it has historically has been underrepresented in policy discussions. By participating in ACG's Middle Market Fly-In, you will be given the chance to educate members of Congress and their staff about the middle market and to promote membership in the Congressional Caucus for Middle Market Growth. Contributing to these efforts helps to ensure that the middle market stays top of mind with policymakers.
Building Relationships with New Members of Congress is Critical. There are over 100 new House members, and 6 new Senators. Participating in ACG's Fly-In is a tremendous opportunity to get in on the ground floor of this new Congress to start building those relationships NOW. The meetings you will have during the Fly-In will enable ACG to have stronger ties with those offices in years ahead, furthering ACG's advocacy on behalf of the middle market.
Hearing Directly from Constituents is Effective. You have the best stories to tell, and members of Congress want to hear those stories directly from you. Data shows that in-person constituent visits are rated highest as having the largest positive influence on policy decision making than any other method of outreach.
No Experience on Capitol Hill is Necessary. Before embarking on your Capitol Hill visits, all ACG members will participate in advocacy training that will cover everything you need to know to have a successful (and fun!) afternoon of meetings. You will be provided with talking points and data to ensure that you have the most meaningful meetings possible. Each group will also be led by a chaperone to help you navigate Capitol Hill and offer assistance.
"Participating in the Middle Market Fly-In is an exciting way for ACG members to come to Washington, D.C. and directly support ACG's advocacy efforts on behalf of the middle market on Capitol Hill," said Maria Wolvin, ACG's Vice President and Senior Counsel of Public Policy. "ACG members represent the entire middle-market ecosystem and are perfectly positioned to tell the impactful stories of the middle market and how important pro-growth policies are to their business."
There is no cost to attend the Fly-In, but registration is required. Register today to tell the positive story of the middle market directly to policymakers!