Image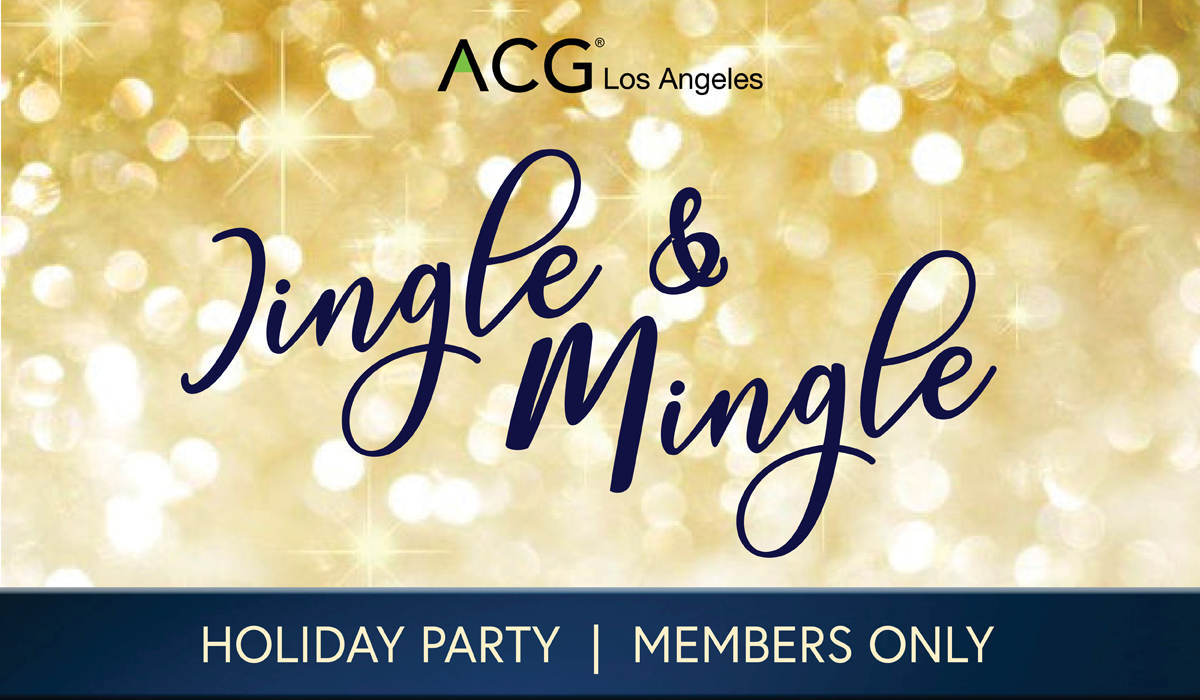 Event Details
When:
December 4, 2019 5:30 PM - 8:30 PM PST
Where:
Add to Calendar
Event Secondary Body
MEMBERS ONLY Holiday Party at Mr. C Beverly Hills. Members:$150  (Members may bring guests @$175/ea.)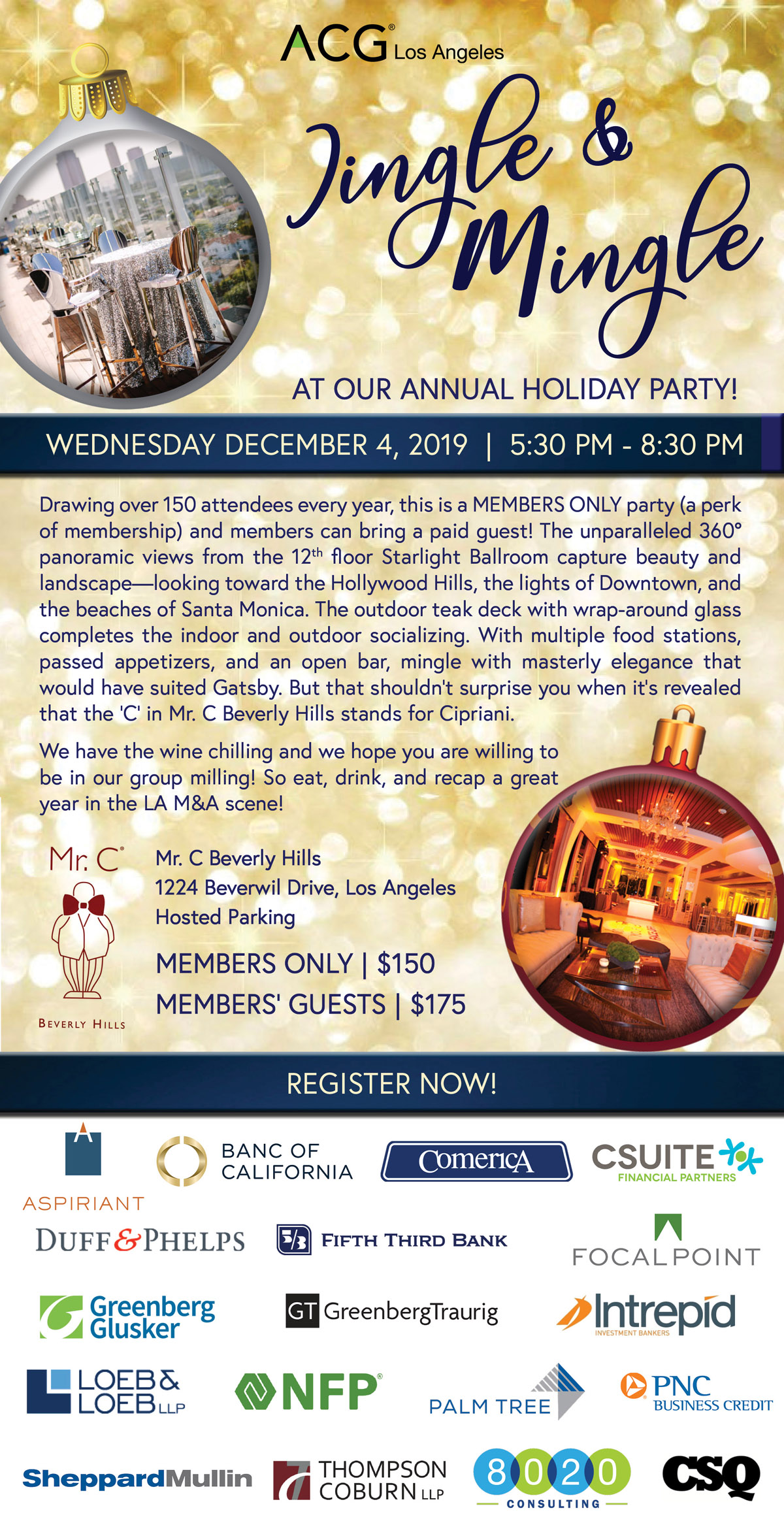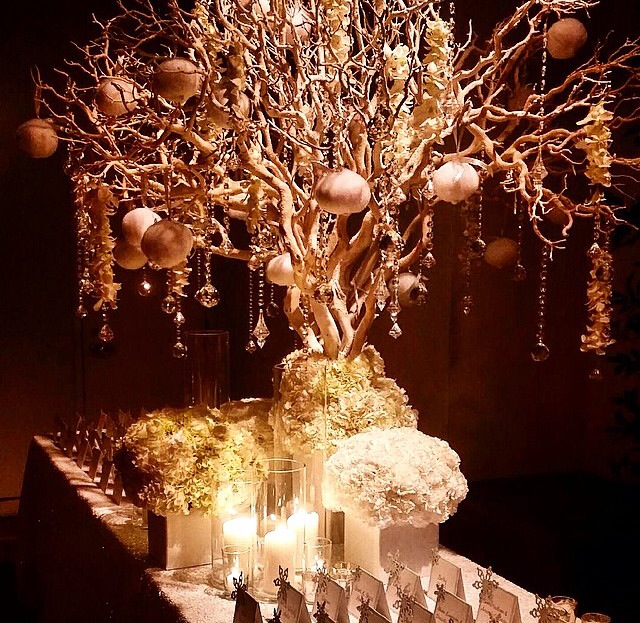 Hosted by:
ACG
Attendee List
Event Materials
Event Materials
The Class Acts of the Cipriani Family
Inside Mr. C Beverly Hills, time plays in a modish blend. Modern amenities and contemporary design mix and mingle with masterly elegance that would've suited Gatsby. But that shouldn't surprise you when it's revealed that the 'C' in Mr. C Beverly Hills stands for Cipriani.
In 1931, Giuseppe Cipriani opened Harry's Bar in Venice, Italy, what would become the first step toward a globally celebrated approach to class and luxury—and it was born out of generosity.
As drinker lore goes, while working as a bartender at a nearby hotel, Cipriani befriend a customer by the name of Harry Pickering, a sad American student who came to town at the insistence of his aunt to cure his alcoholism. When the young Bostonian wound up penniless, Cipriani loaned him 10,000 lire. A few years later, Pickering returned with 40,000 lire for his favorite bartender, explaining, "Cipriani, here you are. Thanks for the money. In gratitude, I'm adding another 30,000 lire so that you can open a bar of your own for high society."
And so Harry's Bar was born, eventually becoming a favorite spot for the likes of Ernest Hemingway and Humphrey Bogart.
From Favorite Bar to Favorite Brand
70 years later, Harry's Bar would become recognized as a national landmark. In that time, Cipriani developed the beloved watering hole into a world-renowned hospitality brand. These days, Cipriani is practically its own adjective, synonymous with luxury or class.
In total, Cipriani has restaurants in Abu Dhabi, Dubai, Hong Kong, Ibiza, Los Angeles, Mexico City, Miami, Monte Carlo, Moscow, New York, and Venice. Plus, the brand's responsible for Cipriani Club Residences in New York City, a Beaux-Arts masterpiece of 100+ apartments that look like movie sets. That's the team behind Mr. C Beverly Hills.
What's the concept behind Mr. C Beverly Hills?
Setting the stage for a new era in timeless, contemporary hospitality, Ignazio and Maggio Cipriani, fourth generation of a family internationally renowned for its restaurants, landmarked banquet spaces, clubs, and residences, have launched Mr. C, a signature hotel brand. Mr. C Beverly Hills represents a modern version of old-world simplicity, stylish European glamour, providing every guest with a comfortable, elegant, and effortless experience that blends contemporary amenities with discreet, personalized service.