Image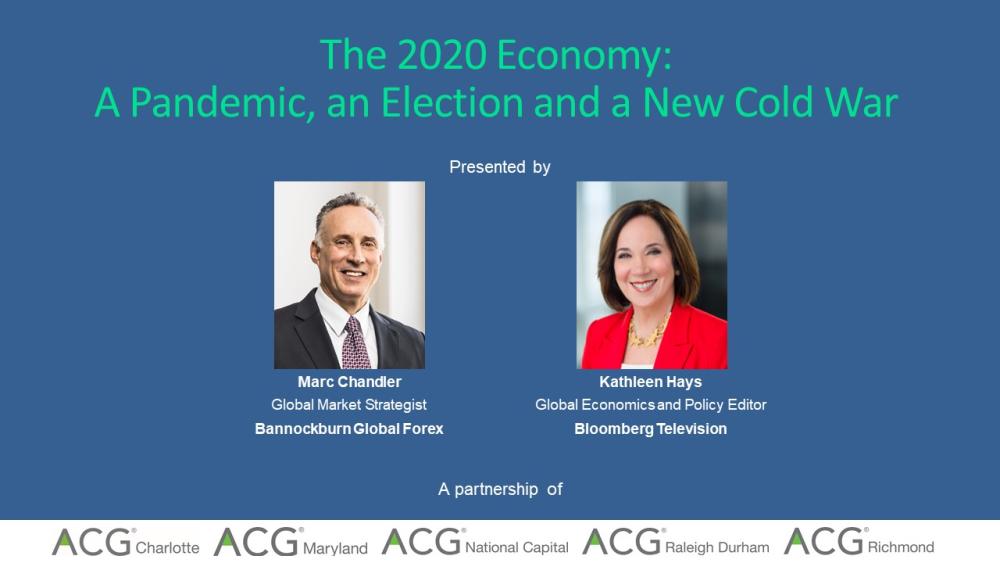 Event Details
When:
August 19, 2020 4 PM - 6 PM EDT
Cost:
Free - $25
Add to Calendar
Overview
Body
When in history has the U.S. economy been bombarded by so many major developments at once? A global pandemic, a national election and a tensing rivalry between two World superpowers. Combined, they've spun the U.S. economy into a vortex in recent months. Things are changing more swiftly than ever and it's difficult to make sense of it all. Join ACG Charlotte along with our partners ACG Maryland, National Capital, Raleigh and Richmond, for a thought-provoking analysis presented by Marc Chandler, Chief Market Strategist at Bannockburn Global Forex, and Kathleen Hays, leading economics reporter and anchor at Bloomberg Television. They will address the key issues impacting today's U.S. economic landscape and provide guidance on what we can expect
through the balance of 2020 and into 2021, attempting to answer today's most pressing economic questions:
How has the COVID-19 pandemic impacted the real economy and what long term impacts we can expect
What's next for U.S. monetary and fiscal policy?
Did Europe have its Hamiltonian moment?
What is the end game of the U.S./China rivalry?
What are the economic implications of the upcoming U.S. election?
How have and will middle-market companies and investors be impacted by the above?
Marc and Kathleen are experts at understanding economic drivers and ramifications and you won't want to miss this opportunity to engage with them. Questions can be submitted in advance to gwarlick@acg.org or during the program."