Image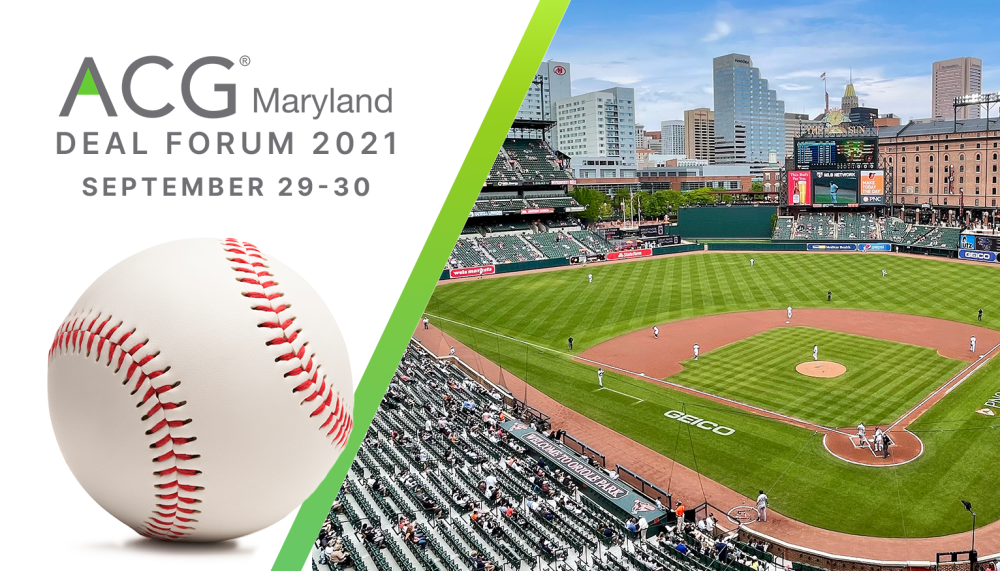 Event Details
When:
September 29 - 30, 2021
Where:
Overview
Get back in the game with ACG Maryland!
What better way to get back to hand-shaking and dealmaking than while enjoying America's favorite pastime?
Back for its 10th year, Deal Forum will bring together middle-market companies, executives, private equity groups, investment bankers, lenders, and attorneys from across the East Coast to discuss deal opportunities.
Join us in-person as the Baltimore Orioles take on the Boston Red Sox at iconic Oriole Park at Camden Yards for an evening of baseball, invaluable networking, and signature Chesapeake Bay cuisine and cocktails served among private, air-conditioned party suites.
Following the game, day two of the conference provides formal and informal opportunities to make connections and source deals via prearranged ACG DealSource meetings and open networking in the Deal Lounge.
In addition, highly decorated, former career combat Green Beret Colonel John Fenzel, who served as a White House Fellow during and after the September 11th terrorist attacks, will present "Resilience in the Face of Adversity & Opportunity from Crisis," a discussion on crisis leadership under perhaps the most trying circumstances of a lifetime.
Members and non-members, we hope to see you at "The Yard" in September, and we will be keeping up with all local and federal guidelines until then to ensure a safe and fun event.
September 29 – Baltimore Orioles vs. Boston Red Sox Baseball Game and Suite Party
5:30 p.m. | Oriole Park at Camden Yards
September 30 – ACG DealSource, Deal Lounge, and Keynote Address
8:00 a.m. – 4:00 p.m. | Sheraton Inner Harbor Hotel
Note: In an abundance of caution as COVID-19 infection numbers continue to fluctuate, we will now be requiring proof of COVID-19 vaccination or a negative COVID-19 test (taken within 72 hours of the event) for all attendees. By attending this event, YOU VOLUNTARILY ASSUME ANY AND ALL RISKS ASSOCIATED WITH EXPOSURE TO COVID-19 (CORONAVIRUS) and YOU HEREBY RELEASE, WAIVE, AND HOLD ACG AND ACG MARYLAND HARMLESS FROM ANY ILLNESS, INJURY, OR DAMAGES INCURRED BY YOU IN CONNECTION WITH YOUR ATTENDANCE AT THIS EVENT.
Thank you to our sponsors!