Image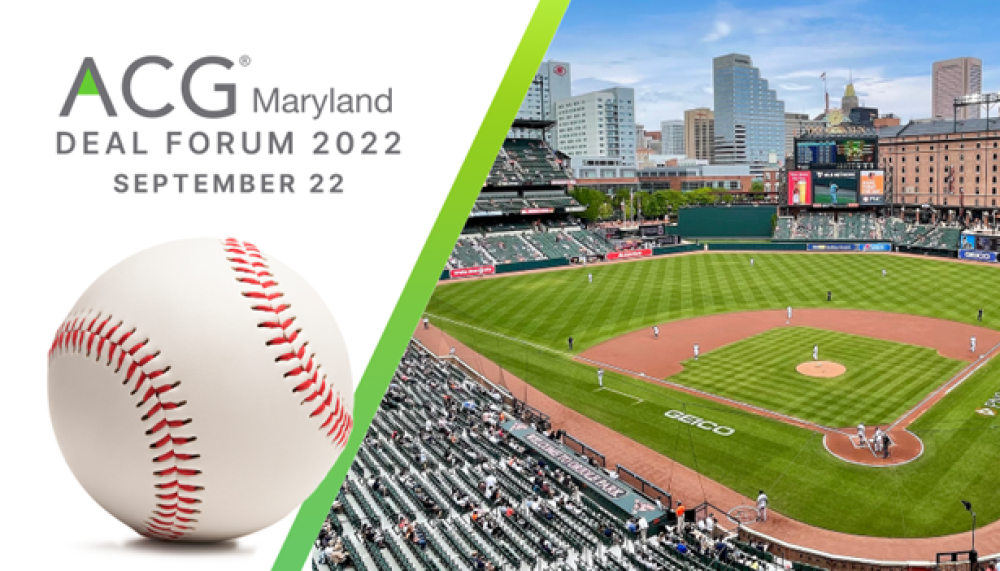 Event Details
When:
September 22, 2022 1 PM - 11 PM EDT
Where:
Location Name
100 Light Street Baltimore, MD 21202
Add to Calendar
Event Secondary Body
Get Back in the Game with ACG Maryland!
Join ACG Maryland for a full day of networking, providing an exclusive opportunity to connect with top middle-market deal-making professionals via pre-scheduled meetings in the "Deal Lounge."
After the Deal Lounge, continue the deal-making while enjoying America's favorite pastime as the Baltimore Orioles take on the Houston Astros at iconic Oriole Park at Camden Yards. An evening of invaluable networking and signature Chesapeake Bay cuisine and cocktails await—served among several contiguous air-conditioned suites.
Members and non-members, we hope to see you at "The Yard" in September!
Thursday, September 22
1:00 p.m. – 5:00 p.m. Deal Source/Networking, 4:00 p.m. – 6:00 p.m.  Orioles Lounge Open
The Center Club
100 Light Street, Baltimore, MD 21202
7:05 p.m. Game: Baltimore Orioles vs. Houston Astros
Oriole Park at Camden Yards
(Camden Yards corporate suites open at 6:00pm)
9:00 p.m. Extra Innings Party
Location: Hilton Hotel - Diamond Tavern
Companies attending Deal Forum 2022! 
ABS Capital Partners
ACA Aponix
Access Holdings
Alliant Insurance Services
Ares Management LLC
Avesi Partners LLC
Baker, Donelson, Bearman, Caldwell & Berkowitz, PC
Bank of America Merrill Lynch
BDO USA, LLP
Bessemer Investors
BGS Consulting
Black Diamond Financial
Brookside Capital Partners
Brown Brothers Harriman
Calvert Street Capital Partners
Camden Partners
Cerebro Capital
CFG Bank
Chessiecap Securities, Inc.
CIT Northbridge Credit
CohnReznick LLLP
Deerpath Capital Management
Dixon Hughes Goodman LLP
Eagle Private Capital
ECA Partners
Eclipse Business Capital
Edison Partners
Farragut Capital Partners
Fifth Third Business Capital
Firstrust Bank
FORVIS, LLP
Gladstone Capital 
Goodwin Procter LLP
Griffin Financial Group LLC
Gryphon Investors
Highview Capital
Huntington Business Credit
IMB Partners
Ironwood Capital
Kiinetics
Lafayette Square Partners
LFM Capital
Mad River Associates
Main Street Capital Corporation
Matrix Capital Markets Group
McCarthy Capital
Merrill Lynch
Miles & Stockbridge
MRE Partners
Murray Hill Associates, LLC
Nelson Mullins
New State Capital Partners
NewSpring Capital
Palladium Equity Partners
Parkway Capital Investors
Patriot Capital 
Petra Capital Partners
Phoenix Management Services, LLC
Pine Street Capital
PNC Business Credit
PNC Mezzanine Capital
PNC Riverarch Capital
Radien Legacy Partners
Route 2 Capital
Saul Ewing Arnstein & Lehr LLP
SC&H Capital
Slate Capital Group
Spring Capital Partners
SPS by Bain 
SSG Capital Advisors LLC
Stanton Chase International
Steeplechase Advisors LLC
Stradley Ronon Stevens & Young, LLP
SunTrust Bank
Tecum Capital Partners
Tenex Capital Management
The Brynavon Group
The Edgewater Funds
Truist Bank
Turnout Industries
U.S. Bank Asset Based Finance
US Bank Asset Based Finance
USI Insurance Services
Venable LLP
Vion Investments
Webster Bank
Wells Fargo Advisors, LLC
White Oak Global Advisors, LLC
Womble Bond Dickinson
Interested in sponsoring Deal Forum 2022? Email kabaidoo@acg.org 
SPECIAL THANKS TO OUR DEAL FORUM SPONSORS! 
Hosted by:
ACG
Attendee List
Event Materials
Event Materials
While we do not have a room block for Deal Forum 2022,below are two hotels in close proximity to the venues. 
Hotel Accommodations  
Baltimore Marriott Inner Harbor at Camden Yards
110 South Eutaw Street
Baltimore MD 21201
https://www.marriott.com/en-us/hotels/bwiih-baltimore-marriott-inner-harbor-at-camden-yards/overview/?scid=5fe93e78-7dbe-4f8f-a1d5-922a897611ee&gclid=EAIaIQobChMI5pbPyKa4-QIVk0lyCh1jzQAEEAAYASAAEgJY8PD_BwE&gclsrc=aw.ds
Hilton Hotel
401 W. Pratt Street
Baltimore, MD 21201
https://www.hilton.com/en/hotels/bwicchh-hilton-baltimore/