Image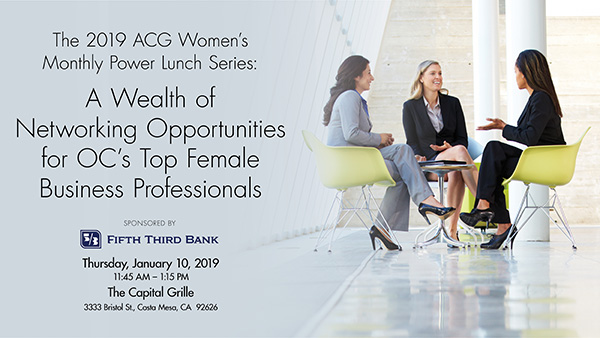 Event Details
When:
January 10, 2019 11:45 AM - 1:15 PM PST
Where:
Location Name
The Capital Grille - 3333 Bristol Street Costa Mesa, CA 92626
Add to Calendar
Overview
Body
In ACG's Orange County (OC) chapter, the Women in Leadership Committee is designed to bring unity, networking, business resources and support to the women's sector of our membership. ACG OC recognizes the need to provide women with opportunities to maximize their networking efforts in the marketplace. We feature monthly women's luncheon events and several larger events throughout the year to foster and facilitate career growth and business development. For more information about how you can get involved, please contact Laurel Mann at laurelmann@puruswm.com. Join us for lunch on the 1st Monday of each month (unless a Holiday moves the date) at the Capital Grille at South Coast Plaza and connect with women like yourself, doing business in Orange County. Seating is limited to 25, so please RSVP early. Be prepared with an introduction about who you are and what you do, what you are looking for in referrals and how you can help others network their way to success!
Hosted by:
ACG
RSVP by:
RSVP Deadline
January 8, 2019 12am