Image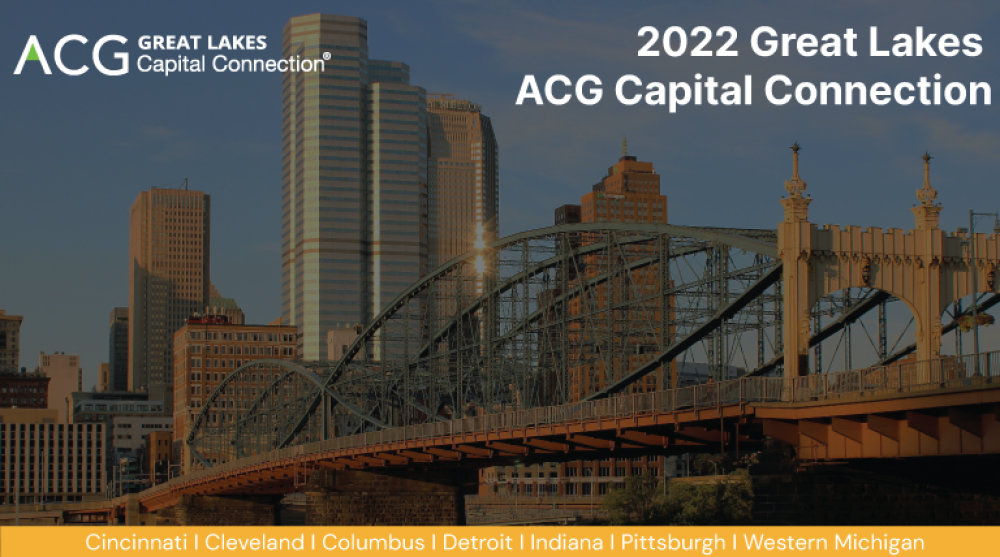 Overview
Body
This registration page is for ACG members ONLY.  For Non-member registration, Capital Connection, and DealSource tables please register at :  https://acg-glcc.org/events?id=11
We are accepting sponsorship for the 2022 GLACGCC. Click here for more information.
Questions? Contact Kelly Szejko at kelly@acg.org or 412-228-5885.
The Great Lakes ACG Capital Connection Conference is a dynamic networking, deal-sourcing and educational event that attracts a virtual who's who of middle market M&A professionals from across the country. It is a collaborative effort of seven ACG Chapters from the Midwest & Mid-Atlantic regions.
Each year, this high-energy event brings together more than 1,000 M&A professionals for incredible deal sourcing opportunities, networking and insights into the biggest trends in corporate growth, finance and exits.
---
Cancellations received via email at least 3 business days from the event will be granted a refund, less a 20% administrative fee. Cancellations received after the cut-off date (3 days prior to) are not eligible for a refund. However, registrations can be transferred without penalty to another representative from the same company for the same event, with advanced notification to organizers. If the replacement representative is not a member of the association, the firm will be responsible to pay the difference between the member vs. non-member rate (this will vary depending on the event).
Picture/Video Policy: Registration implies consent that any pictures or video taken during the event can be used for promotional purposes. ACG Pittsburgh is able to use your likeness without remuneration.
---
The GLACGCC takes your health and safety seriously. However, despite our efforts, as at any public gathering, there is a risk of contracting COVID-19 at our event. Given this risk, by registering, you agree that YOU ARE ATTENDING THIS CONFERENCE AT YOUR OWN RISK regarding the special dangers associated with COVID-19. Further, you are agreeing to comply with any requested safety protocols, and you agree that you will not attend the program if you are experiencing any symptoms of COVID-19, or if you have knowingly been in contact with persons who have tested positive for COVID-19.