Image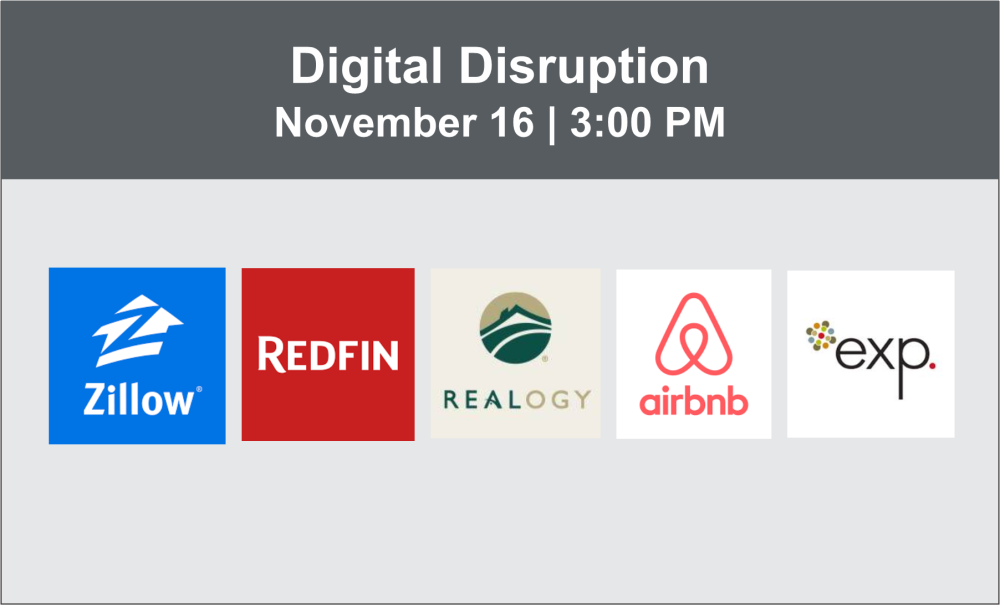 Event Details
When:
November 16, 2021 3 PM - 4:15 PM PST
Where:
Add to Calendar
Overview
Body
VIRTUAL EVENT
Accelerating Digital Disruption in Residential Real Estate
Tom White, D.A. Davidson, Veteran Equity Analyst

Join us for a topic that we can all relate to...residential real estate. Tom will highlight numerous innovative companies and trends that he follows in the residential arena including companies like; Zillow, Redfin, Compass, Realogy, eXp World Holdings, Airbnb and more.
A veteran equity analyst, Tom has been working in sell-side equity research for over 15 years. Tom joined D.A. Davidson in December 2017 to cover U.S. Internet companies. Prior to Davidson, Tom spent seven years as a senior Internet analyst at Macquarie Capital. Before Macquarie, Tom was an Internet analyst at Gleacher & Company and a research associate at UBS Securities covering the Internet/Interactive Entertainment sectors. Before Wall Street, Tom spent five years working in the internet advertising industry, including four years in various sales and business development roles at ValueClick, Inc. Tom holds a bachelor's degree in economics from Hamilton College and a master's degree in finance from the Fordham University Graduate School of Business. Tom is a frequent contributor to national news/TV outlets including CNBC, Bloomberg TV, Fox Business, and others.
Analyst awards: StarMine's "#3 Earnings Estimator" in Interactive Media & Services (2020).
A link to the event will be emailed to all registrants the day prior to the event.

Hosted by:
ACG
RSVP by:
RSVP Deadline
November 15, 2021 11pm