Image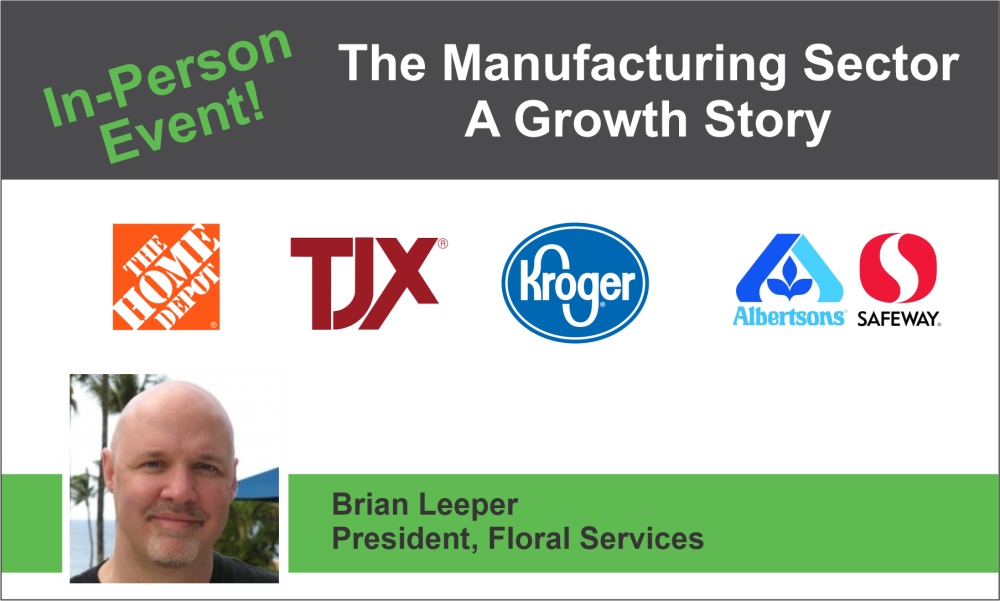 Event Details
When:
February 23, 2022 4 PM - 6 PM PST
Where:
Location Name
Embassy Suites, Washington Square
Add to Calendar
Overview
Body
The Manufacturing Sector, A Growth Story

Meet Brian Leeper, an astute business leader who knows how to win and how to create sustainable profit streams in high growth companies.Brian will discuss challenges and successes around the following:
   Developing Products
   Building and Launching Brands
   Acquiring Customers
   Raising Capital
   eCommerce
   Operations and Supply Chain
  Global Sourcing & Procurement
Brian is President of Floral Services. The company provides everything but the flowers. He has products in Home Depot, TJX Companies (HomeGoods, Marshalls, T.J. Maxx), Krogers, Albertsons, Safeway, and soon to be in Costco. Join us to hear how Brian has lead this company through exponential growth over the last five years.
DATE 
| February 23
TIME 
| 4:00 pm - 6:00 pm
COST | No cost for Members, Non-members $75
COVID PROTOCOL | Proof of COVID-19 vaccination or a negative PCR test within 72 hours of the event is required.
Hosted by:
ACG
RSVP by:
RSVP Deadline
February 22, 2022 11pm