Overview
Body
We have come to the difficult but necessary decision to transition our in-person 2020 Northwest Middle Market Growth Conference to a virtual version for the health, safety, and comfort of all attendees and sponsors.
We're working hard to bring you a different—but equally impactful—digital version of the conference, and we look forward to connecting with middle market leaders through an online experience on Thursday, September 24, 2020 from 8:00 a.m. - 5:00 p.m. PT.
This year's conference features: live sessions; attendee directories; increased and easy to navigate live networking experiences including pre-scheduled and on-the-spot private meetings; interactive sponsor gallery; and zero traffic! With our customized platform, we will be able to offer our attendees and sponsors even greater benefit through this innovative virtual experience.
We appreciate your patience while we continue to construct the Northwest Middle Market Growth Conference virtually in 2020.  In the meantime, we welcome any insights you want to share with us at karin@acg.org.
Event Secondary Body
ATTENDEES RECEIVED LOG IN DETAILS TO THE CONFERENCE PLATFORM.
CONTACT KARIN@ACG.ORG IF YOU DID NOT RECEIVE YOUR LOG IN EMAIL. ALL SESSIONS AND NETWORKING WILL TAKE PLACE ON THE CONFERENCE PLATFORM. 
AGENDA
Live Sessions
9:00 AM - 10:00 AM I M&A and Financing Update - Capital Formation and Doing Deals in a COVID-19 World 
The panel will explore the M&A and leveraged finance marketplace in the midst of a pandemic: how deals are getting done, and how the M&A and financing markets will likely be changed forever. Panel features: Dave Dandel, Managing Partner, Pike Street Capital; Jerod Pierce, Managing Partner, Olympic Holdings; Alex Rolfe, Co-Founder and Managing Partner, Rainier Partners; Erik Tolzmann, Co-Founder and Partner, Westward Partners; Nizar Tarhuni, Director, Research & Analysis, Pitchbook Data; and Moderator Cameron Hewes, Head of Middle Market M&A, BMO Capital Markets.
11:00 AM - 12:00 PM I Leadership in Challenging Times
Join ACG Seattle MAKERS and our panelists for an insightful session regarding Leadership in Challenging Times. The struggles of businesses this year are well-known.  In this hour-long session, Lisa Bridge, CEO of Ben Bridge Jeweler, Kira Druyan, General Counsel & SVP for MOD Pizza, and Rebecca Lovell, Executive Director of Create33 will focus more broadly on what organizations can do well during tough times. Drawing on their experiences as women leaders of a diverse range of organizations, Lisa, Kira, and Rebecca will discuss challenges they have seen organizations face and what factors helped those organizations address those challenges. They'll explore the qualities of effective leadership and the ability to navigate a crisis or other times of transition. We hope attendees of this session will come away with guidance that they can bring back to their own organizations. Panel features: Rebecca Lovell, Executive Director, Create 33; Kira Druyan, General Counsel and Senior Vice President, MOD Pizza; and Lisa Bridge, President and CEO, Ben Bridge Jeweler.
12:00 PM - 2:00 PM I Open Networking
2:00 PM - 3:00 PM I Capital Solutions for Financially Stressed Companies 
The panel will explore capital solutions for cash flow– and capital-stressed companies. Panel features: Sara Chenetz, Partner, Perkins Coie; John Horner, Director, Restructuring and Transaction Services,Moss Adams, LLP; Brandon Kirkbride, Regional Credit Executive, Bank of America; Joseph Lace, Executive Director,J.P. Morgan; and Moderator Annette Becker, Practice Area Leader – Corporate, K&L Gates.
3:00 PM - 5:00 PM I Open Networking
Meetings
8:00 AM - 5:00 PM I Networking and Sponsor Gallery I One-on-one meetings (prescheduled or on-the-spot)
Image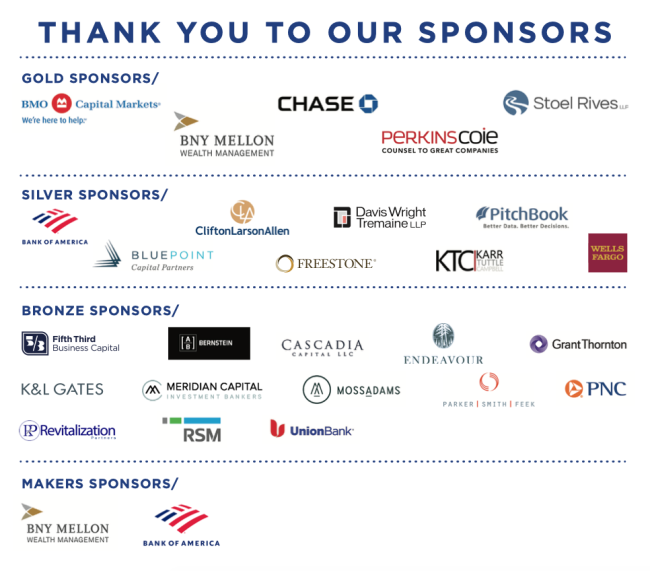 Hosted by:
ACG