Image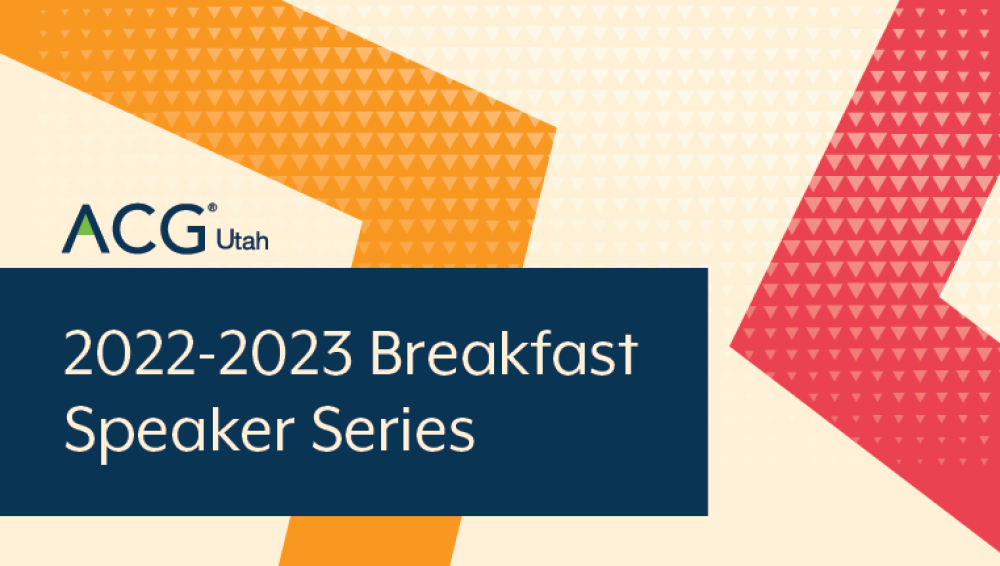 Event Details
When:
March 21, 2023 7:15 AM - 9 AM MDT
Where:
Location Name
Marriott City Center
Add to Calendar
Overview
Body
Be the new normal.
 
In a time of rapid change and ongoing uncertainty, the Utah business environment continues to stand out over many other US markets. ACG Utah offers unique opportunities through an extensive networking event calendar, where we drive innovation, disrupt the status quo and foster change-makers. Our goal is to inspire you to join our network as we lead through change in uncommon ways.
 
March sponsor: KeyBank hosted at Marriott City Center (220 South State Street, SLC, UT 84111) with validated self-parking
Agenda:
Registration & Networking: 7:15 am - 7:45 am
Meeting & Speaker Presentation: 7:45 am - 9:00 am
Meet Our March Breakfast Series Speakers:
Tanner is the Founder & Chief Executive Officer of Banner and oversees all of our firm's investment activities. He also serves as CEO of Banner Acquisition Corp. (NASDAQ: BNNR).
Throughout his career as a private equity investor, M&A attorney and executive of an acquisitive publicly traded company, Tanner has helped create value for business owners in a wide variety of industries and size ranges, with transactions ranging from $5 million to over $5 billion in enterprise value. He began his career in private equity with HGGC and later advised some of the leading private equity firms in their buyout transactions as an attorney with Kirkland & Ellis LLP.
In the realm of public service, Tanner serves as a reservist JAG officer in the Utah Army National Guard and served on the Utah County Board of Commissioners from 2019–2021. He was also appointed to serve on the Governor's Economic Development Board for the State of Utah.
Tanner received a Bachelor of Arts in International Studies from Brigham Young University and a Juris Doctor from Northwestern University School of Law.
An experienced executive, bestselling author, and keynote speaker, Shawn Moon inspires others to become leaders through personal effectiveness and execution.

Shawn served as FranklinCovey's Executive Vice President of Strategic Markets and continues his work with the firm as a senior consultant. As EVP, he was responsible for all of FranklinCovey's global direct operations, including the company's North American operations, U.K., Japan, Australia offices, and the U.S. Government Services group.He also led FranklinCovey's Execution, Speed of Trust, Customer Loyalty, and Sales Performance Practices. He is the author or co-author of several books, including The Ultimate Competitive Advantage, Talent Unleashed, Building a Winning Culture in Government, and Leading Loyalty.
Shawn serves as the Chief Executive Officer at Zerorez Franchising Systems. Zerorez is the industry leader in removing contaminants from carpet and holds the highest rating of "Platinum" by the Carpet and Rug Institute.
Cost: 
Free: ACG Utah Members
$30: Nonmember discount for the first two breakfast meeting attendances
$45: Nonmember price after attending two meetings at the discounted rate
Your safety is of our utmost concern. All attendees will be required to follow Marriott's safety guidelines.  Hand sanitizer and masks will be provided if required.
By attending this event, YOU VOLUNTARILY ASSUME ANY AND ALL RISKS ASSOCIATED WITH POTENTIAL EXPOSURE TO COVID-19 (CORONAVIRUS) and YOU HEREBY RELEASE, WAIVE AND HOLD ACG UTAH HARMLESS FROM ANY ILLNESS, INJURY OR DAMAGES INCURRED BY YOU IN CONNECTION WITH YOUR ATTENDANCE AT THIS EVENT. 
Sponsors