Image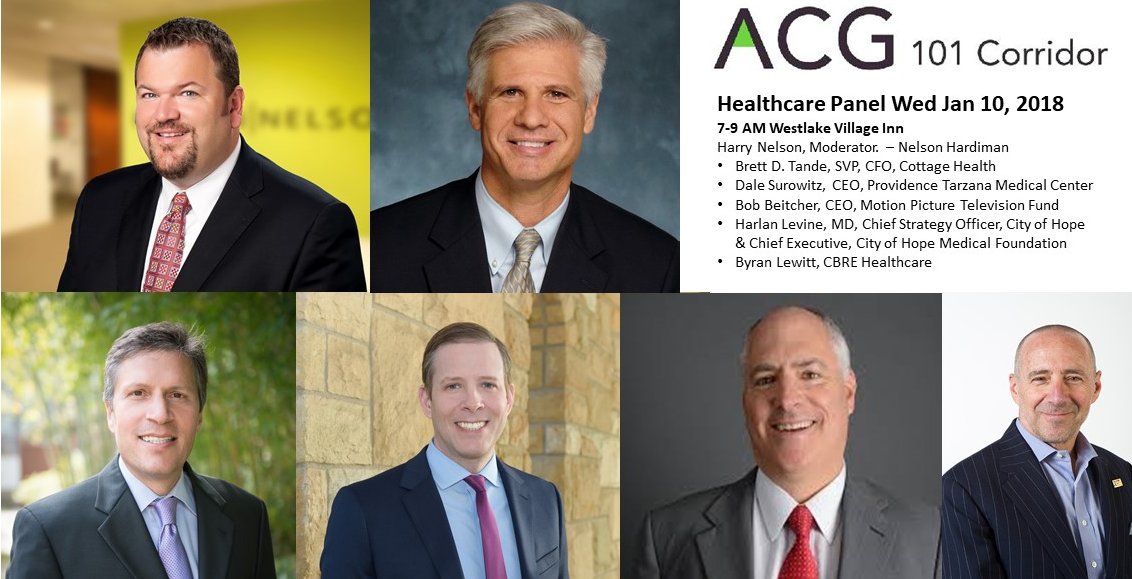 Event Details
When:
January 10, 2018 7 AM - 9 AM CST
Where:
Location Name
Westlake Village Inn, Provence Ballroom
Add to Calendar
Overview
Body
Healthcare – The Year Ahead
 
Healthcare is one of the fastest growing and most dynamic sectors of the business community on the 101 Corridor.  Join us as we welcome some of the leading voices in healthcare in the region to our panel, moderated by Harry Nelson, Attorney at Nelson Hardiman and author of "From Obamacare to Trumpcare" with an Industry Overview presented by Bryan Lewitt, Director of CBRE Healthcare and welcoming new sponsor Jason Booth, Managing Partner of Green Hassen Janks' Healthcare Practice.
Speakers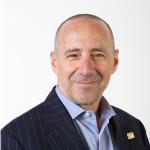 Bob Beitcher
President and CEO
MPTF (Motion Picture and Television Fund)
Bob Beitcher has been the chief executive officer and president at MPTF since July 2011. Previously, Bob was president and chief executive officer of Panavision and vice-chairman of the MacAndrews and Forbes Media Group. He joined Consolidated Film Industries in 1997 as president and chief executive and served in that position until 2000 when the company was acquired by Technicolor. At Technicolor, he created the Creative Services group, which remains an industry leader in post-production and media distribution services.
Earlier in this career, Bob was vice president, Business Affairs at Lucasfilm Ltd and managing director of Jim Henson Productions. He has been a director of MPTF since 2007. He is on the board of directors of start-up SynOnSet, and serves on the advisory board of the Arri Rental group, the Finance Committee and Investment Committee of the Academy of Motion Picture Arts and Sciences, the advisory board of the Jewish Graduate Student Initiative, and SpringBoard Health Initiative.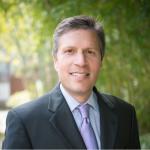 Harlan Levine, M.D.
President, Strategy and Business Ventures
City of Hope
Harlan Levine, M.D., is president of strategy and business ventures for City of Hope and a member of the CEO Council. In this role he is accountable for strategy, growth, business development, marketing, product innovation & commercialization, payer strategies, the Center for International Medicine, and the management of the medical group practice.
Prior to City of Hope, Dr. Levine held executive roles at United Health Group, Towers Watson, and WellPoint, Inc., and has served on multiple advisory roles including for IBM's Watson Healthcare Board of Advisors, Medtronic for Population Health, and currently serves as a strategic advisor for Quantum Health, and the Executive Advisory Council for California Lutheran University's School of Management.  He received his undergraduate degree from Harvard College and medical degree from University of California, San Francisco, and he is board certified in Internal Medicine.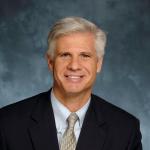 Dale Surowitz
Providence Tarzana Medical Center
Chief Executive Officer
Dale Surowitz is the Chief Executive at Providence Tarzana Medical Center. In 2008, he played an integral role in assuring the Tarzana campus was acquired by Providence and became known as Providence Tarzana Regional Medical Center.  This transition from an investor owned, for profit institution, to a not for profit, faith based hospital of Providence Health and Services is the one the first hospitals in the state to accomplish this transition.  
Providence Tarzana Medical Center is embarking on a $540 Million campus replacement project which will be completed in 2022.  Some of the renowned programs and services at Providence Tarzana include a joint venture with Children's Hospital Los Angeles which together provide 24 hour in-house physician coverage for the Pediatric and Pediatric Intensive Care units as well as the Neo-natal Intensive Care unit.  The hospital has developed outstanding clinical programs in Women's Services, Cardiology, Vascular Services, and numerous other clinical areas.  This has resulted in national recognition for a variety of clinical services including the distinction of being the only Providence hospital to receive the HealthGrades Top 100 Hospitals in America three years in a row. 
Dale has been involved in many business and civic organizations, serving on numerous boards of directors in the San Fernando Valley.  Dale and his wife, Brenda, are longtime residents of Tarzana.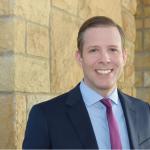 Brett D. Tande
Cottage Health
Senior Vice President and Chief Financial Officer
Brett D. Tande is Senior Vice President and Chief Financial Officer of Cottage Health, which operates hospitals in Santa Barbara, Goleta Valley and Santa Ynez Valley.
Previously, Brett served as Vice President of Finance and West Region Chief Financial Officer for Northwestern Memorial Healthcare in Chicago. His responsibilities included the financial leadership of two hospitals, a regional medical group, and various ambulatory services. 
Prior to his role at Northwestern Medicine, Mr. Tande was Vice President and Treasurer for Cadence Health in Winfield, IL. He also spent seven years in New York City with Morgan Stanley as an Executive Director in its Institutional Securities Division.  Brett earned his Masters in Business Administration at the Kellogg School of Management at Northwestern University, and a Bachelor of Science in Business Administration at Washington University in St. Louis. Brett lives in Santa Barbara with his wife, Alexis, and three children.
Event Secondary Body
Title Sponsor:  Nelson Hardiman
Industry Sponsor:  CBRE
Supporting Sponsors: Green Hassen Janks
Hosted by:
ACG
Sponsors