Image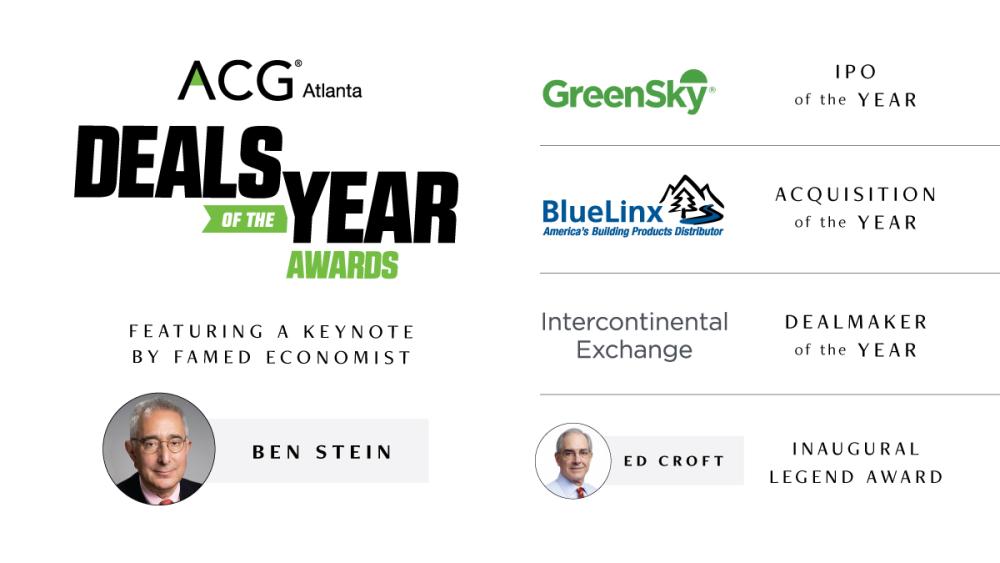 Event Details
When:
November 13, 2018 5:30 PM - 9:30 PM EST
Where:
Location Name
Atlanta History Center
Add to Calendar
Overview
Body
The Deals of the Year event recognizes several M&A deals and dealmakers worthy of distinction in our market.
This year we will honor the following Deals & Dealmakers:
IPO of the Year - GreenSky
Dealmaker of the Year - Intercontinental Exchange (ICE)
Acquisition of the Year - BlueLinx Holdings
We will also be awarding the Inaugural Legend Award to Ed Croft.
Details:
November 13, 2018
Atlanta History Center - 130 West Paces Ferry Road NW, Atlanta, GA 30305
5:30pm-9:30pm
You don't want to miss this spectacular evening!
Individual Tickets and Tables are available. 
Attendance is limited.
ACG Atlanta strongly encourages all attendees to use designated drivers or ride share services from any event where alcohol is served. 
Limited Sponsorship opportunities are still available, Please contact ACG Atlanta's Executive Director, Melanie Brandt at
mbrandt@acg.org
Event Secondary Body
Accepting the Award for GreenSky will be David Zalik - CEO
Mr. Zalik, founder of GreenSky, has served as CEO since the Company's inception in 2006. Mr. Zalik works intimately with the Company's product development and risk management teams to drive innovation and advance the Company's customer value proposition. A serial entrepreneur, Mr. Zalik built his first company, MicroTech Information Systems, at the age of fourteen while attending college at Auburn University.
Prior to launching GreenSky, Mr. Zalik founded and successfully operated companies in the technology automation, real estate, and e-commerce sectors. A frequent speaker on a variety of "Entrepreneur" and "Tech" topics, Mr. Zalik was recently named the winner of the 2016 National EY Entrepreneur of the Year Award for Financial Services, the recipient of the 2014 "Top Tiger" Award from the Raymond J. Harbert College of Business at Auburn University, a past recipient of the 2003 Catalyst Entrepreneur of the Year Award, and a recipient of the 2000 Jewish Federation of Greater Atlanta Young Leadership Award. In the past year alone, Mr. Zalik's accomplishments with GreenSky have been chronicled widely, including feature articles in the Wall Street Journal, Businessweek, and Forbes.
Mr. Zalik has served on the boards of a number of closely-held companies, along with select not-for-profit organizations in the metro Atlanta area. In partnership with his wife Helen, Mr. Zalik is the proud parent of three grade school age daughters.
Accepting the Award for Intecontinental Exchange will be Ben Jackson - President
Ben Jackson is President of Intercontinental Exchange, Inc. (NYSE: ICE). Jackson is responsible for coordinating ICE's global futures and OTC trading businesses. Additionally he leads the integration planning and execution of ICE's acquisitions and joint ventures. He also serves on the Commodity Futures Trading Commission Energy and Environmental Markets Advisory Committee.
Jackson previously served as Chief Commercial Officer for Intercontinental Exchange, and prior to that President and Chief Operating Officer of ICE Futures U.S. Jackson joined ICE in July 2011 from SunGard, a leading software and technology provider to commodity market participants. At SunGard, he led the company's energy and commodities business segment as Senior Executive Vice President. Prior to that, he served as President of SunGard's Kiodex commodity risk management platform.
Jackson earned a Bachelor of Science degree in economics from John Carroll University with supporting studies at the London School of Economics and Political Science.
Accepting the Award for BlueLinx Holdings, Inc. will be Mitch Lewis - President & CEO and Shyam Reddy - Chief Transformation Officer
Mitchell B. Lewis has served as our President and Chief Executive Officer, and as a Director of BlueLinx Holdings Inc., since January 2014. Mr. Lewis has held numerous leadership positions in the building products industry since 1992. Mr. Lewis served as a director and as President and Chief Executive Officer of Euramax Holdings, Inc., a building products manufacturer, from February 2008 through November 2013. Mr. Lewis also served as Chief Operating Officer in 2005, Executive Vice President in 2002, and group Vice President in 1997 of Euramax Holdings, Inc. and its predecessor companies. Prior to being appointed group Vice President, Mr. Lewis served as President of Amerimax Building Products, Inc. Prior to 1992, Mr. Lewis served as Corporate Counsel with Alumax Inc. and practiced law with Alston & Bird LLP, specializing in mergers and acquisitions.
Shyam K. Reddy has served as our Chief Transformation Officer since April 2018. As such Mr. Reddy is responsible for leading the integration of the Cedar Creek and BlueLinx businesses. From June 1, 2015, until April 2018, Mr. Reddy served in multiple roles, including Senior Vice President, Chief Administrative Officer, General Counsel, and Corporate Secretary. Prior to joining us, Mr. Reddy served as Chief Administrative Officer, General Counsel, and Corporate Secretary of OmniMax International, Inc. Prior to joining OmniMax, Mr. Reddy was the Regional Administrator of the Southeast Sunbelt Region of the U.S. General Services Administration from March 2010 to March 2013. Prior to accepting the Presidential Appointment at the U.S. General Services Administration, Mr. Reddy practiced corporate law as a partner in the Atlanta office of Kilpatrick Townsend & Stockton. 
**Predictions and/or opinions expressed by the speakers are their own and do not necessarily reflect those of the broader ACG organization, its members or its sponsors**
Hosted by:
ACG
Event Materials
Event Materials
2018 Honorees:
IPO of the Year:
Dealmaker of the Year:
Acquisition of the Year:
Inaugural Legend Award:
Join us as a sponsor!