Image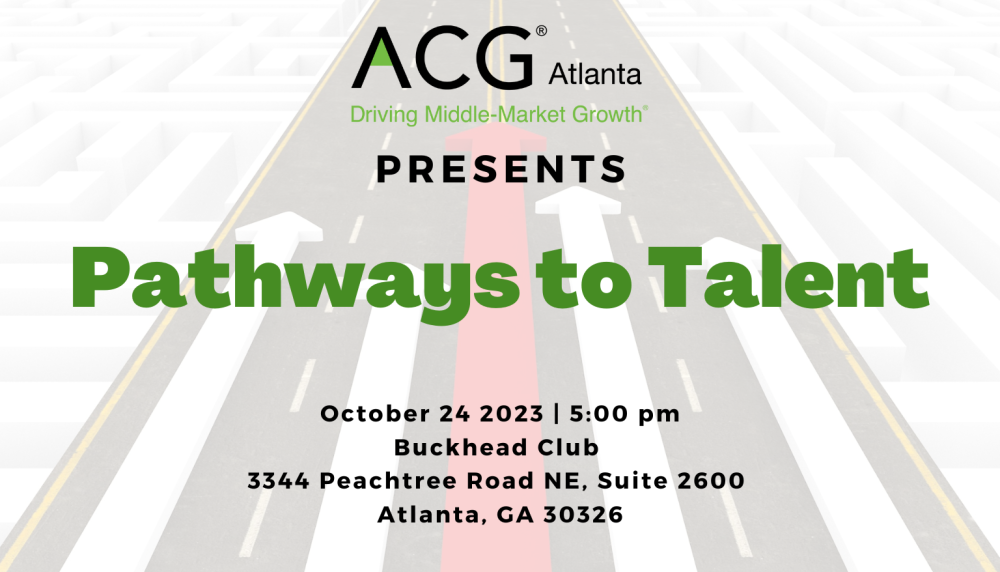 Event Details
When:
October 24, 2023 5 PM - 8 PM EDT
Where:
Location Name
Buckhead Club
Add to Calendar
Overview
Body
To advance our D.E.I. objectives in 2023, we have developed a theme-centered campaign entitled The Pathways Series. The premise of our event series is to establish a platform for prospective, new, and existing members of our M&A Community to receive and participate in thought leadership, education, and resource sharing historically perceived as inaccessible or isolated to the realm of private equity and capital management elite. We chose this theme as an opportunity to foster heightened educational awareness, visibility, professional connections, and access to fiscal management tools, resources, and asset channels for personal business owners and associated M&A scholars, practitioners, and leaders.
Pathway to Talent
In an increasingly competitive landscape, companies and business owners must reimagine the traditional playbook of business. It is time to think outside of their conventional methods and embrace the forward-thinking approach to diversity and to attract quality talent. 
Our panelists will describe their approaches to practice management on topics such as developing a culture in line with their corporate philosophy, employee hiring, development, and retention. Key topics include:
- Embracing Diversity
- Equity & Fair Practice
- Inclusion as a Competitive Advantage
Engage in candid discussions, ask questions, and collaborate with your peers who are also discovering a new approach to building a diverse organization committed to the success of their team and, therefore, the company.
Join us for a thought-provoking panel discussion on "Pathways to Talent." The program will be moderated by Kirk Wilkerson in addition to a panel focused on talent in the state of Georgia and beyond. Don't miss out on this opportunity to hear from our expert panelists, who will explore the challenges and opportunities faced by middle-market businesses in accessing talent while promoting DE&I within the M&A space.
Register now to secure your spot!
Open to ALL.
Sponsors