Image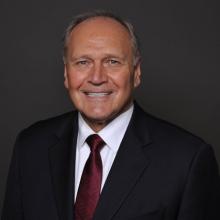 Widely recognized as one of the best operating executives in the United States, Bob Nardelli has grown the sales and profits of a number of multi-national corporations. During his nearly 30-year tenure at GE, he quadrupled operating profits for GE Power Systems.  As chairman and CEO of The Home Depot he doubled the size of the Company.  And, as chairman and CEO of Chrysler he helped save Chrysler and its iconic brands when the American auto industry began to collapse.
His firm, XLR-8, LLC, Investment & Advisory Co., combines his 47-plus years of experience augmenting business performance with a team of professionals that has unparalleled skills in fixing and growing companies. XLR-8 helps companies identify weaknesses and improve performance.
In December 2000, Bob was named president and CEO of The Home Depot, and a year later chairman was added to his title. At the time, Home Depot was a $45 billion decentralized company with little ability to leverage its size. Bob moved quickly to create an information and supply-chain infrastructure that, along with other operational and growth enhancements, generated more than 20 percent average annual earnings growth over the next six years. Under Bob's leadership, Home Depot's revenues grew from $45 billion to $91 billion, while net earnings more than doubled, from $2.5 billion to $5.7 billion. The company also added more than 1,000 new stores and more than 135,000 jobs, soon becoming the world's second-largest retailer.
In 2007, Cerberus Capital Management, a global private equity and distressed-investment firm, named Bob its chairman and CEO for Chrysler. Bob recognized the early signs of the looming global financial crisis and was the first Big Three CEO to predict significantly lower new car sales for 2008 and beyond. Bob and his team quickly reduced Chrysler's footprint in advance of the downturn, while simultaneously accelerating new product development and introducing a range of fuel-efficient and award-winning vehicles. They also laid the groundwork for a partnership with Fiat. Industry analysts and Fiat itself would later say these bold moves saved Chrysler from extinction and allowed it to emerge from its restructuring in under two months, with a new product line intact and a distribution network that would make it a truly global player in the automotive industry. In fact, the new products introduced by Bob's team are the best-selling brands at Chrysler today.
In 2009, Bob returned to Cerberus as CEO of its operations group, Cerberus Operations and Advisory Company. For the next three years, he and his team turned around several distressed portfolio companies and developed a comprehensive turnaround toolkit.  In 2012, Bob founded XLR-8, where he continues to play a key role as Senior Advisor to leading companies.  Bob Nardelli serves as a Partner and Senior Advisor to Emigrant Capital Corp.; Senior Advisor to EY, among others plus a number of equity investments.  He sits on the Board of Directors for BWXT Technologies, Inc., plus on the board of a number of private equity investment firms