Image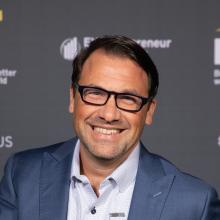 Marc Gorlin is the founder and CEO of crowdsourced delivery platform Roadie, which he launched in 2014. Roadie puts unused capacity in passenger vehicles to work by connecting people with items to send with drivers heading in the right direction. The Atlanta-based company works with consumers and businesses across almost every industry to enable a faster, cheaper and more scalable solution for same-day and urgent delivery. Roadie became a wholly-owned subsidiary of UPS in 2021.
Before launching Roadie, Marc co-founded and served as chairman of Kabbage Inc., which provides working capital to small and medium-sized businesses. It was acquired by American Express in 2020. Prior to that, Marc co-founded VerticalOne Corporation, a content personalization service that was sold to S1 Corporation (NASDAQ: ACIW) for $166 million. In 1996, Marc was a co-founder and an original board member of Pretty Good Privacy ("PGP"), a company formed to commercialize one of the most prevalent security standards on the Internet, popularized in the book The Girl with the Dragon Tattoo. Marc helped launch PGP and oversaw its financing, growth and eventual sale to Network Associates in December 1997.
Marc is a UGA graduate and an active speaker on serial entrepreneurship, innovation and venture funding. In 2021, he received the EY Entrepreneur Of The Year® National Award.