Image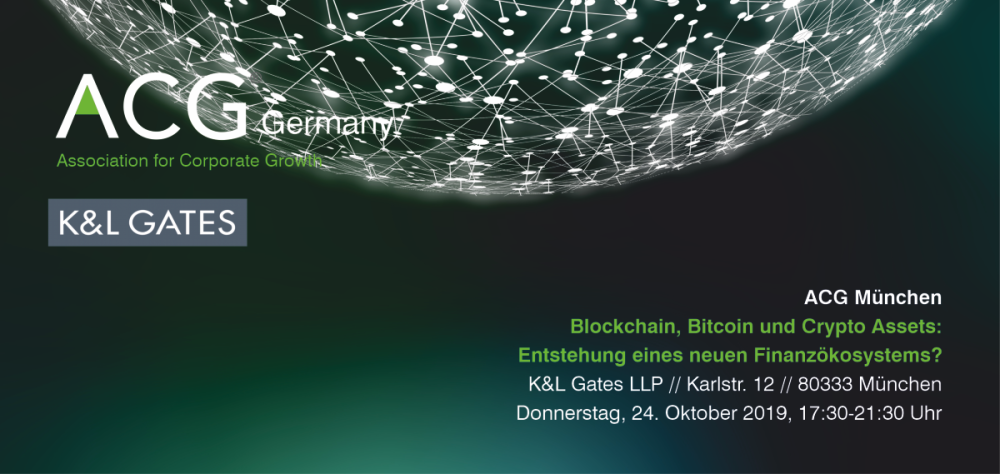 Event Details
When:
October 24, 2019 5:30 PM - 9:30 PM CEST
Where:
Add to Calendar
Overview
Body
Die ACG - Association for Corporate Growth - ist mit über 14.500 Mitgliedern das weltweit größte Netzwerk für den Mittelstand und bietet u.a. regelmäßig Veranstaltungen rund um das Thema Unternehmenswachstum an.
Seit Jahren finden diese Veranstaltungen in Europa statt; nun etabliert sich ACG auch in München.
Herzlichst laden wir Sie hiermit zu unserer Veranstaltung ACG München bei K&L Gates LLP am Donnerstag, den 24. Oktober 2019, ein.
AGENDA
17:30-18:00 Uhr    Registrierung
18:00-18:30 Uhr    Begrüßung Susanna Fuchsbrunner, Partnerin, K&L Gates LLP 
        Im Anschluss: Impulsvortrag Prof. Dr. Philipp Sandner // Frankfurt School Finance & Management
18:30-20:00 Uhr    Paneldiskussion
       Moderation Prof. Dr. Philipp Sandner und Benjamin Horvath, BlockRocket GmbH
Azhos AG   // Autonomous Supply Chain Ecosystem 
Evan GmbH // The blockchain for digital twins and business transactions
Cash on Ledger GmbH    //   Der programmierbare Euro  
Finoa GmbH  // Digital Asset Custody Lösung für Institutionelle Investoren
Tangany GmbH    // Secure Cloud Blockchain Infrastructure    
Spherity GmbH  // Identity and Digital Twins as Trust Layer for the 4th   Industrial Revolution
Moonwhale Ventures Inc. //Tokenizing Assets for Security Token Offering
20:00-21:30 Uhr    Buffet & Networking
Event Secondary Body
Die Veranstaltung ist kostenfrei.
Wir bitten um Ihre verbindliche Zusage bis 18. Oktober 2019 unter https://acg24102019.eventbrite.de - das Kennwort können Sie per Mail unter acggermany@acg.org mit dem Stichwort "Kennwort MUC" anfordern.
Wir danken für Ihr Verständnis und freuen uns auf Ihre Teilnahme.
Hosted by:
ACG