Image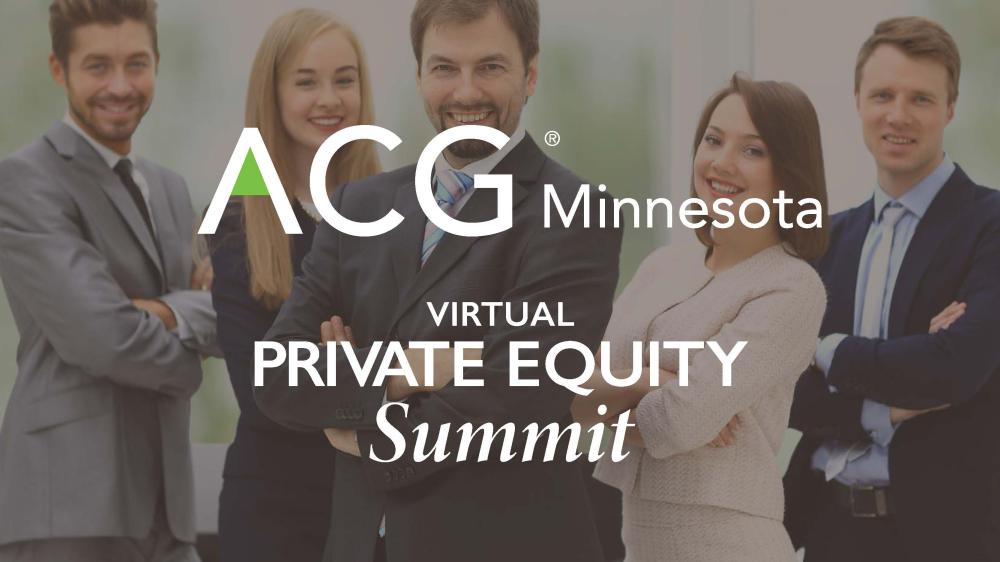 Overview
Body
ACG Minnesota Presents Private Equity Summit 2020 | October 8th, 2020
Join us with Ballard Spahr as they discuss current hot topics in Private Equity M&A during the COVID-19 pandemic. Topics included are: the current state of the market, deal sourcing, valuation challenges, distressed M&A transactions and much more.
With so much to discuss this year specifically, there will be four panels and each will be 20-25 minutes in length. After each panel presents, there will be time for Q&A and virtual break-out rooms will be available for attendees to connect with the speakers following the last panel.
ACG MN MEMBER PRICE $0 | OUT OF STATE ACG MEMBER PRICE $20 | NON MEMBER PRICE $50
Event Secondary Body
Panel 1 | State of M&A
Description: We will discuss the current state of the M&A market. Hot topics will include: deal activity, availability of financing, competitiveness of the market, and much more.
Presenters: Joe Humke (Partner, Ballard Spahr), Chris Haskett (Sr. Director – Business Development, Quadion), and David Santoni (Managing Director & Head of Financial Sponsors Group, Lazard Middle Market).
Panel 2 | Distressed M&A
Description: This panel will focus on the opportunities and challenges of buying and selling distressed businesses, in and outside of the bankruptcy context.  We will discuss the role of the reorganization specialist, purchase agreement structure and terms in distressed M&A, and unique aspects of buying and selling out of bankruptcy.
Presenters: Karen McConnell (Partner, Ballard Spahr), George Singer (Partner, Ballard Spahr), and Chad Stewart (Partner, Ballard Spahr), and Michael Knight (Founder & President, Alliance Management).
Panel 3 | Financing Issues in a COVID-19 Environment
Description: This panel will focus on key issues PE portfolio companies are facing during COVID-19 including COVID related provisions in credit agreements, financial covenant default strategies, and Sponsor keep well agreements.    
Presenter: Mark Dietzen (Partner, Ballard Spahr), Catherine LaGrange (Associate, Ballard Spahr), and Kasey Sime (Director, Stone Arch Capital).
Panel 4 | The Pandemic's Impact on Deal Terms
Description: This panel will focus on the impact of the pandemic on certain specific deal terms, including earnouts, representations and warranties, conditions precedent and MAE clauses.  It will also address recent Representation & Warranty insurance trends.
Presenters: Nicole Hittner, Mike Kuhn, and Maggie Tatton (Partners, Ballard Spahr).
Hosted by:
ACG
Sponsors
Event Materials
Event Materials
Meeting login information will be sent the day of the event. 
By registering for this event I agree to be photographed, recorded and/or videotaped by ACG Minnesota and its agents in connection with ACG events whenappropriate. In addition, your contact information may be shared with other attendees
Cancellation and Refund Policy: 

There is a $5.00 processing fee for all cancellation requests received up to one day prior to the event. NO REFUNDS will be given within 24 hours of the virtual event.