Image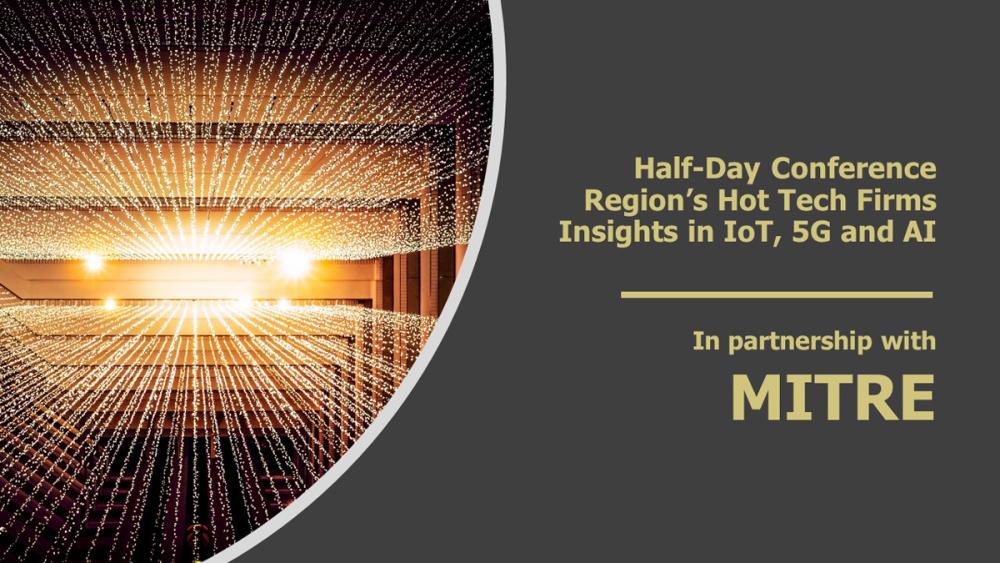 Event Details
When:
December 5, 2019 7:30 AM - 12 PM EST
Where:
Add to Calendar
Overview
Body
Expert interview, "innovative ideas" pop ups, tech demonstrations, panel and keynote addresses
MITRE 4 Conference Center, 7596 Colshire Drive, McLean, VA 22102
US Citizens Only
 
The Washington Technology Showcase emphasizes the National Capital area's culture of technology innovation and leadership. The conference highlights Washington's unique competitive advantage for commercial technology companies with extensive access to policy-makers, government technology buyers, and national security services.
The purpose of the half day showcase is to bring together commercial technology executives, government leaders and investors spotlighting the innovative, cutting-edge technology being developed in the DC metro region.
This year's content focus is IoT, 5G and AI

.
 The conference will begin with a keynote address and continue with a moderated panel discussion composed of subject matter experts and industry leaders.

Surrounding the panel, there will be "pop-up's" where compelling companies will be able to introduce themselves and explain their technology focus.  The event concludes with product demonstrations from companies throughout the region, with networking sessions running in parallel.  Speakers include:
Speakers
Opening:  Charles Clancy, VP of Intelligence Programs, Center for Programs and Technology, MITRE
5G Expert:  Sanyogita Shamsunder, Vice President, Technology Development, Verizon
Innovative Insights: Mikel Rodriguez, Computer Vision Researcher, MITRE
Panel on Physical Security:  Protection of Property and Personnel
 - physical security and what the future holds for homes, schools, offices, stadiums and cities in general.  This is to include what scientific and technological issues and challenges these entities and organizations face.
Moderator:  Heather Nickerson, Chief Growth & Strategy Officer and President of Red Five Privacy Labs, Red Five
Doug Britton
, CTO, RunSafe Security, Inc.
Dipto 
Chakravarty
, CTO, Patrocinium Systems  
Mohammad Soleimani, CTO, Kastle Systems

Confirmed Pop Ups and Demos
:  :  
ARInspect, boodleAI Inc., DeepSig, FEND, Hushmesh, 
Kerb, Leverege, 
Lociva, Mantis Networks, OpSense, Perrone Robotics, PFP Cyber, Refirm Labs, Treada Tech
Leadership Committee:
Aaron Binstock and Katherine Ferguson, Cooley
Barry Costa and Karen Viani, MITRE
Keith Ibarguen, Cofense
Tim Meyers, Baker Tilly
Parag Sheth, formerly Tedco
 
ACG Mission Statement
ACG's mission is to drive middle-market growth and increase deal flow. ACG National Capital helps firms in the DC metro region achieve their business and professional goals, and grow their companies. It provides unparalleled opportunities for networking, deal making and professional development for senior executives involved in building corporate value through M&A, strategic partnerships, organic growth and capital funding. www.acgcapital.org
MITRE Mission Statement
One public interest company, working with industry and academia to advance and apply science, technology, systems engineering, and strategy, enabling government and the private sector to make better decisions and implement solutions to complex challenges of national and global significance Our mission emphasizes our aspiration to be our sponsors' strategic thinking partner and drive needed change through the application of science, technology, and systems engineering.  www.mitre.org