Image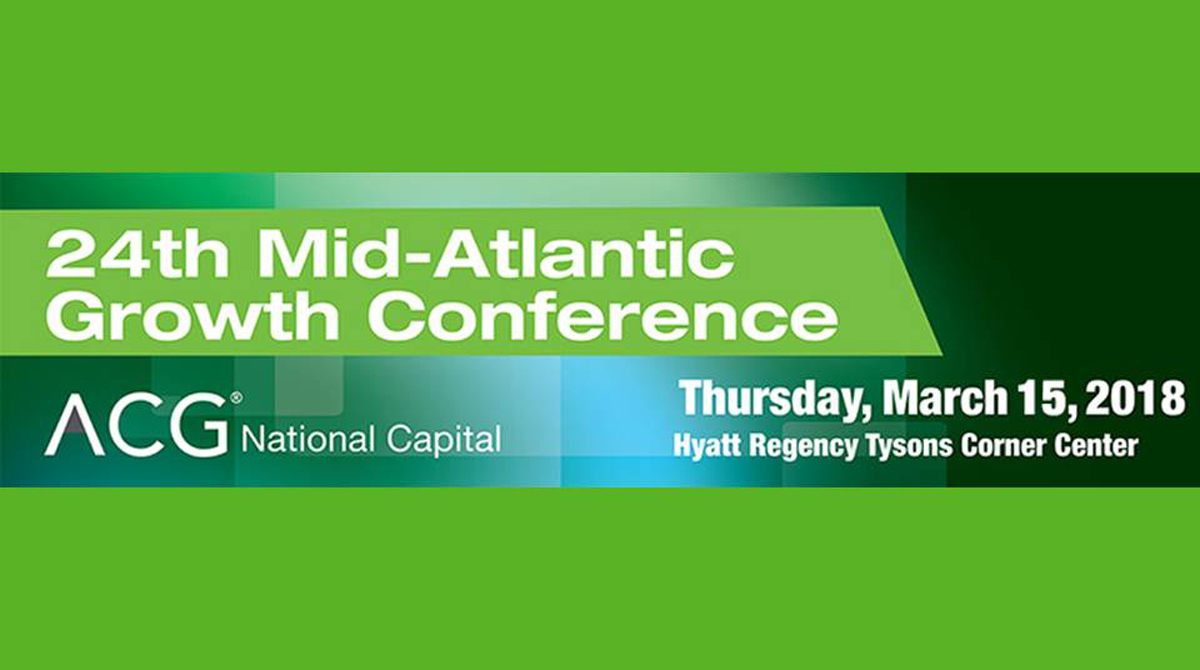 Event Details
When:
March 15, 2018 7:30 AM - 7:30 PM
Where:
Location Name
Hyatt Regency Tysons Corner Center
Overview
Body
Featured Speaker:  Brett Schulman, CEO, Cava Group, Inc.                                                                                           
TOPICS WORTH YOUR TIME
Blockchain Technology:  Fad or Wave of the Future
Healthcare:  Can It Really Be Disrupted
After the Deal - Integration and Operations Improvement Best Practices
The Polaris Alpha Story
Unique M&A Strategies to Drive Growth
Now in its 24th year, ACG National Capital's Mid-Atlantic Growth Conference is a one-day event scheduled for Thursday, March 15, at the Hyatt Regency Tysons Corner Center.  The conference will once again feature prominent speakers in the business community, the ACG DealSource component offering constructive one-on-one meetings with investment banks, limited partners and private equity groups, and unique, compelling programs throughout the day.
This annual event provides great value to our 400 members and sponsors, and attracts a large group of leading executives from the Mid-Atlantic's markets.   The conference offers dynamic networking, deal-sourcing and educational sessions attracting a virtual who's who of middle market growth and M&A professionals from the region.
In 2017 over 300 executives strengthened their professional relationships for sourcing and successfully completing transactions, learned about current trends and best practices, and gained important insights to the deal-making communities. 
ACG DealSource is the most efficient way for investment banks, private equity firms and limited partners to schedule and conduct brief one-on-one private meetings within one day in one location. 
Hotel reservations can be made 

here 

at the block rate of 269.00. 
---
Cancellation Policy:  Your registration payment less a 75 processing fee will be refunded if a written cancellation request is received on or by March 6. Substitutes are welcome.

Note: ACG National Capital event registration implies consent that any pictures or video taken during the event can be used for event coverage and promotional purposes without remuneration.
If you have any questions, please contact our offices at 703-584-0246, acg@acgcapital.org