Image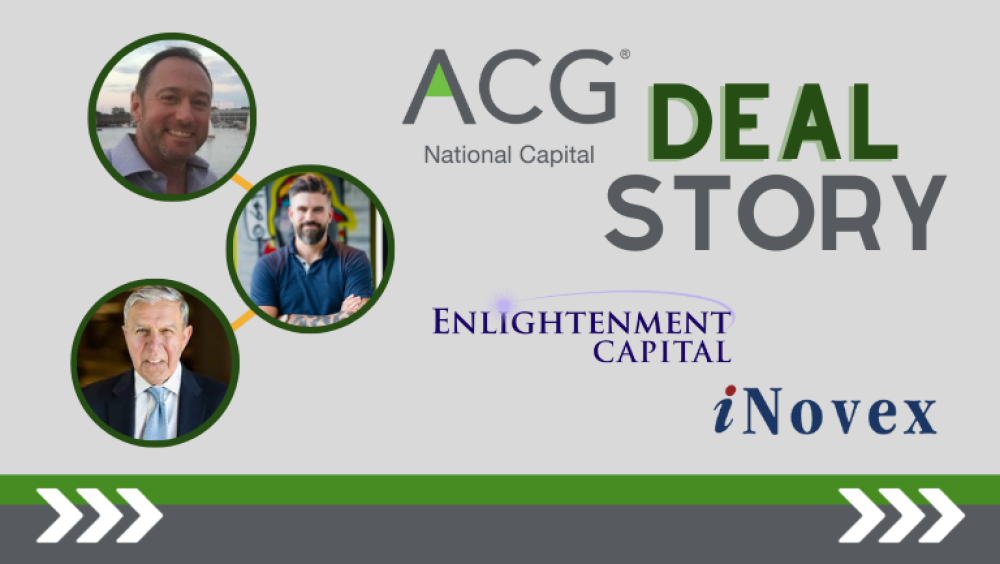 Event Details
When:
December 5, 2023 7:30 AM - 9:30 AM EST
Where:
Location Name
The Tower Club
Add to Calendar
Overview
Body
ACG National Capital is pleased to invite you to a breakfast meeting discussing Enlightenment Capital's recapitalization of iNovex and subsequent acquisitions of Innoplex and Secure Innovations. This transformative series of transactions has created a dominant player in the cybersecurity industry poised for growth and innovation. The event will provide attendees with insights into the strategic rationale, synergies, and future prospects of this combination of businesses operating in the defense and intelligence markets.
Founded in 2005 and headquartered in Columbia, MD, iNovex provides software development focused on cybersecurity, Signals Intelligence (SIGINT), data analysis, and robotic process automation to solve our customers' toughest mission challenges in the federal government market. Enlightenment Capital, a Washington, DC area based private investment firm, made a strategic investment in iNovex in November 2022 to build a mid-tier Intelligence Community focused platform with a mission to support critical National Security programs. Since then, the company has been active in M&A.  
INNOPLEX marked the first acquisition into iNovex and brought together two businesses that worked closely together over nearly two decades. INNOPLEX positioned iNovex as one of the largest middle-market technology solution providers supporting the Intelligence Community and Department of Defense, with over $2 billion in combined recent prime contract awards and nearly 1,000 employees and teammates overseeing vital national security interests. 
Quickly on the heel of the INNOPLEX acquisition, iNovex acquired Secure Innovations, a leading cybersecurity business. Secure Innovations, known for its expertise in cybersecurity solutions, brings a wealth of experience in securing critical assets for government and commercial clients. Their comprehensive range of services includes threat analysis, risk assessment, secure software development, network defense, and incident response. Secure Innovations' track record of delivering exceptional results has earned them a strong reputation within the industry. 
During the breakfast meeting, key aspects of the transactions will be discussed, including the strategic rationale behind each deal, the synergies between the companies, and the future growth prospects of the combined entity. Attendees will gain valuable insights into how this merger strengthens iNovex's position in the defense and intelligence markets and expands its ability to meet the evolving needs of its end customers.  
The event will also highlight the shared values and culture that will drive the success of the merged company. iNovex, INNOPLEX, Secure Innovations, and Enlightenment Capital are committed to excellence, innovation, and delivering exceptional results. This alignment of values will ensure a smooth integration process and foster a collaborative environment that maximizes the potential of the combined organization. 
Join us at the ACG breakfast meeting to learn more about this exciting acquisition and the strategic implications for the industry. Network with industry professionals, gain valuable insights, and be part of the conversation surrounding this transformative deal. Don't miss this opportunity to stay ahead of the curve in the rapidly evolving defense and intelligence landscape. 
Event Secondary Body
Moderator: 
-Jason Rigoli, Partner, Enlightenment Capital
Panelists: 
-Gary Daigle, CEO, iNovex
-Matt Ford, COO, iNovex
-(Ret. General) Harry Gatanas, Board Member, Former Senior Acquisition Executive of the NSA
Hosted by:
ACG