Image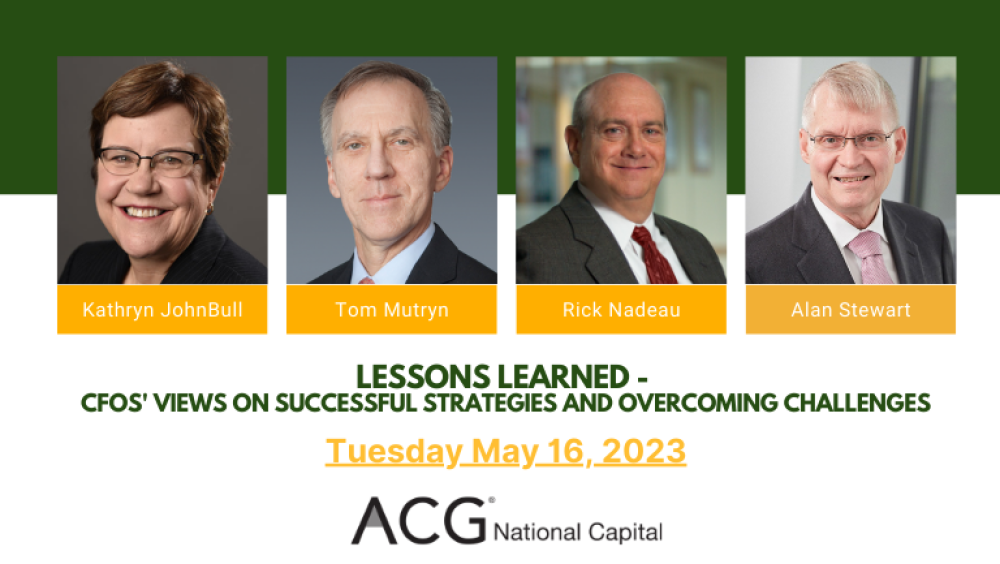 Event Details
When:
May 16, 2023 7:30 AM - 9:30 AM EDT
Where:
Location Name
The Tower Club
Add to Calendar
Overview
Body
Lessons Learned – CFO Views of Successful Strategies and Overcoming Challenges
Terry McGovern, Moderator
Kathryn JohnBull, CFO of DLH Corporation
Tom Mutryn, former CFO of CACI International
Rick Nadeau, former CFO of Maximus
Alan Stewart, former CFO of Peraton
Join us for a dynamic and engaging conversation to explore the key topics every CFO should master! Our panel of highly successful and seasoned CFOs will share their valuable insights and experience on various issues, including leadership and culture, mergers and acquisitions, raising capital and outside stakeholders, and lessons learned for future CFOs and their careers.
Our esteemed panelists will share their stories on how they developed their CFO leadership style and adapted it to different corporate cultures. They will also discuss their strategies for handling disagreements with CEOs and Boards and how they gained acceptance from existing senior executives when changing jobs.
Navigating challenging mergers and acquisitions can be a daunting task for any CFO. Our panelists will share their firsthand experience in overcoming obstacles and how they managed to increase enterprise value through these transactions. They will also share some unexpected outcomes that they encountered during the process.
Raising capital can be one of the most significant challenges a CFO may face during their career. Our panelists will share their insights on overcoming these challenges and how outside advisors, such as bankers, lawyers, auditors, and consultants, can help carry out the CFO role. They will also discuss how they balanced their internal responsibilities with managing external stakeholders, such as investors.
As highly accomplished CFOs, our panelists have learned many valuable lessons throughout their careers. They will share their insights on how to keep their teams aligned with the company's changing goals and hold them accountable, as well as provide valuable advice to those seeking to become CFOs, including the essential skills and knowledge needed for success.
Take advantage of this unique opportunity to learn from some of the industry's most successful and seasoned CFOs. Whether you are a financial professional, an aspiring CFO, or just looking to expand your knowledge, this event is a must-attend! So, join us for an unforgettable morning of learning and networking.