Image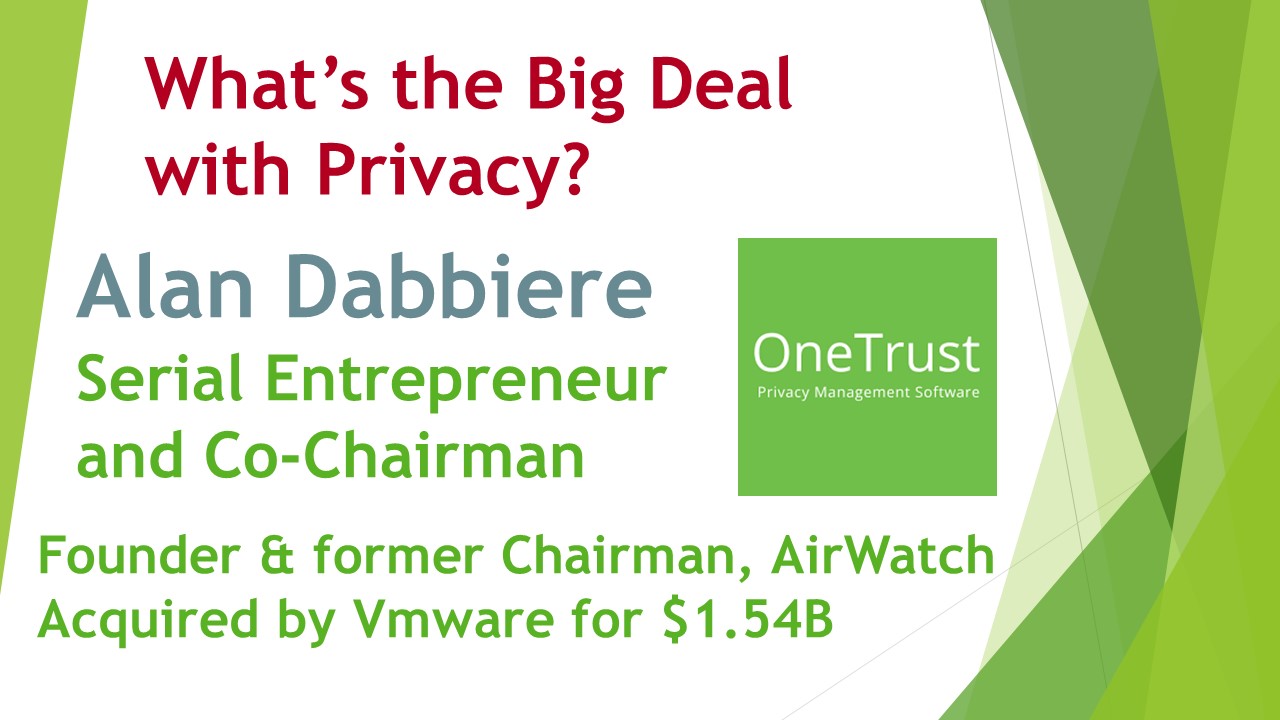 Event Details
When:
September 14, 2018 7:30 AM - 9:30 AM EDT
Where:
Location Name
Ritz-Carlton Tysons Corner
Add to Calendar
Overview
Body
Members 55
Non member guests 110
What's the Big Deal with Privacy? 


Whether it's news about Facebook, updated privacy policies in your email inbox or new laws across the globe, it seems like everyone is talking about privacy. Hear from
Alan Dabbiere
, serial entrepreneur and co-chairman of the world's fastest growing privacy management company, OneTrust, as he walks through why privacy matters, where the market is today and why privacy tomorrow may be just as important as your company's security efforts today.  
 Alan Dabbiere
Backed and co-chaired by the founders of Manhattan Associates (NASDAQ: MANH) and AirWatch (1.54B acq. by VMware), the OneTrust leadership team has experience building scalable, enterprise software platforms.
About OneTrust
OneTrust is the global leader in privacy management software platform used by more than 1,500 customers to comply with data privacy regulations across sectors and jurisdictions, including the EU GDPR and ePrivacy.
Alan Dabbiere is a serial entrepreneur, active community leader and Co-Chairman of OneTrust.  OneTrust is the leading and fastest growing privacy management software platform used by more than 1,500 global organizations to
assist them in complying with data privacy regulations across sectors and jurisdictions, including the EU GDPR and Privacy Shield.
Mr. Dabbiere's commercial successes include two software companies he founded employing over 2000 people each. Dabbiere has more than 20 years of experience in building successful software companies and holds more than 25 patents or patent applications on supply chain, logistics and enterprise mobility software.
Mr. Dabbiere is a founder and was Chairman of AirWatch, the largest Enterprise Mobility Management provider in the world. He helped navigate the company's
sale to VMware, the global leader in virtualization and cloud infrastructure,
for 1.54 billion.
Mr. Dabbiere previously founded Manhattan Associates, the world's leading supply-chain execution software company, and he served as president and CEO from 1990 through 2000. Today, Manhattan Associates is the global leader with more than 1,200 customers, 2,500 employees and over 500 million in revenue.

As an active community leader, Dabbiere has served on the Board of Directors for the Metro Atlanta Chamber of  Commerce; the Chairman of the Foundation Board and as a Trustee for Inova Health System; the Board of Trustees for The Potomac School in McLean Virginia; and the President's Advisory Board of the Georgia Institute of Technology. Dabbiere is a member of The Economic Club of Washington, D.C, a charter member of the Georgia Tech Hill Society and a member
of YPO (Young Presidents' Organization). In 1998, he endowed the Manhattan Associates/Dabbiere Chair of Supply Chain Management at Georgia Tech's School of Industrial and Systems Engineering and funds cancer research at 12 academic
institutions through the Loglio research consortium.

In 2015, Dabbiere was inducted into the Technology Hall of Fame of Georgia for his contributions to the technology industry, and he received honorary alumni status from Georgia Institute of Technology for his contributions to the technology industry in Georgia and to the university. He earned his bachelor's degree in chemistry and his MBA from Indiana University.