Image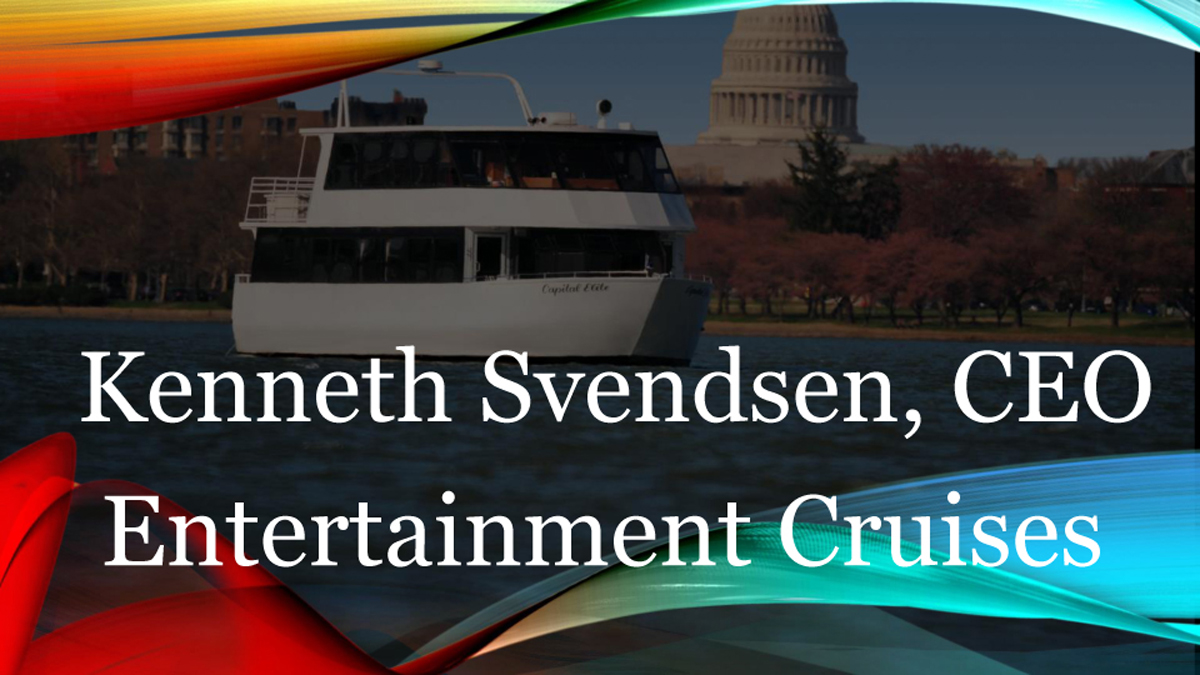 Event Details
When:
April 26, 2019 7:30 AM - 9:30 AM EDT
Where:
Location Name
Hyatt Regency Tysons Corner Center
Add to Calendar
Overview
Body
Members $55
Non member guests $110
A Balanced Strategy:  Organic Growth, M&A, 
New Builds and Continuous Investment
Kenneth Svendsen
joined Entertainment Cruises as Chief Executive Officer in January 2016.
During his tenure, he has successfully steered the award-winning company to a market-leading position as the nation's premier provider of water-based dining, sightseeing and transportation experiences, delivering over 18,000 cruises to 2.3 million guests annually. Svendsen continues to build on this momentum, driving the operation of 48 vessels alongside a commitment to excellence that is deeply rooted in the guest experience, underpinned by a skilled and motivated team. Svendsen has bridged traditional business silos to instill a guest-obsessed and collaborative culture that is laser-focused on finding new and innovative ways to engage and interact with consumers. It is this approach which has led to Entertainment Cruises redefining the North American marine hospitality and transportation business.
Strengthened by continuous investment, the company has introduced leading-edge technology and fleet innovations, as well as enhanced core onboard product to transform and deliver best-in-class guest experiences in the cities they operate.
Over the past two years, Svendsen has implemented an aggressive expansion policy that has added a further 20 vessels to the Entertainment Cruises fleet by applying a balanced strategy of simultaneously growing assets through organic growth, M&A and new builds. The acquisition of Virginia-based Potomac Riverboat Co. boosted the company's Mid-Atlantic operation and introduced water taxi transportation into the portfolio. Subsequently, the company has built and launched four state-of-the-art, high-speed, low-wake water-taxis featuring the newest technology to maximize eco-efficiency and passenger comfort for those navigating the Washington, D.C. area. Most recently (August 2018), Svendsen extended the company's footprint into Canada for the first time, following the purchase of Toronto-based Mariposa Cruises.
Svendsen is passionate about offering an elevated guest experience and strives to deliver this both in new and established markets. In Chicago, Entertainment Cruises continues to raise the game in the city's ultra-competitive on-the-water scene and is redefining the grand tradition of river cruising following the debut of Odyssey Chicago River in September 2018. Operating year-round, the new custom-designed glass-enclosed vessel introduces a river-first experience that pairs upscale dining and entertainment with an entirely unique 360-degree panoramic perspective that fully immerses guests in the spectacular architecture and vibrant energy of the Chicago River.
A veteran of the U.S. and international travel industries, multi-lingual Svendsen has a track record of delivering exceptional growth in guest-centric organizations while inspiring creativity and excellence in his team. He joined Entertainment Cruises from Disney, where as President of Walt Disney Travel Company and Senior Vice President of Global Sales for Disney Destinations, he oversaw the entire global portfolio of vacation destinations and products around the world such as Disneyland Resort, Walt Disney World Resort, Disneyland Paris, Hong Kong Disneyland Resort and Disney Cruise Line to name a few. In this role, he led Customer Managed Relationships (CMR) strategy and application focusing on the
2016:  

Purchases

Potomac Riverboat Company, expanding Washington DC area fleet
2017: Company expands Potomac Water Taxi with four new high speed, low wake vessels
2018:  

Purchases

Mariposa Cruises, expanding to the Toronto market and making their first international footprint
2018: Odyssey Chicago River launches (September 27)

1978: Spirit Cruises is founded in Norfolk, Virginia
1978-1988: Spirit launches in Boston, Chicago, New York, Philadelphia and Washington DC
1991: Odyssey launches at Navy Pier in Chicago
1993-1995: Odyssey expands to Boston and Washington DC
1996: Seadog, a speedboat excursion and architectural tour, is introduced at Chicago's Navy Pier
1998: Mystic Blue begins cruising in Chicago
2006: ICV purchases Odyssey, Seadog and Spirit Cruises forming Entertainment Cruises
2007: Entertainment Cruises purchases Baltimore's Harbor Cruises
2010: Seadog Baltimore launches and Atlantica (a private yacht charter) begins operating in New York
2012-Today: Entertainment Cruises expands its Elite Private Yachts fleet to five private yachts serving Boston, New York, Philadelphia and Washington DC
2014: Entertainment Cruises purchases Windridge Yacht Charters and the Chicago Elite (a private yacht charter) begins operating in Chicago