Image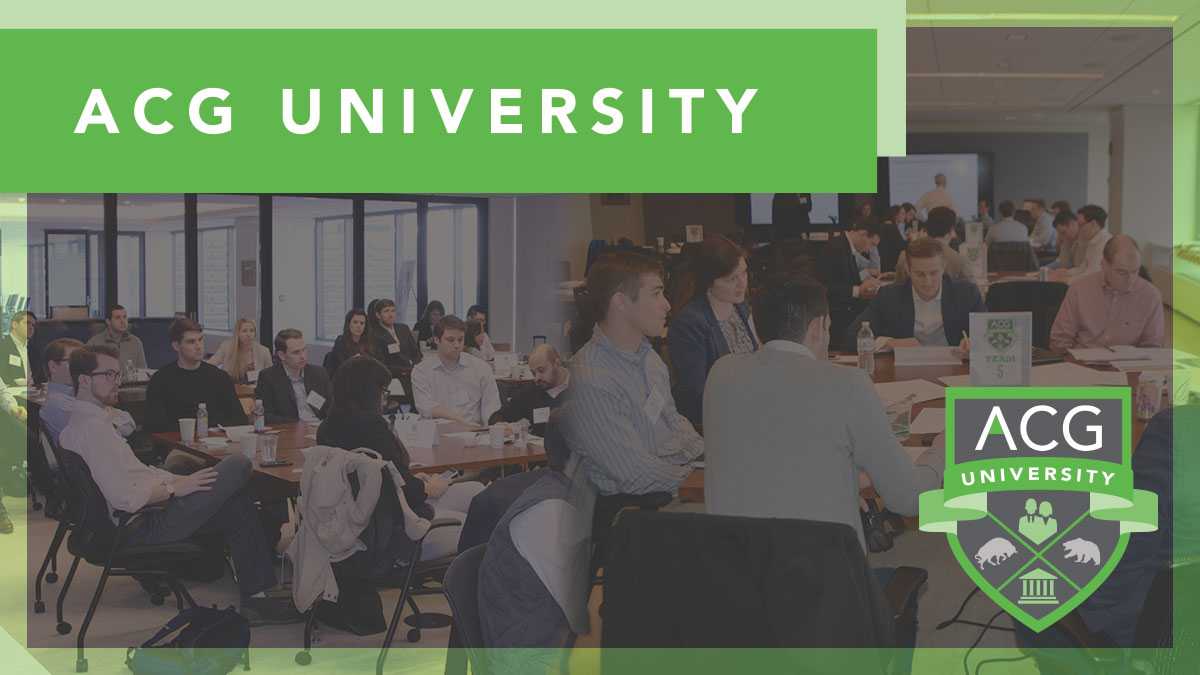 Event Secondary Body
CALL FOR APPLICATIONS! 
ACG University 2020
Apply now for the opportunity to be a member of the single best M&A networking & educational initiative in Philadelphia: ACG University 2020! Now in it's 10th year, ACGU accepts only 40-45 junior dealmakers each year and is led by some of the region's most successful and experienced M&A dealmakers. Now is the chance for you or someone on your team to apply!
ACGU Application Process
Applications for ACG University 2020 will be accepted starting in August 2019. When you apply online, you will receive an email with instructions on what else is needed to complete your application. This includes a resume & a short survey. 
Space for ACG University is limited and the application process is competitive. Candidates must be sponsored by an ACG Member. Selection will be based on prior experience, commitment, as well as overall composition of the applicant pool.
About ACG University:
ACGU Goals: This in-depth 7-part program is designed to:
Teach a broad range of essential deal making skills and strategies through lecture and hands-on case work to create savvy, knowledgeable and skilled dealmakers.

Create cohorts to facilitate long-term deal networks among future M&A leaders. Each class is composed of private equity and corporate buyers, investment bankers, attorneys, accountants and lenders.

Offer access to all the resources of ACG and the broader deal community in Philadelphia through membership (included). Graduates will also be invited to be part of ACG Philadelphia Young Dealmakers.
About the Course Work
ACG University will immerse participants into the life cycle of a deal using a case study method for teaching the key elements of sourcing, valuing, financing, negotiating, structuring and closing a deal. Each class will include pre-reading, expert level instruction, practitioner panel discussions, team-based case work/presentation of findings and feedback. ACG University is composed of seven classes, meeting roughly every two - three weeks on Friday mornings from 7:30am - 12:00pm starting in January at the offices of Drinker Biddle in center city Philadelphia.
ACGU Pricing:
There is no fee to apply to ACG University. Once accepted into the program, enrollment is $1295 and includes seven classes, three networking events as well as a two-year membership in ACG.
ACGU 2020 Class Dates & Details:
ACG University meets on Friday mornings from 7:30am - 12:00pm starting in January at the offices of Drinker Biddle in center city Philadelphia. Dates for 2020 to be posted.
Class 1: Strategic / Opportunity Analysis – Sourcing Deals & Building Your Acquisition Strategy
Class 2: Due Diligence - Financial, Operational, Technical, Management
Class 3: Valuation - Methodologies and Approaches
Class 4: Acquisition/Debt Financing – Financing your deal to match your exit
Class 5: Negotiating the Purchase Agreement & Closing the Transaction
Class 6: Integration
Class 7: Exit Strategies
Hosted by:
ACG
Sponsors