Image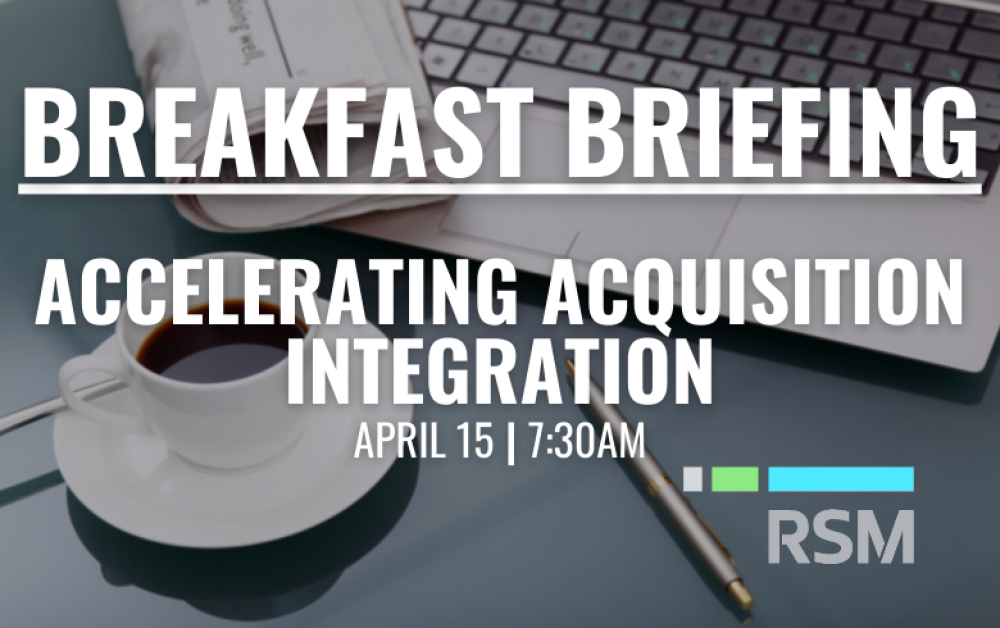 Event Details
When:
April 15, 2021 7:30 AM - 9 AM EDT
Where:
Add to Calendar
Event Secondary Body
April 2021 Breakfast Briefing
Accelerating Acquisition Integration
7:30 - 10:00 AM
Held virtually on the Remo Platform
Given the continued rise in multiples, the speed at which buyers drive value creation post-acquisition has never been under greater pressure. 
Join us as private equity and corporate buyers weigh in on what strategies and new technologies strategic and financial buyers are leveraging to accelerate acquisition integrations during COVID, when resources are constrained, yet pressure remains strong.
Meet Our Featured Speakers
Image

Image

Frank Tait
Industry Advisor TMT,
Warburg Pincus
former CDO, Frontline Education

Heather Trombley
President, DentalEZ
Thursday, April 15, 2021
7:30 – 8:00 AM Networking 
8:00 - 9:00 AM  Panel 
9:00 - 9:30 AM  Continued Networking

Pricing:
ACG Members - Complimentary
Non-Members - $65
Hosted by:
ACG
Sponsors
Event Materials
Event Materials
Tech Tips for Remo:
Use Google Chrome; iPad / iPhone not recommended, but Safari works better
Turn off your Firewall and/or VPN
Refresh your browser window
Enable your microphone & camera access in your browser (typically from the URL bar in your browser window)
If this is your first time on Remo, we recommend logging in early to avoid technology issues. Email acgphiladelphia@acg.org with any questions.  
Profile Tips:
Set-up your profile with a photo 
Consider adding your firm name at the end of your FULL NAME field to create a virtual name tag  (i.e. Jen Simons, ACG Philadelphia) 
Headline - include your firm function or something about yourself
Navigating Tips: 
Once logged in, you're automatically placed at a networking table
Combination of 2, 4 and now bigger 8 top tables - all numbered
Turn on your mic/camera- feature at the bottom of the floorplan. When you sit at a table, it's like a Zoom Meeting
To move, double click on a table with an empty seat and you will be placed at that table. You can also click and drag the floorplan to move it around, and/or zoom in and out
Hover over someone's image to see their profile
Use "chat" to send a private message. Share your floor & table number to meet up
Networking happens before and after the program, but automatically shuts down during the program
Move between floors by clicking where you want to go. The "virtual elevator" is located on the left hand side of the floorplan
Questions during the presentation are encouraged, and can be submitted through the Q&A tab on the right-hand side of your screen when in presentation mode