Image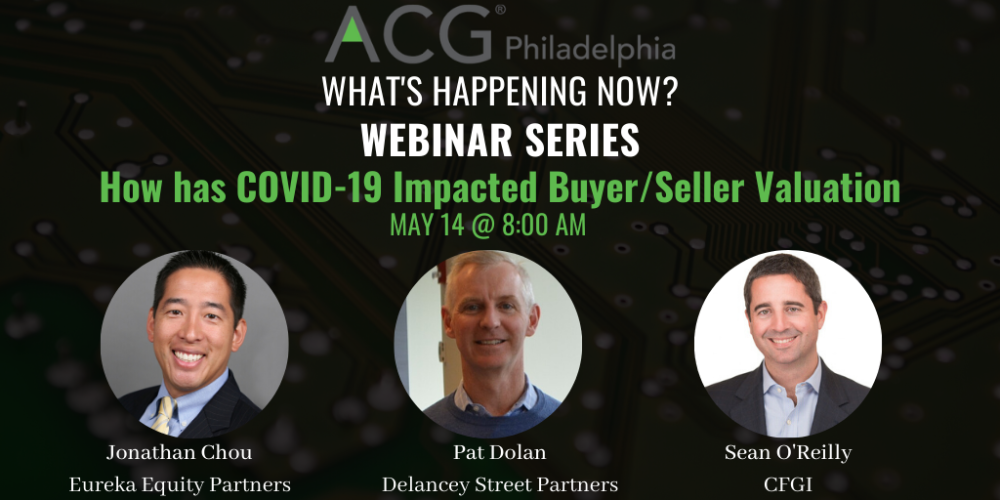 Event Secondary Body
What's Happening Now" series
Exclusively for ACG Philadelphia members
How has COVID-19 Impacted Buyer/Seller Valuation
Thursday, May 14 @ 8AM
sponsored by:
MEET OUR SPEAKERS
Jonathan Chou, Eureka Growth Partners
Pat Dolan, Delancey Street Partners
Sean O'Reilly, CFGI
Never have we seen such a dramatic and rapid shift in M&A valuations. While not much is certain right now, hear what buyers and sellers are seeing as it relates to traditional valuation approaches, its impact on different industries, and how this might alter valuation approaches today and in the years to come.
Impact of buyer/seller valuation in the context of near term M&A activity
Industry specific considerations
"Normalized" multiples - considerations & challenges
Factoring in near term downward financial performance in overall valuation
Quality of Earnings Review
Adjusting financial projections in connection with near term M&A activity
Event Details
Zoom Webinar (a unique Zoom ID and instructions will be shared with event registrants in the confirmation email)
Discussion: 8:00 –  8:30 am
Post Session Discussion & Networking: 8:30 – 9:00 am
Join us for a 30 minute program, followed by 30 minutes of networking where you'll able to continue the discussion and chat with dealmakers in separate breakout rooms.  We'll share an attendee list ahead of time as we always do.
Hosted by:
ACG
Sponsors