Image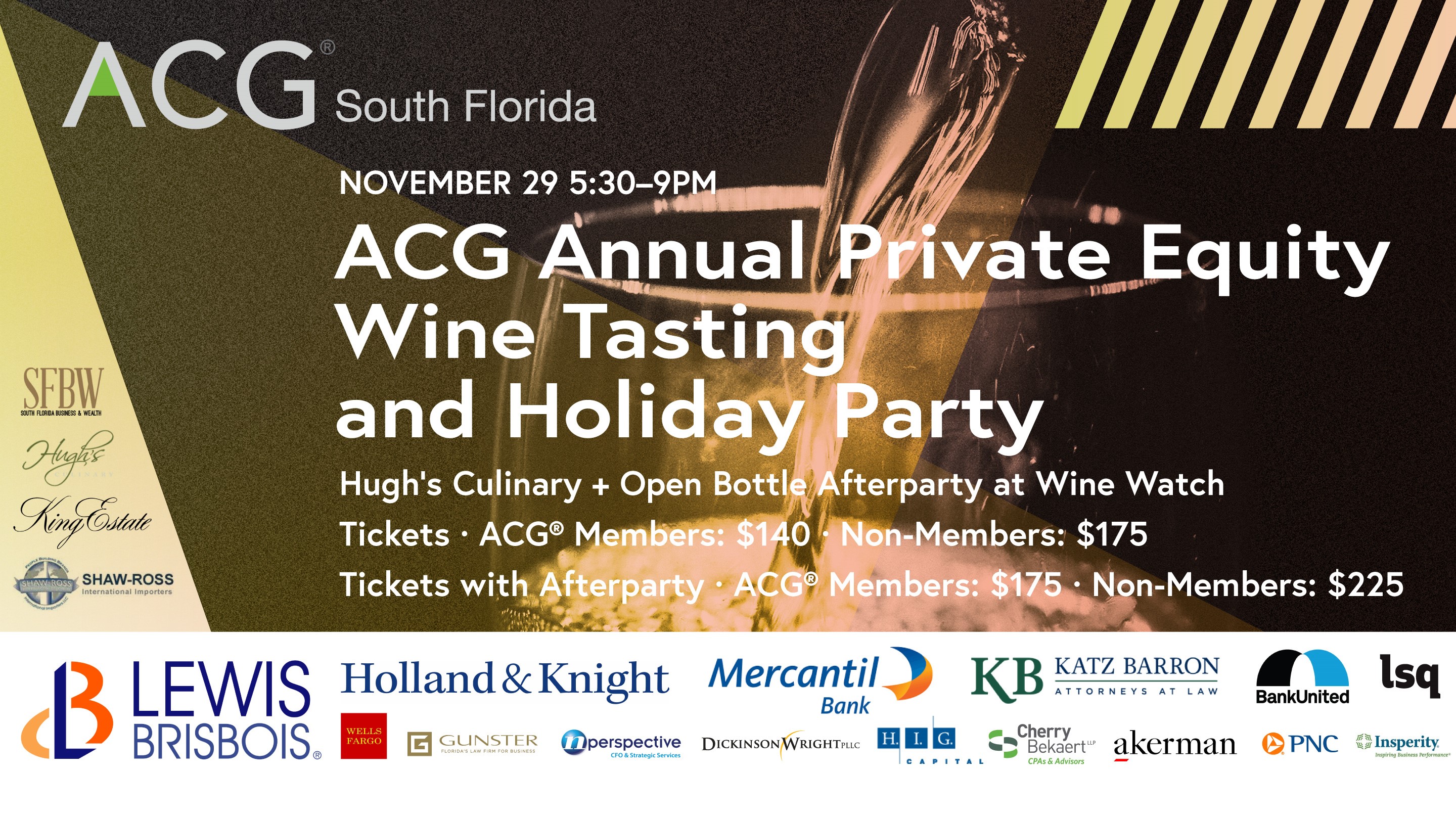 Event Details
When:
November 29, 2018 5:30 PM - 9 PM EST
Where:
Location Name
Hugh's Catering
Add to Calendar
Overview
Body
ON-LINE REGISTRATION IS NOW CLOSED. 
MISSED IT? YOU WILL BE ABLE TO REGISTER AT THE DOOR
CREDIT CARDS ONLY! 
ACG South Florida is proud to present our 5th Annual Private Equity Wine Tasting reception. 
This years event will certainly be our very best!  Featuring not only fine wines – but also presenting the winemakers themselves! Introducing rare California wines not usually available for purchase.
Don't forget to ask us about our Open Bottle and Pizza After Party at Wine Watch: 837 NE 3rd Ave, Fort Lauderdale, FL 33304
Please do not drink and drive!  Please arrange alternative methods of transportation. 
For your convenience, please use these directions to Hugh's. Your Google Maps might suggest you a longer route.
From I-95
I-95, exit East on Commercial Blvd.Turn Right on Dixie Highway, at
Floranada Road (first traffic light), make a Left. Go over the railroad tracks
and make the First Right onto NE 12th Terrace. We are the 3rd
Business on the Right.

From Federal Highway
North on Federal, past
Oakland Park Blvd. to Floranada Road(You will see Macy's Furniture store on the
NW Corner), turn Left and drive all the way down to NE 12 Terrace (on the
Left), and turn Left. We are the 3rd Business on the Right.
Event Secondary Body
Event Chair: 
Ari Roloff, CBIZ, ACG South Florida President
I am proud to offer our guests and members rare California cult wines along with some of the best wines from Napa and around the world! This years event is a must attend for wine lovers, deal makers, and the business community at large!
Chef Dan:
This year we present hors d'oeuvre pairing by chef Daniel Griffin. Chef Dan has over 12 years of experience specializing in elevated world cuisine. 
WINES
King Estate Winery featuring:
 King Estate Willamette Valley Pinot Gris 2016
King Estate Willamette Valley Pinot Noir 2015
King Estate Domaine Pinot Gris 2016
King Estate Domaine Pinot Noir 2014
North by Northwest Walla Walla Cabernet 2014
Shaw-Ross International Importers Featuring:
Masut Pinot Noir, Eagle Peak Mendocino, CA
Frescobaldi Brunello Di Montalcino, Toscana 
Altair Red Blend, Cachapoal Chile 
1 Champagne Versus Sparkling Wine 
2014 Schramsberg Blanc de Blanc
Price: $37.50
Blanc de Blancs was the first wine Schramsberg produced in 1965 and was America's first commercially produced, Chardonnay-based brut sparkling wine. Schramsberg Blanc de Blancs gained international recognition in 1972 when then President Nixon served the wine at the historic "Toast to Peace" in Beijing, China. The Schramsberg style of Blanc de Blancs is dry and crisp. Small lots of malolactic- and barrel-fermented wines are added for complexity. The wine is aged on the yeast lees in the bottle for about two years prior to disgorgement. With its vibrant, fruitful and crisp nature, this sparkling wine will maintain its freshness, structure and refined finish for many years, even decades following its initial release.
Louis Roederer Brut Premier NV
Price: $45.00
A blend of probably 2013 vintage 70% for the base wines and then 30% of the reserve wines blended into the cuvee, Jean Baptiste has been the Chef Du Cave for over 20 years, pretty floral nuance and almond , 60% of the production of Cristal is organic but only 70% of the juice is estate in this cuvee, Louis Roederer one of the largest proponents of organic farming in France, Lemon and pear fruit with smooth creamy texture and chalky like mineral notes and that distinct mineral. Finish 45 Excellent

2- Pinot More

Belle Glos Clarke and Telephone 
2016 Four Graces Pinot Noir Dundee Hills Reserve
Price: $37.50
Nuanced aromas of wild forest strawberries, dried rose petals and white pepper. Juicy red plum and cherry, with notes of sage highlighted in the background. Velvety soft tannins and a mild acidity add weight and balance.
3- California legends of Cabernet 
Groth Cabernet Sauvignon Oakville
Chappellet Cabernet Sauvignon Signature 

4- Pinot Noir is light and unoffensive like Ari
2016 Paul Hobbs Pinot Noir Russian River
Price: $54.00
Highlighting the terroir of the Russian River Valley, this deep ruby colored wine has aromas of cherry, raspberry, cola, forest floor and vanilla. Rich and round in the mouth, the fine tannins and fresh acidity give a long, generous finish.
2015 Louis Jadot Nuits St Georges France
Price: $55
5- Nebbiolo - Perfection in a bottle
2015 Vietti Barolo Castigiolni
Price: $55

2015 Pelissero Barbaresco Nubiola
Price : $49
6- Washington State Merlot versus Pomerol the worlds greatest Merlot... or not
2013 Passing Time Merlot Red Mountain Washington State
Price: $57.00
2014 Chateau Lecuyer Pomerol
Price: $54.00
7- Napa Versus Sonoma - another epic battle
Vine Cliff Cabernet Sauvignon Oakville 2013
Price: $99
This classic Napa Cabernet is filled with aromas of cassis, plum, black cherry, and hints of violet and mint. Aging in the finest French Oak barrels and small lot fermentation contribute to an enticing bouquet of cedar, anise, vanilla, mocha and sage. This full-bodied, rich cabernet has smooth polished tannin and flavors of berry and plum on the palate.
Ferrari Carano Tresor Alexander Valley 2013
Price: $49
90 pts Wine Advocate. Aptly named "Trésor" for "treasure," this wine is our version of a Cabernet Sauvignon-based Bordeaux-style blend, and it has everything you'd expect — lush and ripe fruit aromas and flavors, concentrated, powerful and firm in style — perfectly proportioned and integrated — but then, you'd expect that, wouldn't you? This wine checks all the boxes.

8- Argentina and Chile 
2014 Bramare Malbec Valle De Uco
Price: $39.75
Stony, more minerality vertical in the mouth violets shows you the tannins more immediate.  A very pretty bouquet violets and black and red berry fruit raspberry and plum, graphite mineral higher elevation, lovely richness and concentration some peppery spice.  Big and chewy but has bright fruit and a firm hand of acidity holding things together.  Finish 45+ most excellent

2014 Montes Alpha Purple Angel
List Price: $74.50
A blend of 92% Carmenere  and 8% Petite Verdot the grapes are from the Apalta Slopes and their marchigue Vineyard which is their largest property in the dessert.  This wine has a very distinct aroma and taste with wonderful structure and a good hand of that coffee, bell pepper and a firm hand of acidity through the finish.  Finish 50+    Most Excellent

9- Spain - Tempranillo at its best from Ribera Del Duero and Toro with love...
 
2012 Tinto Pesquera Reserva Ribera Del Duero
List Price: $52.50
A very cool vintage in Ribera and this wine has a beautiful bouquet with smoked meats, a bit of funky barnyard like notes here or as we say a bit of "James Brown". Nice structure here on the tongue with firm tannins and a host of spice and earthy those earthy, barnyard notes/James brown nuance lasting through the finish. Finish 50+ Excellent +

2012 Numanthia Numanthia Toro Spain
Price: $45.00
(92 points) The eponymous 2012 Numanthia is sourced from vineyards ranging from 60 to 100 years of age across the Toro appellation (they have around 100 hectares of vineyards... spread across 100 separate plots!). The wine matured in brand new oak barrels for 22 months. The aromas are mostly oak related with some toasted sesame seeds, sweet vanilla and cinnamon, some licorice and chocolate, and a core of very ripe black fruit. The oak is obviously of very good quality, but at the moment it dominates the wine and with time what emerges is still toffee, smoke and coal. The palate reveals a very young wine that is dense, tremendous, with high dry extract, concentrated, powerful, and full of dusty tannins and oak-related flavors. This beast needs a good couple of years to be tamed down by the bottle. This is a bodybuilder of a Toro -- oaky and highly extracted in its style. (LG) (10/2015)  Robert Parker's Wine Advocate
10- Big Bawlers
2014 Silver Oak Cabernet Sauvignon Alexander Valley
Price: $82.50
The 2013 Alexander Valley Cabernet Sauvignon is garnet in color with a ruby red rim, it has an alluring nose of blackberry bramble, baking spices, and black olive. Aromas of vanilla, cassis, and sage fill the glass, revealing the influence of American oak barrel aging. On the palate, notes of raspberry are complemented with lingering acidity and a finish of dusty, silky tannins. Given proper cellaring, this wine will provide drinking pleasure through 2036. Blend: 95% Cabernet Sauvignon, 2% Merlot, 2% Cabernet Franc, 1% Malbec
2015 Pahlmeyer Red Blend Napa 
Price: $60.00
Jayson Cabernet Sauvignon reveals its classic expression with deep, elegant black and red fruit aromas accented by notes of dried herbs. The mid-palate is focused, and a firm structure supports the concentrated fruit.  A blend of 96% Cabernet Sauvignon, 4% Cabernet Franc
from Pahlmeyer's Estate Vineyard, Rancho Chimiles, Stagecoach and Atlas Peak Vineyard.

11- California Blends
2016 Lewis Alecs Blend 
Machete 
12- Bordeaux Big Time
2008 Melka Metisse Le Chatelet Vineyard Majestique St Emilion Grand Cru
Price: $120.00
This seamlessly integrated and balanced wine exhibits the essence of crushed rocks that emulate the typical terroir of Saint Emilion.
70% Merlot, 30% Cabernet franc, 100% barrel fermented
Our third vintage from this fabulous vineyard right next to Beausejour Becot, the 2008 exhibits ripe, black cherry and chocolate notes with the addition of spice favoring cloves and tobacco.  The entry of this wine is fluid and seamless showing exquisite balance and well integrated tannins.  The texture soft yet not linear, with multi-dimensional character.
Production: 150 cases of 750ml
Bottling: July 2010
Aging: 20 months in 59 gallon barrels, 75% new oak
Hosted by:
ACG