Image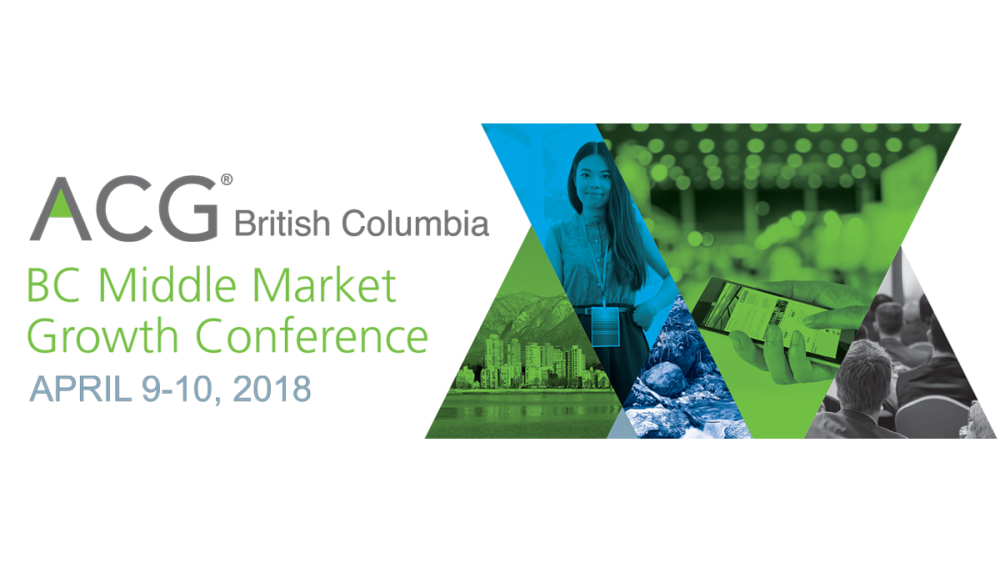 Event Details
When:
April 9 - 10, 2018
Where:
Location Name
Fairmont Waterfront Vancouver
Add to Calendar
Event Secondary Body
Experience a Day of Disruption: Announcing the 2018 BC Middle Market Growth Conference
In a business world where change is the only constant, there's one question on the minds of our members: Will my business become the disruptor or the disrupted?
This year, our BC Middle Market Growth Conference is tackling the big ideas behind disruption and examining how they're impacting local industries. Join us on April 10 to find out how disruptive innovation is changing how we invest, finance growth, how we use transportation and how our companies transact. We'll help you determine what type of disruption your industry is most vulnerable to, and introduce you to inspiring local players disrupting on the global stage.
No disruption agenda would be complete, without a thought-provoking keynote whose ideas are reshaping industries as we know them. This year we're thrilled to welcome Christine Duhaime, renowned international speaker, partner at Duhaime Law and founder of the Digital Finance Institute, who will shed light on how blockchain and artificial intelligence are altering the world of banking, financial crime and corruption.
We're also excited to announce the return of our many sponsors and supporters this year, including Nicola Wealth Management Ltd. as our Official Event Sponsor.
When it comes to navigating change, we're helping our members stay a step ahead. Be sure to register and mark your calendars with the dates below:
Monday, April 9: President's Reception at Hapa Izakaya Coal Harbour (Sponsored by Blakes) – 6pm to 9 pm
Tuesday, April 10: BC Middle Market Growth Conference at Vancouver's Fairmont Waterfront Hotel - 7am - 4:30pm
Click Here to view details on this year's exciting event program. I look forward to seeing you there.
Sincerely,
Aleem Jinnah
BC Middle Market Growth Conference Chair
Hosted by:
ACG