Image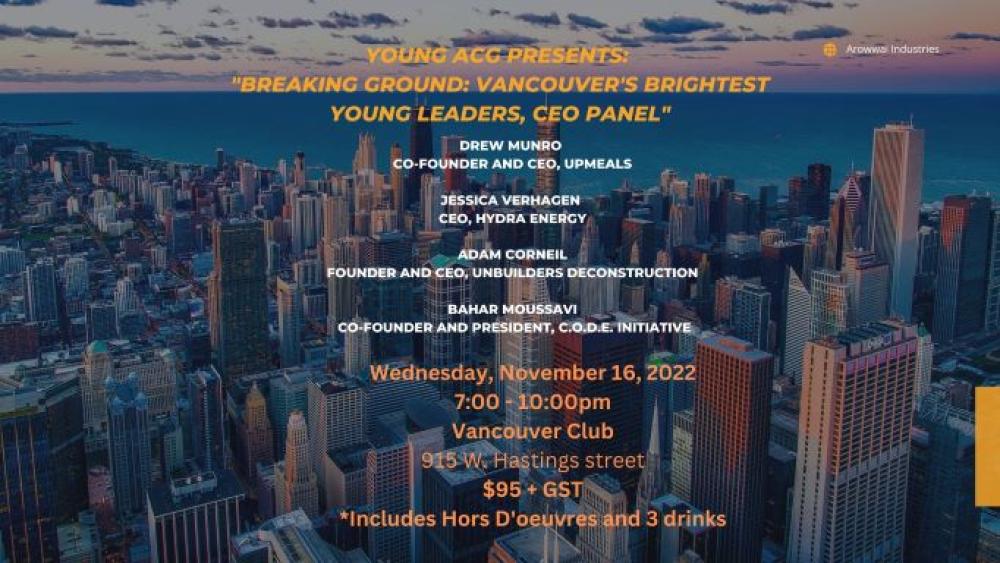 Event Details
When:
November 16, 2022 7 PM - 10 PM PST
Where:
Location Name
The Vancouver Club
Add to Calendar
Event Secondary Body
PANELISTS:
Drew Munro, Co-Founder and CEO, UpMeals
Throughout his career, Drew has demonstrated a remarkable dedication to innovation, bold thinking, and a commitment to using technology to transform the food and industry for the better. Through UpMeals, Munro launched an innovative platform to automate the creation of customized wellness programs via SmartVending machines. Munro successfully developed this product and service, partnering with TELUS within 1.5 years for its first install. The SmartVending platform has received funding from the Canadian Government's highly competitive NRC IRAP program. To get the company off the ground, Munro navigated an oversubscribed seed capital raise of $1.28M in the middle of a global pandemic and was named to Business in Vancouver's Forty under 40 list in 2021.
Jessica Verhagen, CEO, Hydra Energy
Jessica is responsible for the development and implementation of Hydra Energy's strategy and leads raising capital and business development. She previously was the VP of Business Development for Ecosphere+, the sales and marketing arm for Mirova Natural Capital in London, where she successfully sold hundreds of millions in environmental assets proving a new business model for investing in nature. She supports the close of Series B and go to market strategy for cleantech company, Axine Water. She was also part of the founding team of Evoke Innovations, a fund that raised $100M from oil and gas companies to invest in early stage cleantech. She started her career in government where she led a team of over a hundred to price carbon and foster green economy in BC. Jessica studied environmental economics at UVic. She was the recipient of the 2021 Clean50 Awards that celebrate Canada's sustainability leaders and was named to Business in Vancouver's Forty under 40 list.
Adam Corneil, Founder and CEO, Unbuilders Deconstruction
Adam is a serial entrepreneur and a certified Passive House builder and a deconstruction & reclaimed wood expert. He flipped his first house at 16 with his father and after years as a green builder he launched Unbuilders Deconstruction in January 2018 and Heritage Lumber in 2019. Adam, and his companies, have the vision of a construction industry where deconstruction and remanufacturing replaces demolition and disposal.
Bahar Moussavi, Co-Founder and President, C.O.D.E. Initiative
Bahar Moussavi is the co-Founder and President of C.O.D.E. Initiative Foundation, a non-profit organization dedicated to creating inclusive and accessible educational opportunities for underrepresented youth. She has earned her M.Ed. at UBC and specializes in areas of inclusive education, neurodiversity acceptance and empowerment, and policy advocacy for disability rights. Bahar is an award-winning entrepreneur, named in BC Business 30 under 30, TEDx speaker, and an activist in the area of Neurodiversity and Disability Rights.
Hosted by:
ACG
Sponsors