Image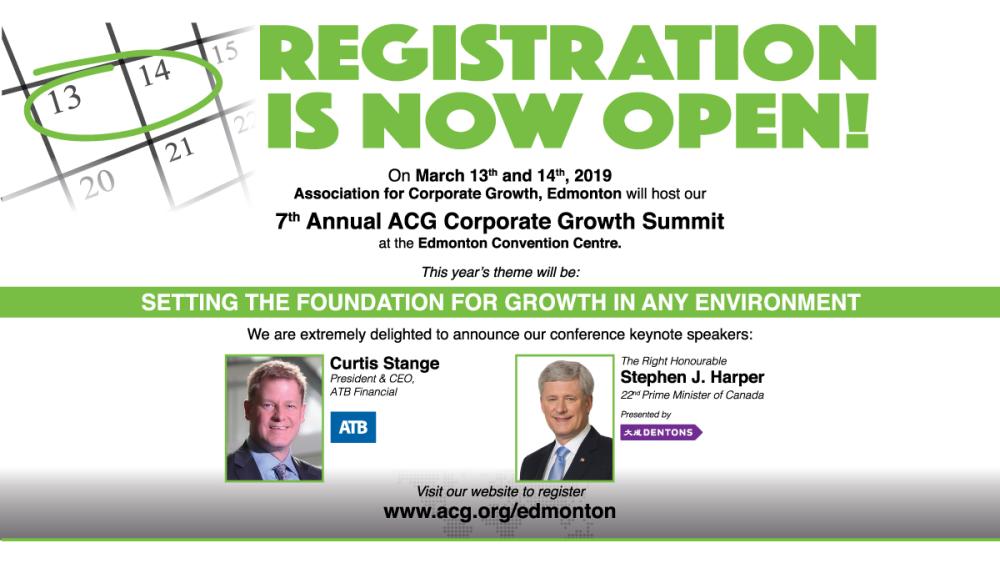 Event Details
When:
March 13 - 14, 2019
Where:
Location Name
Edmonton Convention Center
Add to Calendar
Overview
Body
Member Registration Price $395.00 + GST
Non-Member Registration Price $445.00 + GST
FULL Summit Agenda link is to the right of this page ------------------------------->
Please email Karina Chin at edmonton@acg.org with any dietary restrictions.
SPEAKERS
Right Honourable Stephen J. Harper
For nearly ten years, The Right Honourable Stephen J. Harper led Canada through the world's most complex geopolitical, economic and security challenges as the country's 22nd Prime Minister. During his tenure in the world's top forums such as the G-7 and G-20, NATO, and the United Nations, Mr. Harper was known for a frank, assertive leadership style defined by principled diplomacy, disciplined economic policy, a strong stance on international peace and security, and passionate defence of freedom and human dignity.
Mr. Harper created the modern Conservative Party of Canada, won three successive national elections, and was the longest serving Conservative Prime Minister since Canada's founding Prime Minister in 1891. Under his watch, Canada emerged from the 2008 economic crisis faster and stronger than its peers. Among his many accomplishments in office, Mr. Harper brought federal taxes to their lowest level in 50 years, balanced the budget while making investments in health care and infrastructure, overhauled the criminal justice system, and expanded Canada's international trade network tenfold. On the international stage Prime Minister Harper oversaw Canada's involvement in a series of complex conflicts in Afghanistan, Libya and Iraq, and stood staunchly by besieged allies Israel and Ukraine. As the host leader of the 2010 G-20 summit in Toronto, and as an economist by training, Mr. Harper helped shape financial reform frameworks, implemented a sustainable approach to fiscal stimulus, and led the call for open markets and pragmatic, growth-oriented economic policy.
Today, Mr. Harper is Chairman and CEO of Harper & Associates, a global business consulting firm and Chairman of the International Democrat Union, the global alliance of conservative political parties. He is also a Founder-Member of the Friends of Israel Initiative, an association of former high-office holders from around the world steadfastly defending Israel's right to self determination, security and democracy.
Curtis Stange
President & CEO of ATB Financial

Curtis Stange is the President and CEO of ATB Financial. With assets growing to $55 billion, ATB  provides personal, business, agriculture, corporate, and wealth management services to nearly  770,000 customers in 247 Alberta communities.  

A seasoned banker with over 30 years experience at one of Canada's "Big Five" banks and ATB  Financial, Curtis has led teams across diverse geographic markets and through various economic  cycles. His inaugural role at ATB was to launch a new line of business focused on entrepreneurs  all over Alberta. He then played a key role in the transformation of ATB's banking systems, the  company's biggest tech challenge in a generation. Curtis has also taken strategic planning and  operations teams to new places, like the adoption of new tech like Apple Pay and blockchain, and the launch of ATB LendR. More recently he served as ATB's first-ever chief customer officer.
Curtis received the Order of Athabasca University for public service work and is a Stanford  alumnus. He's a strong advocate for mental health as an active member of the Canadian Mental  Health Association. Leading a purpose-driven organization, Curtis is passionate about making  banking work  for  people by truly listening and using ATB's expertise to help change people's lives  for the better.