Image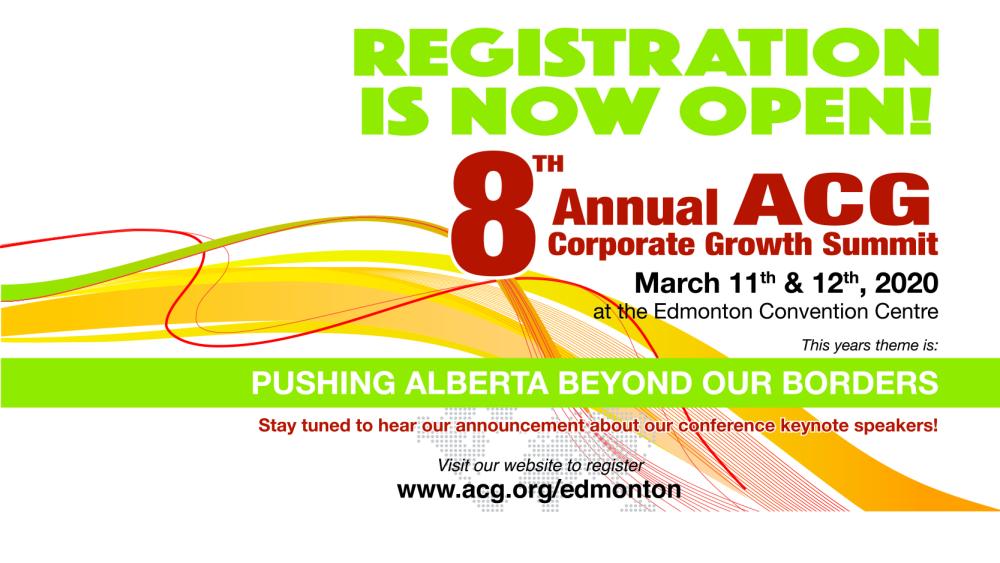 Event Details
When:
March 12, 2020
Where:
Location Name
Edmonton Convention Centre
Add to Calendar
Overview
Body
Register today for the ACG Corporate Growth Summit
Member Registration Price $425.00 + GST.
Non-Member Registration Price $525 + GST.
Please note that all fees are in Canadian Dollars not US dollars as shown on the registration screen.
A hotel Block has been set up at the JW Marriott Edmonton Ice District 10344-102nd Street. 
Speakers
Image
Cam Linke
Morning Keynote Speaker: Cam Linke is the CEO of Amii (the Alberta Machine Intelligence Institute) and a longtime leader in Edmonton's tech and startup communities. Over the years, he has worked as a CEO, community builder, product manager, software entrepreneur and developer. A co-founder of Startup Edmonton in 2009, he also formed DemoCamp in 2008, served as CEO of Touch Metric, and was the Product Manager at Nexopia.com.
Image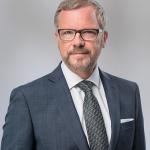 Brad Wall
Former Premier of Saskatchewan
Afternoon Keynote Speaker: Brad Wall served as the 14th Premier of Saskatchewan from 2007 to 2018 when he retired from public life.
During Wall's time in office Saskatchewan added over 60,000 new jobs and broke population growth records welcoming over 160,000 new citizens through the decade. His government's growth plan reformed labour legislation and regulatory environments to ensure fairness, sustainability and economic competitiveness.
 Record public investments were made in provincial infrastructure through direct provincial investment and record municipal funding roads, sewers, highways, schools and hospitals, long term care facilities and the new Mosaic Stadium. Wall's government implemented record income tax reductions and reduced taxes on small businesses. During Wall's time in office, Saskatchewan reduced its operating debt by almost $1 billion and earned its first ever AAA credit rating which it retains to this day. His last budget made the difficult choices to reduce Saskatchewan's financial dependence on resource revenue and chart a course back to a balanced budget, recently tabled in the Legislature.
Wall currently operates his own business and is a special advisor to the national law firm Osler, Hoskin and Harcourt LLP. He is an itinerant columnist for the BOE Report and the National Post and was recently named to the Advisory Board of the Canadian Global Affairs Institute.
He and his wife Tami reside in Swift Current, Saskatchewan. They have three grown children and an aging Border Collie named Zeke. Wall may or may not own Waylon Jennings 1973 Cadillac Eldorado.
Wall was first elected to the Saskatchewan Legislative Assembly in 1999 as the 
MLA for Swift Current. When he was elected he was working in local economic development and was operating his own seasonal tourism business.
Wall holds an Honours degree in Public Administration from the University of 
Saskatchewan.
Image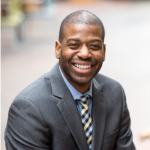 Dr. Marvin Washington
University of Alberta School of Business
Associate Dean of Executive Education
Dr. Marvin Washington
Marvin Washington is a full professor in the Alberta School of Business and Associate Dean of Executive Education. Dr. Washington's research, teaching, and consulting focus is on processes of organizational and institutional change.
He is the author of three books on leadership and organizational change. His most recent book is on developing your personal mastery (Leading Self before Leading Others with Stephen Hacker at Business Expert Press).  Marvin has taught undergraduates, graduates, and executives since he joined the University of Alberta in 2006.  Dr. Washington has worked with a variety of organizations such as, Enbridge, AIMCo, Blue Cross, YMCA, Parkland Fuels, Syncrude, and SportChek, many ministries and departments in the Country of Botswana, the state of Oregon, Government of Alberta and the City of Edmonton.
Prior to life in Academia, Marvin was a manufacturing manager for Procter and Gamble where he was responsible for Zest Bar Soap.
When not teaching, researching, or consulting, Marvin can be found hanging out with his two sons (both students at the University of Alberta) or coaching basketball. Since 2009 Marvin has served on the board of Alberta Basketball
Education
Ph.D.  in Organization Behavior and Sociology, Northwestern University, Kellogg Graduate School of Management  1999
BS in Industrial Engineering, Northwestern University 1989