Image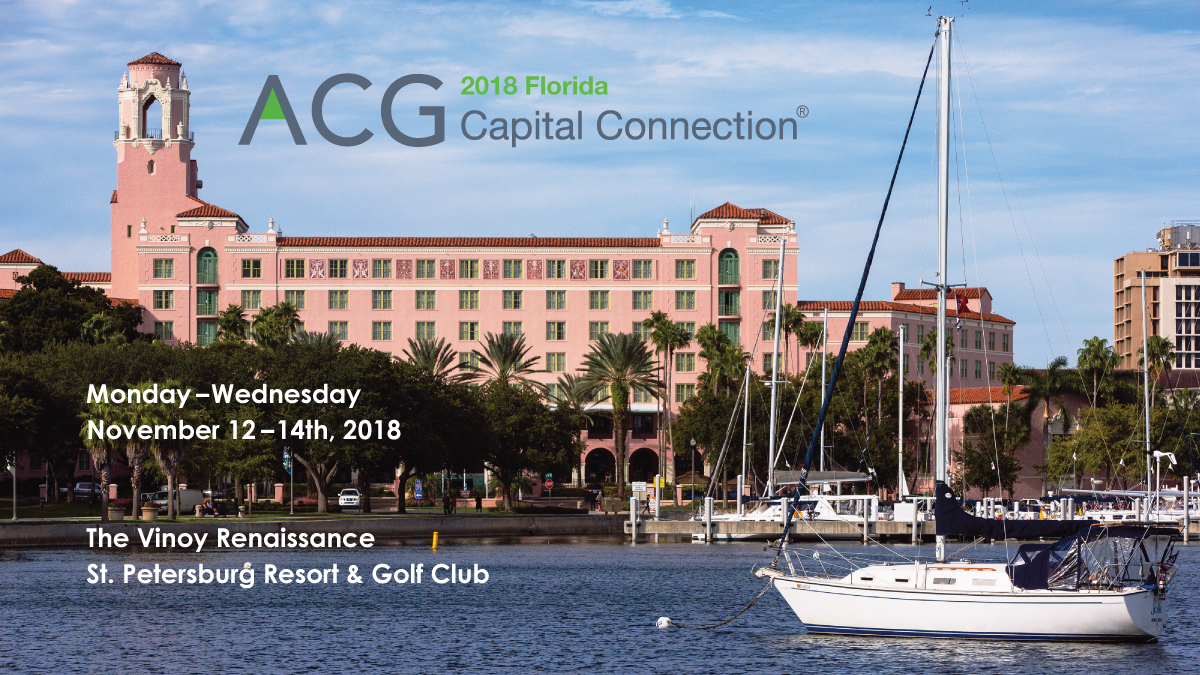 Event Details
When:
November 12 - 14, 2018
Where:
The Vinoy Renaissance St. Petersburg Resort & Golf Club
Event Secondary Body
ACG Florida is a partnership of the four Florida Chapters of ACG in North Florida, Orlando, South Florida and Tampa Bay.
The Florida ACG Capital Connection®, now in its 14th year, is the last ACG Capital Connection® of 2018 and the collective effort of four ACG chapters spanning Florida.  It puts "sun and fun" into deal-making for the middle market, bringing together hundreds of dealmakers in one location.
Just like in previous years, we are planning 2-1/2 fun, luxurious and efficient days, including:
Early Arrivals Reception on Monday, Nov 12th for those arriving early

Annual Golf Tournament

Welcome Reception/Capital Connection "Wine Tasting"

A schedule to give you maximum time to network
Fill your pipeline for 2019 at what has become one of the Southeast's premier destinations for deal flow and networking with 500+ representatives of private equity firms, commercial and investment banks, growth-oriented companies, accounting and law firms, and other professionals all focused on middle-market deal making.
The Florida ACG Capital Connections are just the right size for making worthwhile connections!
This year's event is hosted by ACG Tampa Bay and our co-chairs include:
Lilies Lanway
Senior Vice President
Accord Financial
(727) 527-3323
llanway@accordfinancialus.com

Emery Ellinger
CEO
Aberdeen Advisors, Inc.
(727) 639-4716
emery@aberdeenadvisors.com
Brooke Evans
CEO
CFO Alliance
(813) 541-1614
bevans@cfoalliance.com
Gary Colbert
President & Managing Partner
Nperspective
(941) 323-9555
gcolbert@npcfo.com