Image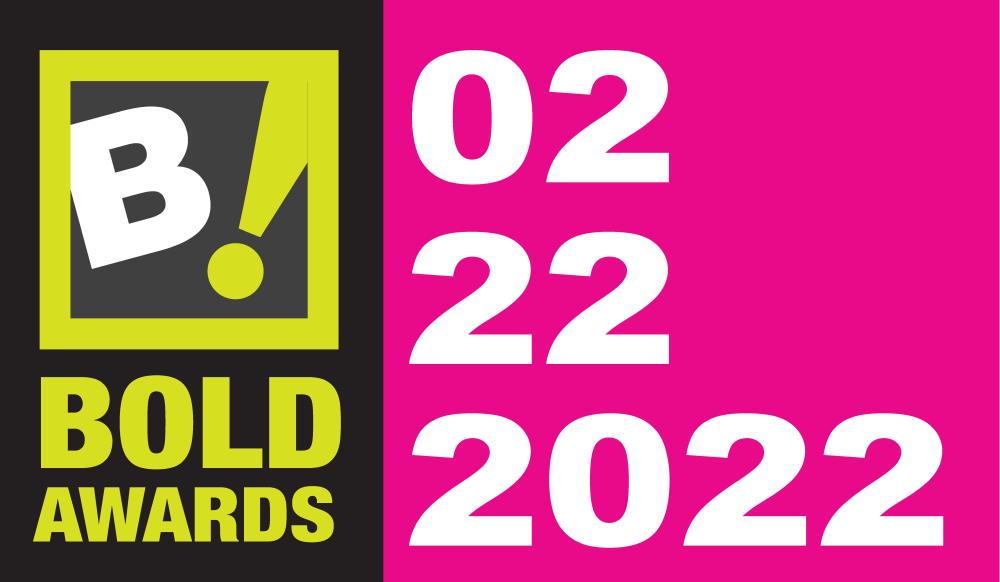 Event Details
When:
February 22, 2022 6 PM - 8:30 PM CST
Overview
BOLD Awards 2022 | Tuesday, February 22, 2022
ACG Minnesota invites you to nominate your clients or company for the 10th annual BOLD Awards! ANYONE can nominate!
These awards are designed to honor and recognize innovation, inspirational moves, bold visions and leaders that have made bold moves to positively grow, restructure or enhance their companies for the benefit of all stakeholders. Leaders and their teams (investment bankers, lawyers, bankers, and others assisting the nominees BOLD moves) will be recognized for imagination, innovation and extraordinary efforts to grow Minnesota.
Original. Inventive. Daring and BOLD. These awards are a BIG DEAL.
Nominations will be considered from each organization category (by gross revenue):
Not for Profit
Early Stage (less than $5 million)
Small and Growing ($5-$20 million)
Middle Market ($20-$250 million)
Large and Established ($250 million +)
NEW CATEGORY FOR BOLD Awards 2022! 2020 START UPS
ACG Minnesota members and non-members alike are welcome to submit nominations based upon BOLD moves that occurred between January 1, 2019 and December 31, 2021. Typically it is a 24 month period however due to the pandemic we are lengthening the term for the 2022 event. 
Image

2022 DATES TO KNOW
Nominees Announced | December 2021
A list of all nominees will be announced on social media and other outlets.
Nominee Judging Reception, Minneapolis Event Center | January 6, 2022
Exclusive high end reception for nominees, nominators and judges only. You cannot buy a ticket to the event and only those who nominate or are nominated are in attendance as part of the judging process.
Finalists Announced | February 2022
Three finalists in each category are announced on social media and other outlets.
BOLD Awards Gala. The Fillmore Minneapolis | February 22, 2022
Category winners are announced at the gala and the BOLDest of the BOLD is selected by live audience vote at the event.
Image

For those of you who are new to ACG Minnesota, we are a networking organization focused on growing the middle market through mergers and acquisitions, our 300 local members are driving those deals! ACG members, simply put, are corporate leaders and trusted partners: the attorneys, accountants, advisors and capital sources who get deals done. As an ACG member, you benefit from our global network of almost 13,000 members and over 90,000 investors, owners, executives, lenders and trusted advisors worldwide.
ACG Minnesota hosts over 50 events in the Twin Cities every year, and the BOLD Awards is one of them that honors and highlights the innovative and inspirational organizations that make Minnesota great. This program celebrates the corporate leaders and teams that are behind successful mergers and acquisitions, financing and extraordinary strategies that lead to sustainability, remarkable performance and/or accelerated growth across all industries and size including not for profits. The judging process is intense and thorough, to whittle all nominations down to 15 finalists across 5 categories. The event is a vivid, high-energy BOLD celebration of the businesses that grow Minnesota! The winners of each category are announced at the event and finally the BOLDest of BOLD winner is chosen at the event via a real-time, live audience vote.
The 2021 event was cancelled due to the pandemic, so not only will 2022 be bigger than ever because of that, we are also celebrating the 10th anniversary! What a ride it has been. The stories that have been told. Don't wait, be a part of this exciting event. 
We know with the pandemic there is much innovation and creativity among our Minnesota companies who had to pivot and change the way they did business.  Daring. Original. Inventive and BOLD these awards are a big deal. They showcase the best in corporate growth and the leaders who have had to make bold bets on behalf of their companies. Join us by nominating a company today and celebrate these BOLD organizations for their courageous business decisions that have driven remarkable corporate performance even in the face of a pandemic. Nominators and their nominees will be invited to an exclusive Nominee Judging Reception, Thursday, January6, 2022.  We hope you will be there with us.
Event Materials