Image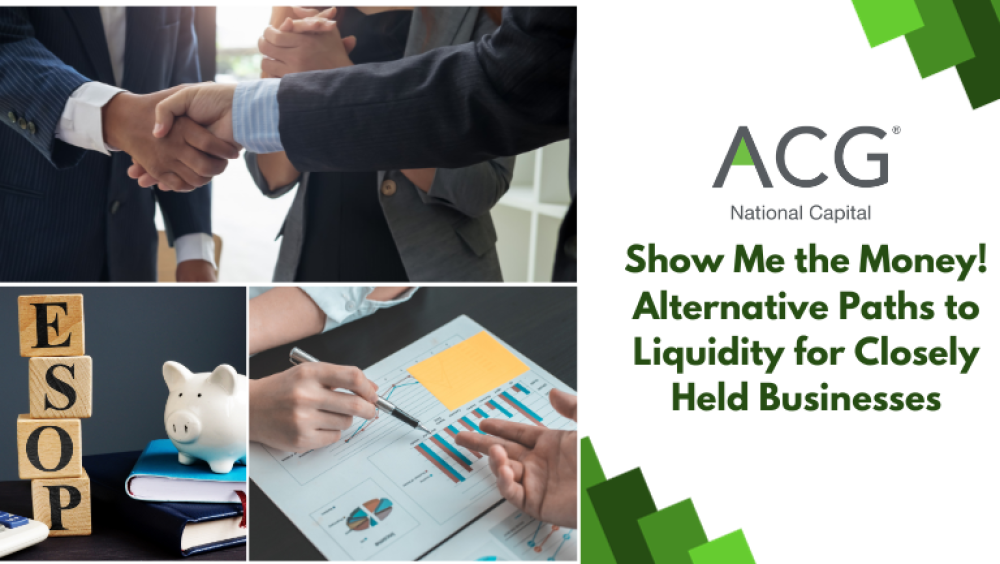 Event Details
When:
November 9, 2023 7:30 AM - 9:30 AM EST
Where:
Location Name
Holland and Knight, 16th Floor
Add to Calendar
Overview
Body
With so much attention paid to the topic of M&A in the government contracting industry, a very (not so) subtle point is often overlooked. The outright sale of a business might not make sense for every business owner seeking liquidity. Some owners are not ready to part ways with the business they have worked to establish and grow. Also, some businesses may not be ideally positioned for a value maximizing sale to a third party at a given moment. Some owners might decide that an outright sale might not be in the best interest of their employees. Whatever the reason, business owners should be aware of all the strategic options that are on the table when liquidity is desired. These options include:
Selling a minority interest in your business to an outside investor, such as a growth equity firm
Selling (partially or fully) the business to an Employee Stock Ownership Plan (ESOP)
Taking on debt to recapitalize the business and taking chips off the table
We have curated an elite panel of banking, private equity, legal, and wealth management professionals, all of whom understand thoroughly the full array of strategic alternatives available to business owners in the current environment. The discussion will conclude with an interactive Q&A session. Audience participation is both welcomed and encouraged.
Moderated By:
Jordan Forney, Bernstein Private Wealth Management
Featured Panelists:
David Cole, Partner, Holland & Knight
Lauren Shields, Pinnacle Financial Partners
John Meade, Principal, Blue Delta Capital Partners
Richard Weaver, National Director, Bernstein Private Wealth Management