Image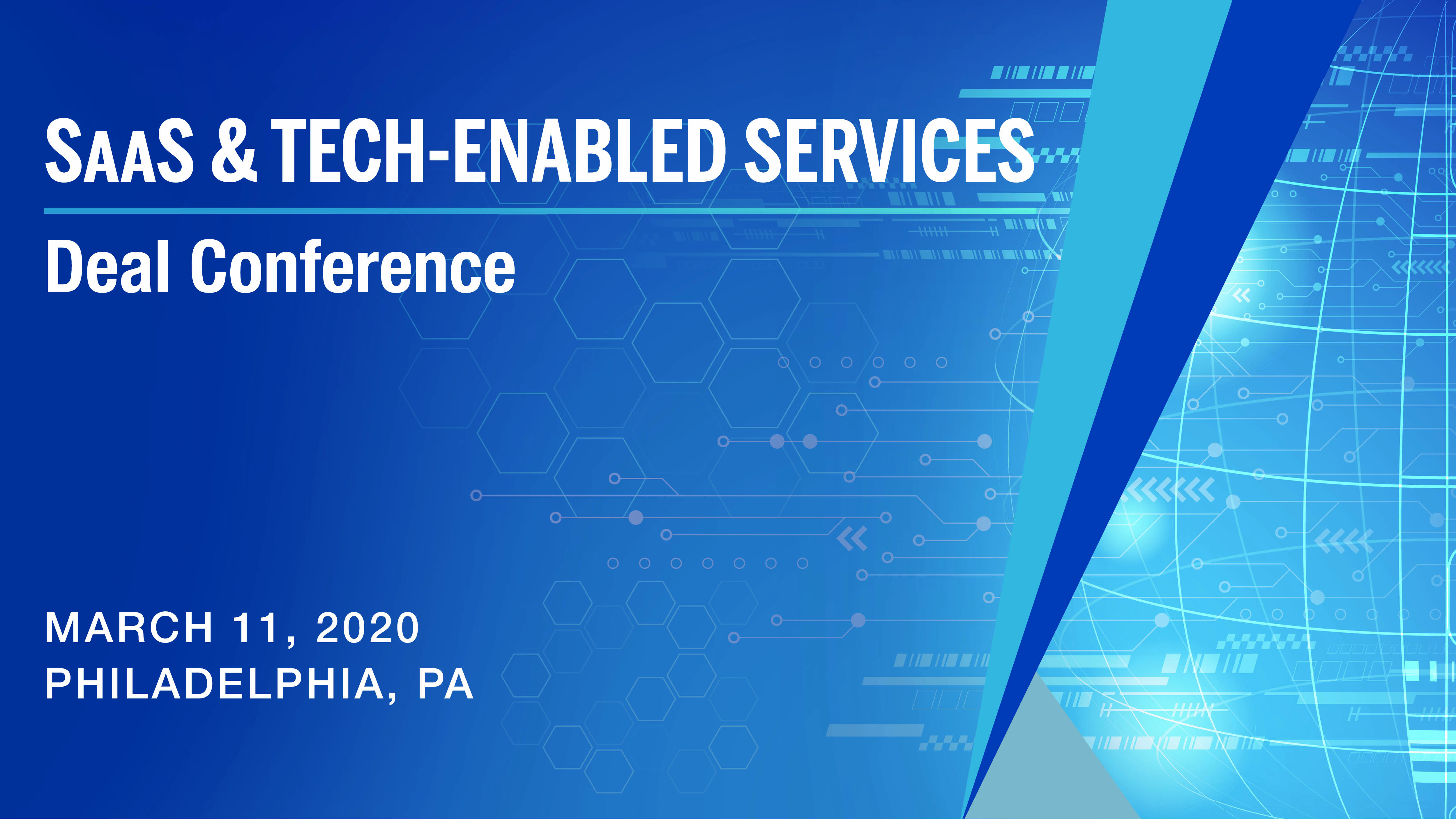 Event Details
When:
March 11, 2020 10 AM - 6:30 PM EDT
Where:
Location Name
The Bellevue
Add to Calendar
Event Secondary Body
In partnership with 
SaaS & Tech Enabled Services Overview
The SaaS conference launched in 2018 to outstanding reviews from veteran industry specialist investors, company operators and investment bankers.  This growing 3/4 day conference is designed to foster connectivity among SaaS and tech-enabled services (TES) dealmakers and company executives with deep industry expertise in a highly targeted deal networking, discussion and educational environment.
 
Attracting 300 attendees from across the country, this industry vertical deal event is designed to:
Expand dealmaking networks in the SaaS and Tech Enabled Services industries

Offer a highly efficient 1:1 meeting format and software tool to target deal prospects

Engage in meaningful dialogue on trends and issues with those who operate, invest or advise in the same industry verticals as them.

Agenda
Timing 
Session
9:45 am 
Registration
10:00 am - onward
1:1 meetings 
10:00 am - 12:00 pm
SaaS Roundtable - Open to Company Operators only
Featured Speaker: Rick Nucci, Founder & CEO, Guru
12:00 - 1:30 pm
Luncheon and 1:1 meetings continue
1:30 - 4:00 pm 
Panel Sessions
 

The Remote Workforce: Pros, Cons and Preparing for the Future
 
Budgeting Tradeoffs: High Growth, But Not At All Costs 
 
Metrics that Matter

4:15 - 5:15 pm 

Capital Market Trends and Industry Outlook Panel

Christopher French, Managing Director, Canaccord Genuity
Matt Klinger, Senior Director, Bridge Bank Technology Banking
Joseph McGinley, Vice President, Corporate Development, Comcast
Shivan Patel, Vice President, Vista Equity Partners
Chris Miller, Partner, Pepper Hamilton LLP

until 6:30 pm
Cocktails & Networking Reception 

Why Attend?
7

5-80% of attendees are strategic and financial buyers, investment bankers, company operators and capital providers

Limits service provider attendance to those who have demonstrated industry expertise

Offers targeted 1:1 deal meetings with operators, investors, bankers and SMEs

Convenes investors from growth stage to buyouts

Engages CEOs/CFOs, corporate development officers and company operators pre-investment and currently backed


 
 
* Private Equity /
  Investment Banker
* Operator Company Exec / Strategic Acquirer
Service Advisor /
Commercial Lender
Member
$225
$95
$400
Non-Member
$325
$145
$525
* PE, I-Banks, Operators - Email mdagit@acg.org for a link to register.
Service Advisors - Request an Invitation 
The 2020 SaaS Deal Conference is offered by invitation only to a limited number of service advisors and commercial lenders who have clients and demonstrated experience in the SaaS or Tech-Enabled Services industry.  First priority is given to sponsoring firms.
Non-sponsoring service advisors and commercial lenders can submit an invitation request and, if space is available, a registration link will be sent to those who qualify. If approved, you are invited to bring an operator / company executive as your guest at no additional cost. A discount code will be shared.
To ensure access to this highly efficient, industry vertical event become an exclusive sponsor. 
CANCELLATION & REPLACEMENTS
For a full refund, less a $5 processing fee, cancellations must be made no later than Friday, March 6, 2020. Attendee replacements can be made in advance or on site. Email mdagit@acg.org.
Hosted by:
ACG
Attendee List
Event Materials
Event Materials
As a service advisor, to ensure access to this highly efficient, industry vertical event become an exclusive sponsor.
Questions, contact Jen Simons, jsimons@acg.org
SaaS Planning Committee
Anne Vazquez, NewSpring Capital (CHAIR)
David Allebach, Delancey Street Partners
Allen Born, Fairmount Partners
Christian Bullitt, Raymond James
Chris Miller, Pepper Hamilton LLP
Dean Miller,  PACT
David Nevas, Edison Partners
Shivan Patel,  Vista Equity Partners
David Reuter, LLR Partners
Brad Segal,  Comcast
Ben Weinberg, Susquehanna Growth Equity