Image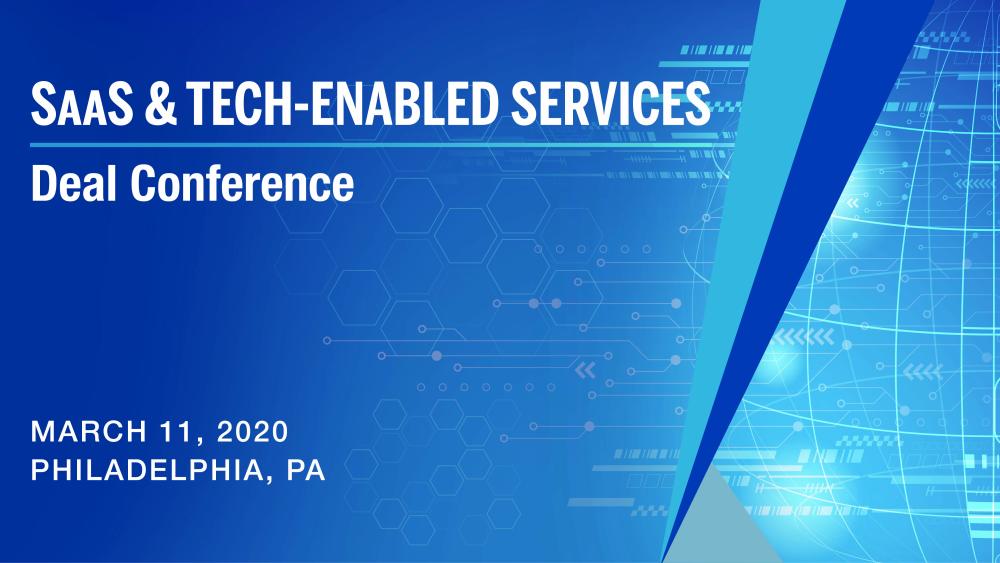 Event Details
When:
March 11, 2020 10 AM - 6:30 PM EDT
Where:
Location Name
The Bellevue
Add to Calendar
Event Secondary Body
In partnership with 
The SaaS Conference will take place as scheduled! As of March 8th, Philadelphia has no confirmed cases of COVID-19.  Even so, we have implemented enhanced procedures to ensure the health and well being of our guests.  Details below.
SaaS & Tech Enabled Services Overview
The SaaS conference launched in 2018 to outstanding reviews from veteran industry specialist investors, company operators and investment bankers.  This growing 3/4 day conference is designed to foster connectivity among SaaS and tech-enabled services (TES) dealmakers and company executives with deep industry expertise in a highly targeted deal networking, discussion and educational environment.
Service Advisors - Request an Invitation 
InVESTMENT BANKS, pe/VC FUNDS, OPERATORS & ACQUIRERS - REGISTER HERE 
Attracting 300 attendees from across the country, this industry vertical deal event is designed to:
Expand dealmaking networks in the SaaS and Tech Enabled Services industries

Offer a highly efficient 1:1 meeting format and software tool to target deal prospects

Engage in meaningful dialogue on trends and issues with those who operate, invest or advise in the same industry verticals as them.

Agenda
Timing 
Session
9:45 am 
Registration
10:00 am - 4:00 pm
1:1 meetings 
10:00 am - 12:00 pm
SaaS Roundtable - Open to Company Operators only
Featured Speaker: Ned Moore, Co-Founder, Chairman & CEO, Clutch
12:00 - 1:30 pm
Luncheon and 1:1 meetings continue
1:30 - 2:30 pm 

The Remote Workforce: Pros, Cons and Preparing for the Future

Tracy Kroop, Director of User Experience, Boomi
Kaden Rushford, Director of User Experience, LogMeIn
Michael Shenkman, Vice President of Finance, InVision
Andy Topping, Sr. Vice President - Human Resources, Comcast

2:30 pm
BREAK
3:00 - 4:00 pm

Budgeting Tradeoffs: High Growth, But Not At All Costs 

David Badler, Head of Portfolio Operations, Susquehanna Growth Equity
Amy LaBan, Managing Director, Canaccord Genuity 
Michael Vaughan, Former COO, Venmo and currently Executive in Residence, Oak HC/FT
Todd Venetianer, COO, iContracts

3:00 - 4:00 pm

Metrics that Matter

Allen Born, Director, Fairmount Partners
Bill Filip, Founder & Managing Director, Delancey Street Partners
Ned Moore, Co-Founder, Chairman and CEO, Clutch
Michael Pantilione, Principal, LLR Partners
Ellen Purdy, CFO, Office Practicum (Connexin Software)

4:15 - 5:15 pm 

Plenary Panel: Examining Strategic Alternatives
 

Chris French, Managing Director, Canaccord Genuity
Matt Klinger, Senior Director, Bridge Bank Technology Banking
Joseph McGinley, Vice President of Corporate Development, Comcast
Shivan Patel, Vice President, Vista Equity Partners
Chris Miller, Partner, Pepper Hamilton LLP

until 6:30 pm
Cocktails & Networking Reception 
COVID 19
ACG's commitment to mitigate risk at our events for attendees is steadfast. Even though there are no confirmed cases in Philadelphia as of March 8th, we're working closely with The Bellevue Hotel in response to COVID-19 to ensure a safe and healthy environment. Of course, attendees should follow travel guidance, including, if you become ill, to abstain from travel and not participate in public events.  Additional enhanced precautions are outlined below.

Why Attend?
7

5-80% of attendees are strategic and financial buyers, investment bankers, company operators and capital providers

Limits service provider attendance to those who have demonstrated industry expertise

Offers targeted 1:1 deal meetings with operators, investors, bankers and SMEs

Convenes investors from growth stage to buyouts

Engages CEOs/CFOs, corporate development officers and company operators pre-investment and currently backed


 
 
* Private Equity /
  Investment Banker
* Operator Company Exec /
  Strategic Acquirer
Service Advisor /
Commercial Lender
Member
$225
$95
$400
Non-Member
$325
$145
$525
* PE, I-Banks, Operators - Email mdagit@acg.org for a link to register.
The 2020 SaaS Deal Conference is offered by invitation only to a limited number of service advisors and commercial lenders who have clients and demonstrated experience in the SaaS or Tech-Enabled Services industry.  First priority is given to sponsoring firms.
Non-sponsoring service advisors and commercial lenders can submit an invitation request and, if space is available, a registration link will be sent to those who qualify. If approved, you are invited to bring an operator / company executive as your guest at no additional cost. A discount code will be shared.
To ensure access to this highly efficient, industry vertical event become an exclusive sponsor. 
UPDATE ON COVID-19 - Your safety is our first priority.
We continue to closely monitor the COVID-19 situation, remain vigilant, and follow recommended precautionary measures, protocols and guidelines from various health organizations including the World Health Organization (WHO), U.S. Centers for Disease Control and Prevention (CDC), and local authorities, in an effort to ensure guests and customers remain in a safe and healthy environment.
At this time, specific measures in place at our host venue, The Bellevue Hotel, include:
Serving boxed lunches and individually wrapped food and snacks in lieu of buffet options 
Offering attendants to serve attendees to reduce guest touchpoints
Placing hand sanitizers in high traffic areas and at all meeting tables
Increasing frequency of cleaning high touch point areas such as door handles, bathroom counters, business center, elevator buttons, remote controls, telephones 
Monitoring and recording temperature levels on dish and laundry washing machines
Using appropriate chemicals that are EPA data-verified to kill H1N1 influenza and human coronavirus (including SARS)
As the situation evolves, we will continue to follow recommended measures that may be provided by the local health authorities.  We will make operational changes and consider additional precautionary
CANCELLATION & REPLACEMENTS
For a full refund, less a $5 processing fee, cancellations must be made no later than Friday, March 6, 2020. Attendee replacements can be made in advance or on site. Email mdagit@acg.org.
Hosted by:
ACG
Event Materials
Event Materials
As a service advisor, to ensure access to this highly efficient, industry vertical event become an exclusive sponsor.
Questions, contact Jen Simons, jsimons@acg.org
 
Registered Investors 
ABRY Partners
ABS Capital Partners
Align Capital Partners
Alpine Investors
Anthos Capital
Argosy Private Equity
Atlantic Street Capital
Berenson Capital Partners
Boathouse Capital
Boundary Street Capital
Bregal Partners
Clovis Point Capital
Comvest Partners
Diversis Capital
EBSCO Capital
Eden Capital
Edison Partners
Escalate Capital Partners
Falcon Investments
Five Points Capital
Frontier Growth
Gauge Capital
Gemspring Capital
Gryphon Investors
H.I.G. Capital
Hamilton Robinson Capital Partners
HKW
Inverness Graham
Level Equity
LLR Partners
Main Street Capital Corporation
McCarthy Capital
Mercury Partners USA
Merion Investment Partners
MHP
Milestone Partners
NewSpring Capital
Northlane Capital
Palladium Equity Partners
PeakEquity Partners
Periscope Equity
PWP Growth Equity
Resolve Growth
Resurgens Technology Partners
Saratoga Investment Corp.
Seaport Capital
SFW Capital Partners
Spire Capital Partners
The Riverside Company
Trilantic Capital Partners
Tritium Partners
Vista Equity Partners
VSS
WestView Capital Partners
Registered Investment Banks 
Andra Partners
BTIG
Canaccord Genuity/CG Petsky Prunier
Chiron Financial LLC
CIBC Cleary Gull
Citizens M&A Advisory
Clearsight Advisors
Corporate Advisory Solutions
DA Davidson
Delancey Street Partners
Fairmount Partners
Falcon Capital Partners
Fidus Partners
Hennepin Partners
Houlihan Lokey
J.P. Morgan Investment Banking
Lazard Middle Market
Lincoln International
Marlin & Associates
Petsky Prunier LLC
Raymond James
SMBC Nikko
Weild & Co
SaaS Planning Committee
Anne Vazquez, NewSpring Capital (CHAIR)
David Allebach, Janney Montgomery Scott
Allen Born, Fairmount Partners
Christian Bullitt, Raymond James
Chris Miller, Pepper Hamilton LLP
Dean Miller,  PACT
David Nevas, Edison Partners
Shivan Patel,  Vista Equity Partners
David Reuter, LLR Partners
Brad Segal,  Comcast
Ben Weinberg, Susquehanna Growth Equity