Image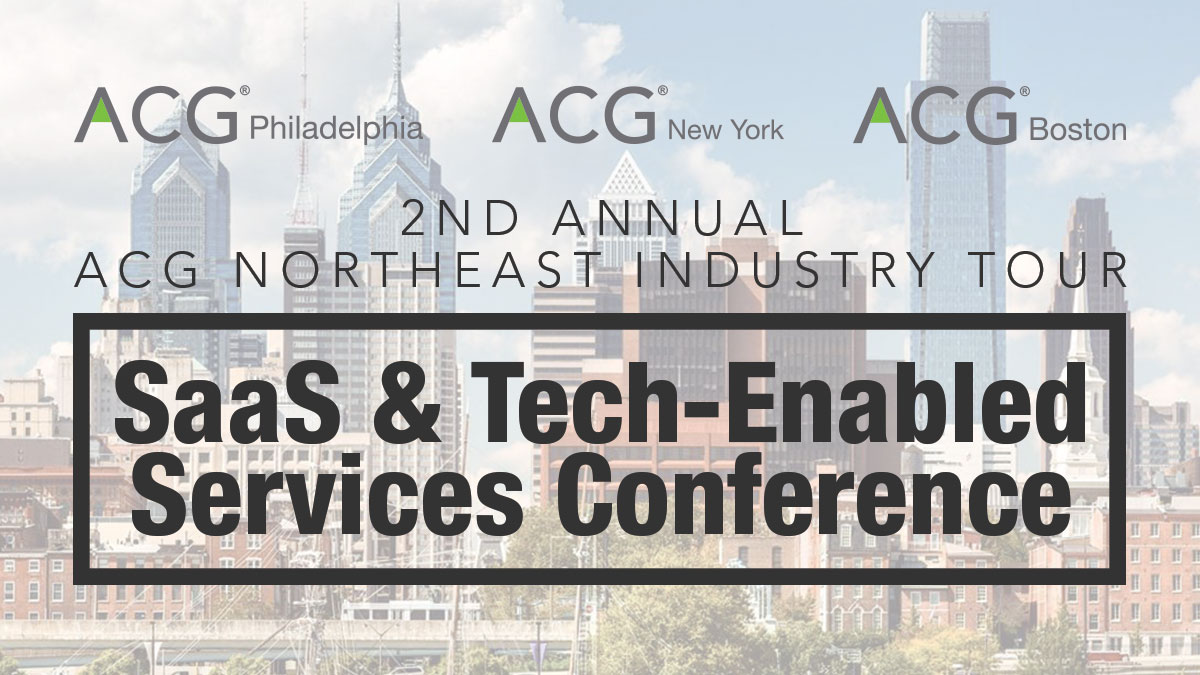 Event Details
When:
March 12, 2019 10 AM - 6 PM EDT
Where:
Location Name
The Union League
Add to Calendar
Event Secondary Body
In partnership with 
Register and access 1:1 Meetings 
Over 200 operators, PE investors and investment bankers from around the country will come together for the SaaS & Tech Enabled Services Conference in Philadelphia.

Join the broader ACG community for this highly targeted industry event featuring 1:1 meetings, carefully curated content and focused networking.

Why Attend?
Schedule targeted 1:1 meetings with relevant industry investors, bankers, advisors and operators
Expand deal networks beyond your regional geography
Develop new deal relationships in the industry sectors in which you invest/operate
Engage in meaningful dialogue on trends and issues with those who operate, invest or advise in the same industry verticals
Tuesday, March 12, 2019
10:00 AM - 6:00 PM 
10 AM
Registration
10 AM - onward
1:1 Meetings
12 PM
LUNCH
1:30 PM

Concurrent Sessions x2
- eCommerce Platforms: Evolution, Technologies & Trends

John Fang, Managing Director, CG / Petsky Prunier (Moderator)
Robert L. Berstein, Managing Director | Technology Investment Banking, Piper Jaffray & Co. 
Pete Elkes, CFO, Occasion Brands
Ryan Hays, Managing Director, Lazard
Justin Nadile, Principal, NewSpring
Ken Wasik, Managing Director, Stephens
 

- Strategies for Scaling a SaaS Organization 

David Badler, Portfolio Operations & Growth, Susquehanna Growth Equity (Moderator)
Jim Catalino, Chief Client Success Officer, Frontline Education
Tony Diodato, AVP Carrier Sales, iPipeline
Adam Feigenbaum, Chief Customer Officer, iCIMS

2:30  PM
BREAK
3:00 PM

Concurrent Sessions x2
- Driving Value Creation with Hybrid Recurring Revenue Models

Ian O'Neal, Managing Director, Raymond James (Moderator)
Fred Fox, Founder & CEO, Planalytics
Reid Jackson, President & CEO, Unison
Ellen Purdy, CFO, Office Practicum
Paul Slaats, Partner, Milestone Partners

Ben Weinberg, Managing Director, Susquehanna Growth Equity
 

- Next Level Growth: Challenges & Opportunities Post Investment

Seth Rosenfield, Managing Director, CG / Petsky Prunier (Moderator)
Maureen Ladouceur, Senior Vice President, Sales & Client Experience,MMIT (Managed Markets Insight & Technology)
Bill Filip, Managing Director, Delancey Street Partners
Clark Waterfall, Co-Founder and Managing Director, BSG
Don Yount, CEO, Critical Mention

4:00 PM

Market Trends & Industry Outlook Panel   

Christian Bullitt, Managing Director, Raymond James (Moderator)
Chris Gresh, Director, Lincoln International
Chase Sanders, Managing Director, RW Baird
Omair Sarwar, Partner, SFW Capital Partners, LLC
Cal Wheaton, General Partner, ABS Capital Partners

5:00 PM
Cocktails & Networking
LOCATION:
Union League, 2nd Floor - Lincoln Hall
140 South Broad Street | Philadelphia, PA 
PRICING:
Members (any ACG Chapter): $195
Non-members: $275
In the event your plans change, replacements are welcome before hand or at registration.  Full refunds are available for cancellations made by close of business Monday March 4th, less a $25 processing fee.  Email replacement or cancellation requests to mdagit@acg.org.
ABOUT THE NORTHEAST  INDUSTRY TOUR
The Northeast Industry Tour is a collaborative event series brought to you by ACG Boston, ACG New York & ACG Philadelphia: continues!  The three chapters have joined forces on the planning and development of industry vertical conferences, each hosted in a different chapter city.  
NOVEMBER 2019: HEALTHCARE (ACG BOSTON)
Hosted by:
ACG