Image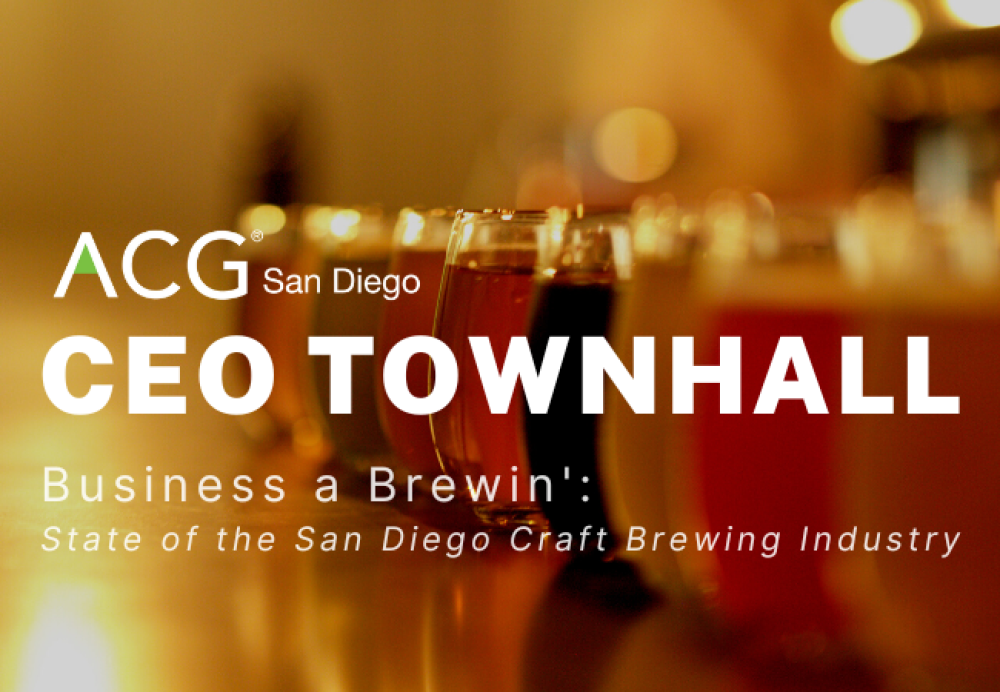 Event Details
When:
September 20, 2022 8 AM - 10 AM PDT
Where:
Location Name
Morgan Run Club & Resort
Add to Calendar
Overview
Body
 SOLD OUT!
Craft beer is quintessential San Diego; the region has a thriving craft brewing industry, with many companies leading the charge nationally to satisfy and influence customer tastes and preferences. Tap rooms are open, craft beer's share of the overall beer market is growing rapidly, and consumers continue to explore new markets for things like hard seltzers and kombucha. This panel of market leaders will discuss developments, opportunities, and issues impacting this fast-growing industry.
Key Takeaways: 
What is the opportunity for brewers with changing tastes around seltzers, kombuchas, spirits, etc.?
Have recent M&A headlines caused any issues or created opportunities for breweries with investors, lenders, vendors, prospective employees, etc.?
How have sales from both mix of direct/dine-in and distributed/retail sales trended since late 2020 until now?
Have the panelists raised or tried to raise any outside capital? If so, how did that process go?
Panelists: 
Jennifer Briggs | Chief Executive Officer, Modern Times Beer
Mike Hess | Chief Brewing Officer, Mike Hess Brewing
Virginia Morrison | Co-Founder, CEO & Chief Legal Officer, Second Chance Beer
Brandon Richards | President, AleSmith Brewing Company
Moderator:
Mike Ford | Managing Director/Founding Member, PBO Advisory Group
Event Secondary Body
SOLD OUT!!
ACG San Diego Annual Sponsors: $30
ACG San Diego Members: $30
Members of Other ACG Chapters: $30
Non-Members & Guests: $95
(Chapter Members whose membership dues still include the cost of this breakfast meeting will receive a discount code via email to be applied at checkout.)
Questions? Contact Executive Director Mike Lasher at mlasher@acg.org or acgsandiego@acg.org.
Please Note: Your registration for this event acts as an audio/video release and includes your permission for ACG San Diego to use your image and comments captured on audio, video or photographic formats while attending the event for marketing and promotional purposes. For further information please contact acgcsandiego@acg.org.
ALL ATTENDEES OF ACG SAN DIEGO'S SEPTEMBER 20, 2022 EVENT WILL BE REQUIRED TO SIGN A WAIVER AT THE CHECK-IN DESK, AS A CONDITION OF ENTRY, INDICATING THAT THEY ARE: (1) ASYMPTOMATIC, (2) ATTENDING AT THEIR OWN RISK, (3) VOLUNTARILY ASSUME ANY AND ALL RISKS ASSOCIATED WITH EXPOSURE TO COVID-19 (CORONAVIRUS), AND (4) HEREBY RELEASE, WAIVE AND HOLD ACG SAN DIEGO AND ACG HARMLESS FROM ANY ILLNESS, INJURY OR DAMAGES INCURRED BY YOU IN CONNECTION WITH YOUR ATTENDANCE AT THIS EVENT. 
Hosted by:
ACG
Sponsors