Image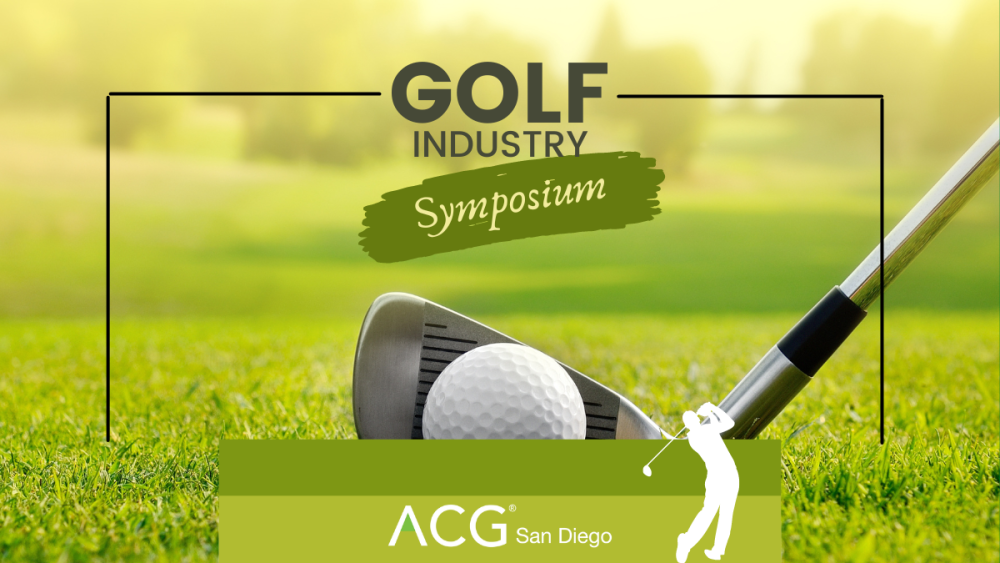 Event Details
When:
November 14, 2023 3 PM - 6:30 PM PST
Where:
Location Name
The Crosby Club
Add to Calendar
Overview
Body
Golf Industry Symposium
Join us this November for an informative and enjoyable dive into the golf industry. This exclusive gathering promises to be a hole-in-one experience for all M&A professionals, industry leaders, golf enthusiasts, and aficionados alike. The symposium will feature two panels, including a roundtable discussion overviewing golf industry trends, and a keynote speaker covering one of the most interesting M&A deals in the game.
Following the panels we'll enjoy a networking happy hour on the outdoor patio, with cold beverages and delectable hors d'oeuvres, as well as access to the adjacent putting green. You'll also have the opportunity to partake in a putting contest and raffle with an assortment of industry-related prizes.
Secure your spot now at the preeminent event in golf industry dealmaking! Golf attire encouraged for all attendees. 
The Changing Game of Golf - Industry Trends Roundtable
Golf is quintessential San Diego. The region has a thriving golf scene, with many courses and leading golf brands creating an ecosystem of industry experts and influencers that are creating the future of golf. This panel of market leaders will discuss developments, opportunities, and issues impacting this fast-changing industry.
Discussion Points
How is the demand for shorter format golf impacting the industry?
What are the alternatives golf formats you believe will have a lasting place in the game?
Has the Covid golf wave of 2020 continued, and how has it changed the game?
What are the short-, medium- and long-term challenges facing the Golf Industry in Southern California, the U.S. and internationally?
Have the panelists raised or tried to raise any outside capital? If so, how did that process go?
Panelists
Ronan Galvin, CEO and Co-Founder of Sunday Golf
Stephen Gibson, Chief Executive Officer of The Bridges
Kevin Hwang, Principal CEO of Aberdeen Young Asset Management
Moderator
Steve Cox, Founder of Golfstix
Keynote Address: Cart Mart, Inc.
From its early days in San Diego as pioneers of the golf cart to its current efforts to formalize and expand the low-speed electric vehicle industry, Cart Mart has always been on the cutting edge of the cart industry. After decades of expansion, strategic transitions, and add-on acquisitions, they are one of the largest electric cart dealers in the nation.
In our discussion with CEO Brian Rott and his trusted external adviser Mark Neilson, we'll dive into the decision making that powered their successful growth and look at what lies ahead for Cart Mart and the electric cart industry.
Discussion Points
How did Cart Mart identify and execute the market transitions from consumer to commercial and back again – where will the mix be long term?
How has the Company used M&A to drive growth and innovation?
What were the market trends that they identified and capitalized upon as they expanded their business?
How can trade associations be leveraged to drive business?
How has the current capital markets environment impacted their growth through acquisition strategy?
Panelists
Brian Rott, CEO of Cart Mart, Inc.
Mark Neilson, Strategic Financial Advisor and Consultant CFO to Cart Mart, Inc.
Moderator
Ted Lord, Vice President, Banker at J.P. Morgan Private Bank
Event Secondary Body
AGENDA:
2:30pm - 3:00pm:  Registration

3:00pm - 4:00pm:  The Changing Game of Golf: Industry Trends Roundtable

4:15pm - 5:15pm:  Keynote Address: Cart Mart, Inc.

5:15pm - 6:30pm:  Happy Hour Reception
REGISTRATION CLOSING SOON!
Registration closes at 12:00pm on Tuesday, November 14.
ACG Members: $95
Non-Members & Guests: $145
You will receive a confirmation email following your online registration. 
Questions? Contact acgsandiego@acg.org. 
Please Note: Your registration for this event acts as an audio/video release and includes your permission for ACG San Diego to use your image and comments captured on audio, video or photographic formats while attending the event for marketing and promotional purposes. For further information please contact: acgsandiego@acg.org.
Hosted by:
ACG
Event Materials
Event Materials
Auctions are LIVE! 
Bid to win premium golf gear and help us raise money for Promise2Kids!
How it works:
1. Sign up on Golfstix.com and verify your email.
2. Search 'ACG LIVE' to view the auctions or use the link provided.
3. Similar to eBay, bid the highest amount you're willing to pay and we'll bid on your behalf using our AutoMax bidding.
4. Bidding will end at 6:00pm on 11/14 during the Symposium.
Good Luck!