Image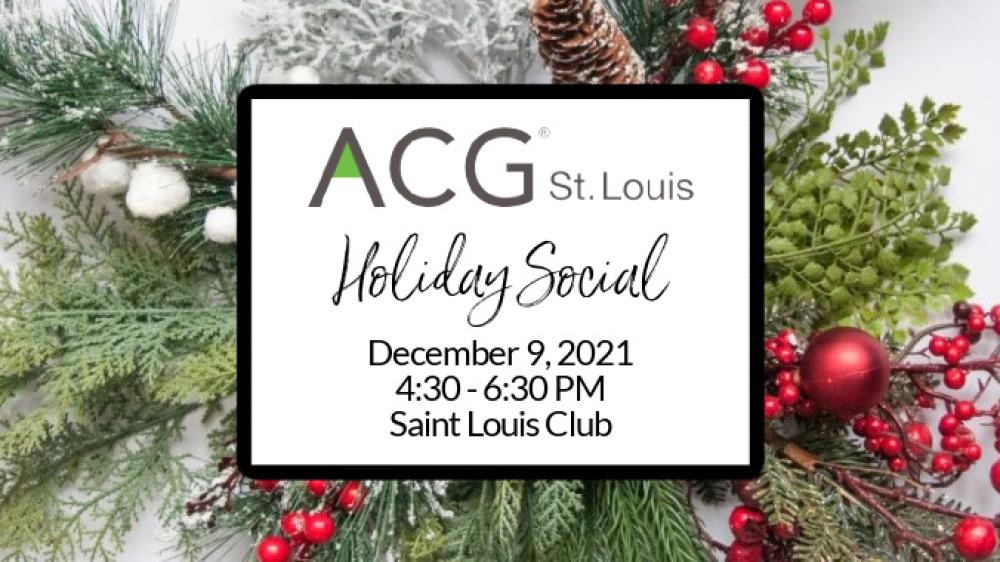 Event Details
When:
December 9, 2021 4:30 PM - 6:30 PM CST
Where:
Location Name
Saint Louis Club
Add to Calendar
Event Secondary Body
                      Join ACG St. Louis as we celebrate the start of the holiday season at the Saint Louis Club! 
                                                                                                 Saint Louis Club
                                                                                        Thursday, December 9, 2021
                                                                                                   4:30 - 6:30 PM             
NEW THIS YEAR!
In the spirit of the holiday season and giving, ACG St. Louis is teaming up with The St. Louis Suit Project. This local not-for-profit collects new and gently used suits to donate to individuals in need. Currently, their focus is geared towards high school and college students who are in need of business clothing for interviews, employment, or any other sound need. While growth is underway, they are only accepting male business attire at this time.
At The St. Louis Suit Project, the application process seeks to place these suits and other business attire in the hands of deserving individuals who demonstrate selfless character traits despite a lack of resources. Kindness is not contingent upon money, and simple acts of kindness are worth their weight in gold. Their application specifically requires that an applicant undertake one random act of kindness for another individual. Confirmation of this act will serve to qualify an individual for donation. It is their hope that the donations will spark further selfless giving.
How can you help? Bring a new or gently used men's suit, tie, belt, and/or dress shoes to the Holiday Social and contribute to this great cause!
Click here for more information on The St. Louis Suit Project.
Hosted by:
ACG