Image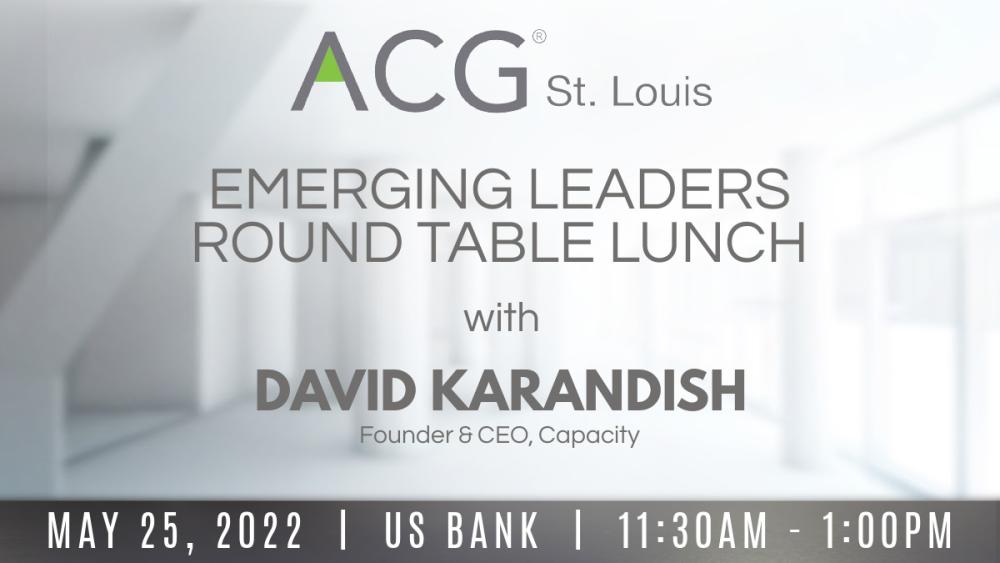 Event Details
When:
May 25, 2022 11:30 AM - 1 PM CDT
Where:
Add to Calendar
Event Secondary Body
The ACG St. Louis Emerging Leader's group invites members to attend a round table lunch discussion with Founder & CEO of Capacity, David Karandish. Capacity was founded in 2017 by David Karandish and Chris Sims, and is part of the Equity.com incubator. Capacity is proudly headquartered in St. Louis.
This event is open to St. Louis ACG Members age 40 and under. Space is limited, so be sure to register early!
Emerging Leaders is an ACG St. Louis peer group of future business leaders in the St. Louis middle-market M&A community age 40 or younger. Emerging Leaders is an effort to build a pipeline of younger members and identify the next generation of professionals in the business community by providing engaging networking opportunities and content-based programming. 
Wednesday, May 25, 2022
11:30AM-12:00PM Networking / Lunch (included)
12:00PM-1:00PM Presentation / Q&A
US Bank
10 N Hanley
St. Louis, MO 63105
ACG St. Louis Member - $0
Event Hosted By: US BANK
Hosted by:
ACG