Image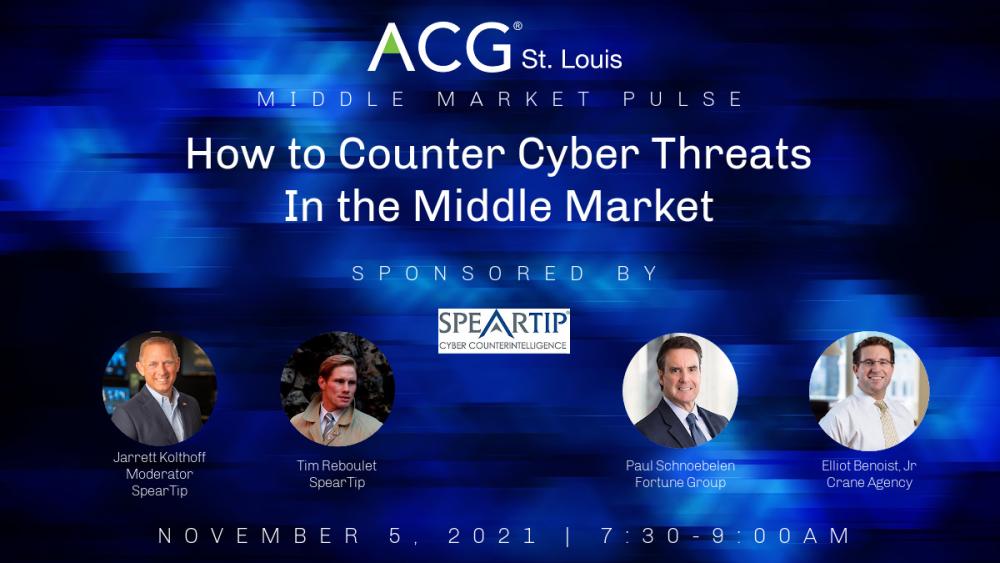 Event Details
When:
November 5, 2021 7:30 AM - 9 AM CDT
Where:
Add to Calendar
Event Secondary Body
Join us for a rare opportunity to visit SpearTip headquarters for a panel discussion on How to Counter Cyber Threats in the Middle Market.  Panelists include: Tim Reboulet, Principal Consultant at SpearTip; Paul Schnoebelen, Managing Director at Fortune Group,  and Elliot Benoist, Jr., Insurance Broker at Crane.  Jarrett Kohltoff, CEO of SpearTip, will serve as the moderator.
EVENT DETAILS:
SpearTip Headquarters
1714 Deer Tracks Trail, Ste 150
St. Louis, MO 63131
7:30 a.m.-8:00 a.m. Registration & Coffee/Networking
8:00 a.m.-9:00 a.m. Presentation 

In-Person
ACG St. Louis Member - $0
ACG Member From Another Chapter - $45
Guest/Non-Member - $60
The Middle Market Pulse series features experts from sponsoring firms to present on topics relevant to ACG St. Louis members.  SpearTip is a counter intelligence, cybersecurity firm specializing in rapid Incident Response and 24/7/365 continuous monitoring of organizations. The Security Operations Centers provide services ranging from data breach investigation to decryption as well as pre breach and advisory services. Keeping focus on protecting businesses from cyber threats, recent expansion of Tampa and Dubai Security Operations Centers allow SpearTip to maintain a global presence and provide protection for businesses everywhere. SpearTip's response tool, ShadowSpear®, is seamlessly integrated for enterprise organizations daily, but the certified and experienced engineers constantly monitoring and operating the technology generate the most complete cybersecurity suite available.
The SpearTip team works tirelessly to defend organizations, livelihoods, shareholder value, jobs, reputations, brands, and most importantly, you.
*By attending this event in-person, YOU VOLUNTARILY ASSUME ANY AND ALL RISKS ASSOCIATED WITH POTENTIAL EXPOSURE TO COVID-19 (CORONAVIRUS) and YOU HEREBY RELEASE, WAIVE AND HOLD ACG HARMLESS FROM ANY ILLNESS, INJURY OR DAMAGES INCURRED BY YOU IN CONNECTION WITH YOUR ATTENDANCE AT THIS EVENT. 
Hosted by:
ACG