Image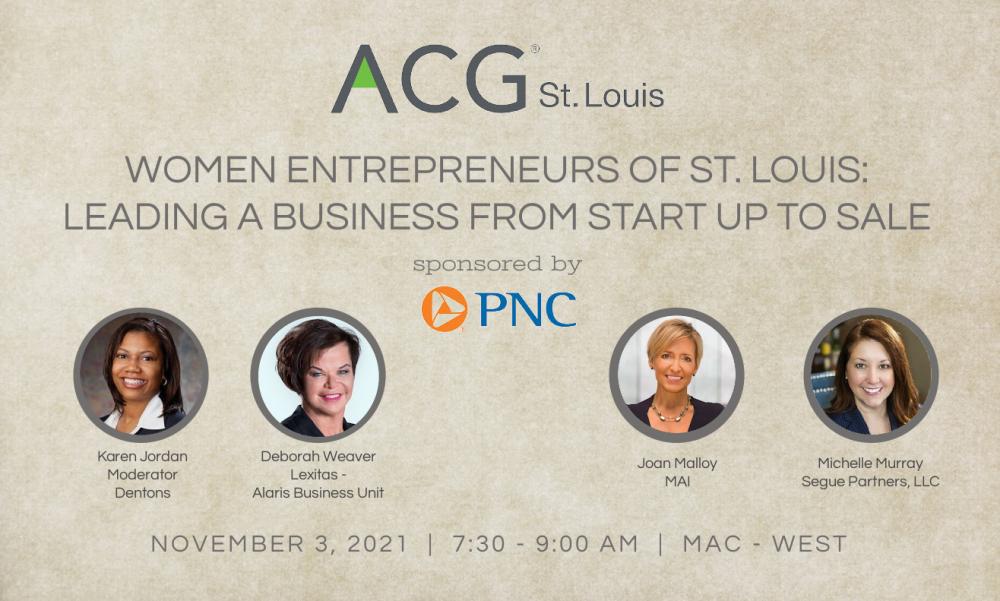 Event Details
When:
November 3, 2021 7:30 AM - 9 AM CDT
Where:
Location Name
Missouri Athletic Club West
Add to Calendar
Event Secondary Body
The ACG St. Louis Women's Peer Group invites you to attend a panel discussion featuring three women who built businesses and negotiated their ultimate exit strategy.  The panel will be moderated by Karen Jordan, Office Managing Partner of Dentons. Jordan will be joined by Joan Malloy, Regional President of MAI; Debbie Weaver, President of the Alaris Business Unit of Lexitas; and Michelle Murray, Founder & Managing Director of Segue Partners, LLC. ACG St. Louis members are encouraged to invite guests that are prospective ACG members.  Contact Amy Ruebsam at aruebsam@acg.org with guest information. This event is sponsored by PNC Bank.
The ACG St. Louis Women's Peer Group helps advance women in the St. Louis dealmaking community by creating opportunities for them to network, engage and develop both personally and professionally. ACG St. Louis is committed to creating an environment that offers opportunities for inclusion, business development and career growth.
Wednesday, November 3, 2021
Missouri Athletic Club West
1777 Des Peres Rd.
St. Louis, MO 63131
7:30-8:00 AM - Registration & Networking:
8:00-9:00 AM - Breakfast & Panel Discussion
Members - $0
Affiliate Members - $0
Guests/Non-Members - $0
*By attending this event, YOU VOLUNTARILY ASSUME ANY AND ALL RISKS ASSOCIATED WITH POTENTIAL EXPOSURE TO COVID-19 (CORONAVIRUS) and YOU HEREBY RELEASE, WAIVE AND HOLD ACG HARMLESS FROM ANY ILLNESS, INJURY OR DAMAGES INCURRED BY YOU IN CONNECTION WITH YOUR ATTENDANCE AT THIS EVENT. 
Hosted by:
ACG
Sponsors
Attendee List
Event Materials
Event Materials
According to the U.S. Census Bureau Annual Survey of Entrepreneurs (ASE), accessed in February of 2019 for the St. Louis, MO-IL Metro Area
Percentage of startups that are female-owned: 

45.2%

Number of female-owned startups: 

2,726

Employees at female-owned startups: 

6,257 (out of 17,888 total startups)

Gross sales/receipts of female-owned startups: 

$150-$500 million