Image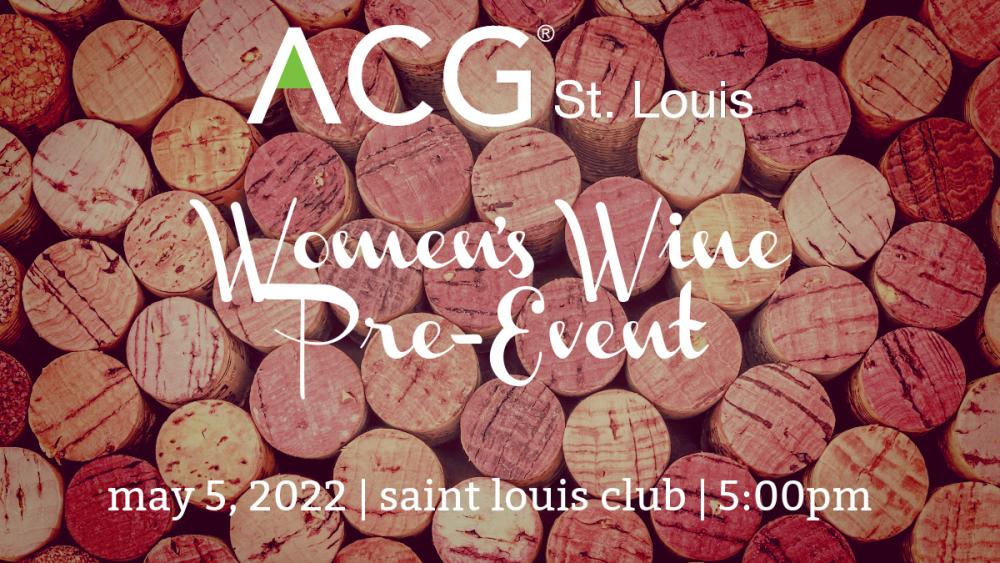 Event Details
When:
May 5, 2022 5 PM - 6:30 PM CDT
Where:
Location Name
The Saint Louis Club
Add to Calendar
Event Secondary Body
Women's Wine Pre-Event
Join the Women of ACG St. Louis for the Women's Wine Pre-Event featuring guest speaker Catherine Neville, VP of Communications for Explore St. Louis. Explore St. Louis is the driving force behind St. Louis' $5.9 billion convention and tourism industry, the official destination marketing organization of St. Louis City and County, and operator of the America's Center Convention Complex.  Attendees are encouraged to participate in the ACG St. Louis Annual Wine Tasting immediately following the women's event.  Separate registration required.
The ACG St. Louis Women's Peer Group helps advance women in the St. Louis dealmaking community by creating opportunities for them to network, engage and develop both personally and professionally. ACG St. Louis is committed to creating an environment that offers opportunities for inclusion, business development and career growth.
Guests are welcome!  Do you know a woman that would make a great addition to ACG?  E-mail their information to acgstlouis@acg.org and we will send them a personal invitation to this event.  The women members of ACG will make a special effort to make your guest feel welcome. 
Thursday, May 5, 2022
Saint Louis Club
Louisiana Room, 14th Floor
Immediately preceding the Annual Wine Tasting
Registration and Networking: 5:00-5:30 p.m.
Women's Wine Tasting Pre-Event: 5:30-6:30 p.m.
ACG St. Louis Annual Wine Tasting: 6:30-8:30 p.m.
ACG St. Louis Members: $0
Guests/Non-Members: $0 (E-mail guest information to acgstlouis@acg.org.  Guests should fit the profile of an ACG member.) 
Hosted by:
ACG