Image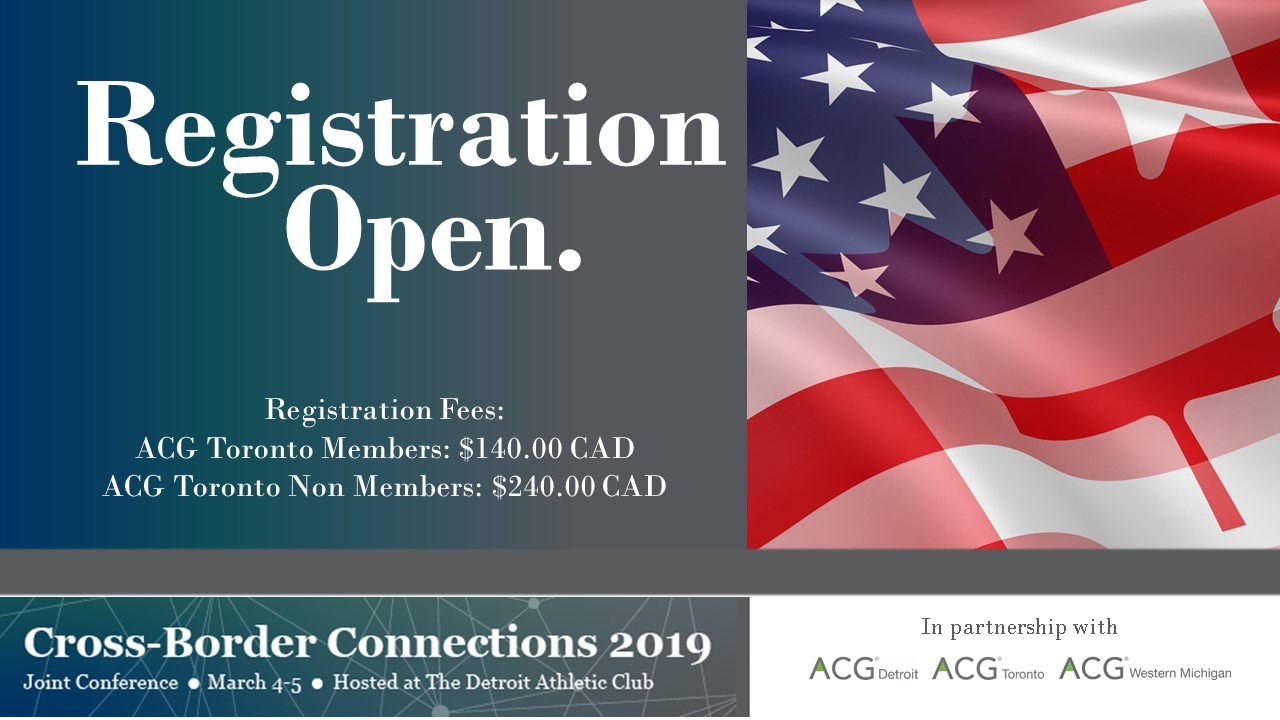 Event Details
When:
March 4 - 5, 2019
Where:
Location Name
The Detroit Athletic Club - 241 Madison St, Detroit, MI 48226, USA
Add to Calendar
Event Secondary Body
ACG Toronto Member Pricing - $140.00 CAD
ACG Toronto Non-Member Pricing - $240.00 CAD
CROSS-BORDER CONNECTIONS 2019
Joint Conference
March 4-5, 2019
Hosted at The Detroit Athletic Club
CONFERENCE OVERVIEW 
 The launch of this Conference is a partnership between the ACG Chapters in Detroit, Western Michigan and Toronto.   At this event, business leaders from both the U.S. and Canada will be able to network and learn more about Cross-Border Trade, Commerce, Investment and Public Policy opportunities. 
Canada and the U.S. have had a long partnership in Trade and Commerce.  In addition, the Province of Ontario and State of Michigan are leading trade partners.  The new USMCA agreement was signed by all three parties in November 2018 and is now pending ratification by each country in 2019.  
Monday, March 4, 2019
SPECIAL Opening Reception
6:00 PM – 8:30 PM Cocktails and Appetizers
Tuesday, March 5, 2019
AGENDA 
7:30 - 8:00 AM         Registration and Networking Breakfast
8:00 - 8:05                Welcome and Introduction
8:05 - 8:35                KEYNOTE SPEAKER
The Canada – U.S. Connection
Introduction - Event Sponsor 
Speaker(s) – TBC 
8:40 – 9:00               PUBLIC POLICY UPDATE 
9:05 – 10:05             PANEL DISCUSSION
The March to Managed Trade - USMCA, Steel and Aluminum Tariffs, China, Auto Tariffs, and Trade Diversification
Session Chair - Event Sponsor – Dickinson Wright PLCC
Speakers
10:10 – 10:25           BREAK
10:25 – 11:25           PANEL DISCUSSION
Cannabis in Canada & the U:S: - Convergence and Divergence
Session Chair - Event Sponsor     
Speakers – TBC 
11:30 – 12:30           PANEL DISCUSSION
Ontario and Michigan - The Future of Canada – U.S. Trade & Investment
Session Chair – TBC          
Speakers – TBC 
12:35 – 1:15             LUNCHEON & KEYNOTE SPEAKER
The Canada-U.S. Connection & Luncheon
Introduction - Event Sponsor
Speaker - TBC 
1:15 – 1:25               CLOSING REMARKS 
1:25 – 1:30               ADJOURNMENT     
Hosted by:
ACG