Image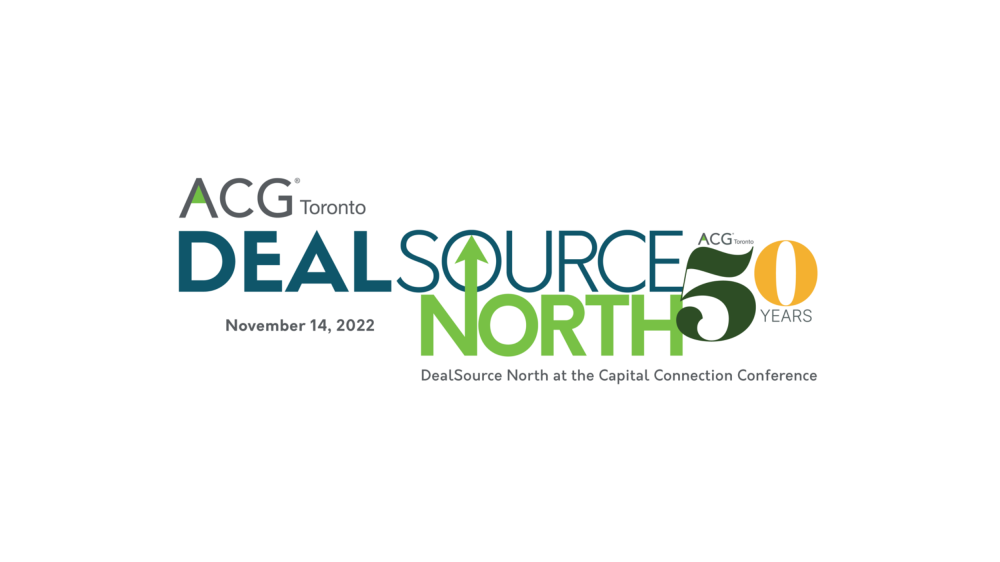 Event Details
When:
November 14, 2022 9 AM - 3 PM EST
Overview
Registration is now closed. We look forward to seeing you in 2023.
ACG Toronto hosts DealSource North Conference, Canada' s largest program for middle-market dealmakers, in conjunction with the Capital Connection Conference.
Investment Banks and M&A Advisory firms from Canada and the U.S. will host a series of 1/1 meetings, with Private Equity firms, Capital Providers and Family Offices, to discuss Deal-Flow opportunities at Arcadian Loft in downtown Toronto.
Here are the companies that will be attending DealSource North @ Capital Connection:
Alphi Capital
Apex Capital Advisors
Archer Growth Partners
Argyle Capital Partners
Ascension
Auctus Capital Partners
Audax Private Equity
Banyan Capital Partners
BDC Growth Equity Partners
BDG
Bessemer Investors
Blue Point Capital Partners
Cascade Partners, LLC
CIBC Cleary Gull
CIVC Partners
Clearlake Capital Group
Cyprium Partners
DeltaCap
Duke Royalty
Ernst & Young Orenda Corporate Finance Inc.
Fengate Private Equity
Finquest
FirePower Capital
Forum Asset Management
Great Rock Capital LLC
H.I.G. Capital
Hamilton Robinson Capital Partners
HELIA CAPITAL
Incline Equity Partners
Industrial Opportunity Partners
Insight Equity
Instar Asset Management
Instar Asset Management Inc.
Kilmer Group
KPMG Corporate Finance
Kroll Corporate Finance Canada
KV Capital
Lazard Canada Inc.
Left Lane Associates
LLR Partners
Main Street Capital
Mangrove Equity Partners
Mangrove Equity Partners, Lp
Middleground Capital
MidStar Capital
MNP Corporate Finance
MNP Corporate Finance Inc.
Monomoy Capital Partners
National Bank Financial
New State Capital Partners
NORACAP
NORCAP Global Partners
Northlane Captial
Novacap
Origin Merchant Partners
PNC Riverarch Capital
RAF
Raymond James Ltd
Raymond James Ltd.
RBC
RBC Mid-Market M&A
Red Arts Capital
Regimen Equity Partners
Richter
River Associates Investments
Roynat Equity Partners
Sagard Private Equity Canada
Sentinel Capital Partners
Sheridan Capital Partners
ShoreView Industries
Siena Business Lending, LLC
Snowdon Partners
Stellex Capital Management
Stikeman Elliott LLP
TD Bank
TD Securities
Tenex Capital Management
The Riverside Company
Trivest Partners
Walter Capital Partners
Welch Capital Partner
Welch Capital Partners
White Wolf Capital Canada
WhiteHorse Capital
Wynnchurch Capital
Hotels
ACG Toronto is pleased to offer participants a preferred discount rate at the Sheraton Centre Toronto Hotel. Details including the link to book with our preferred rate are included in the registration confirmation email.