Image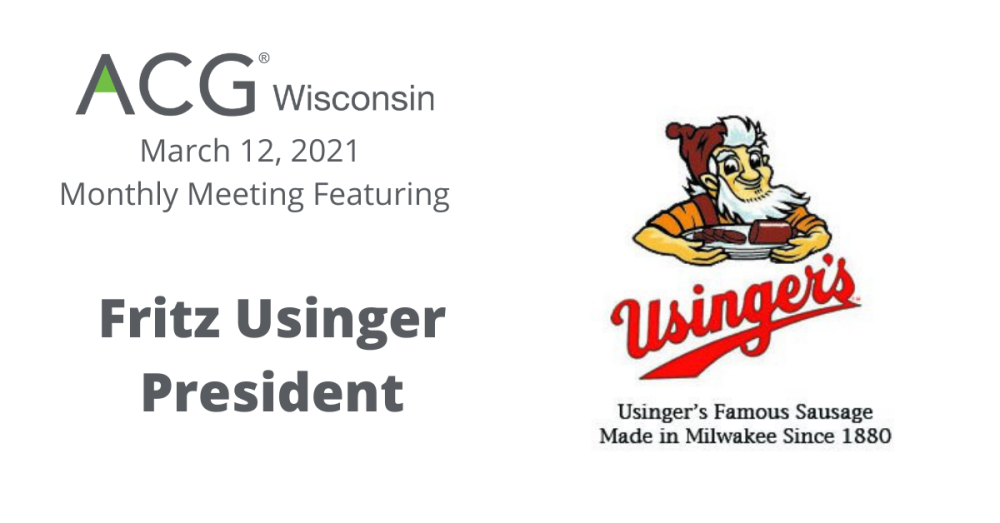 Event Details
When:
March 12, 2021 7:15 AM - 9:30 AM CST
Where:
Location Name
Italian Community Center and Zoom Webinar
Add to Calendar
Overview
Body
The Usinger family began making sausage in Milwaukee in 1880. Well known for the downtown retail store and more than 150 types of traditional and European style sausages, Fritz Usinger will guide you on a behind-the-scenes peek into this institution. With more than 150 employees and two production plants, you will also learn how Usinger's product line continues to evolve to meet the needs of an ever-changing marketplace and industry.
Event Secondary Body
This event is for ACG members, their guests, and prospective members.  Please register online.
Note: Non-member registrations will be reviewed to ensure registration is with or sponsored by an ACG Wisconsin member.
Program Fees
ACG Wisconsin Members: Complimentary
ACG Wisconsin Member Substitute: Complimentary
Prospective Corporate Member: Complimentary
Non-Corporate Guest of an ACG Member: $35 (Must be registered by the ACG Wisconsin member)
ACG Member of another Chapter: $35
Service Members-in-Waiting: $25, in addition, you must attend with a prospective corporate member
NextGen Members: Up to 2 complimentary meetings per year
All Other: Contact ACG Wisconsin
Hosted by:
ACG
Attendee List
Event Materials
Event Materials
Additional details coming soon.