Image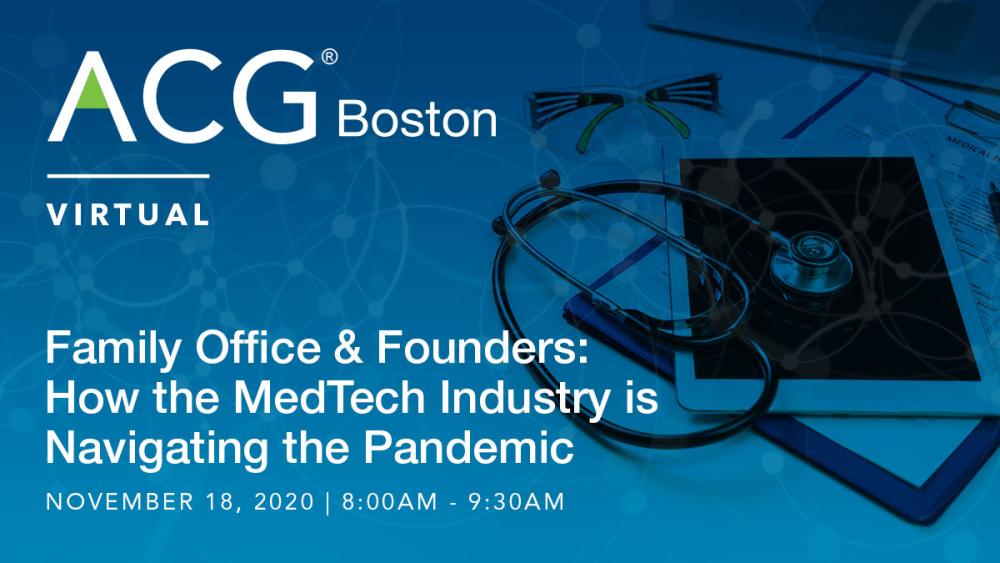 Event Details
When:
November 18, 2020 8 AM - 9:30 AM EST
Where:
Add to Calendar
Overview
Body
ACG Boston invites you to join fellow family office investors and company CEOs for our invitation-only Family & Founders event focused on the MedTech industry.
You'll hear from Chris Velis, Founder and Executive Chairman of Miraki Innovation, who will discuss the current state of the market, how the Medtech industry is recovering from the pandemic, and how companies in the space are navigating during this time. Chris will be joined by Nisha Varma, Chief Operating Officer of BOA Biomedical, who will dive into BOA's infectious disease diagnostic and therapeutic technologies, and review how BOA was licensed and moving towards clinical studies well before the pandemic.
Following the presentation, attendees will be broken up into breakout rooms for small group discussion and networking.
If you are a family office or company CEO/founder, please email us for an invitation.
Speakers
Image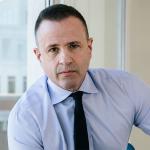 Christopher Velis
Founder and Executive Chairman
Miraki Innovation
Gravitational leadership exists when an individual's passion, determination and forward movement attracts a loyal and broad following. Christopher Velis creates such a wake. His magnetism does not arise from a charging presence, but rather deep intellectualism, an innate ability to listen and unlimited capacity to care — a trait he developed at a young age watching his father succumb to cancer.
Chris' quiet confidence masks his relentless drive. Be it racing cars, martial arts or investment banking, his commitment to mastery is hard to refute. Yet it was during his tenure on Wall Street, working on healthcare mergers and acquisitions, that he realized what he could achieve to saves lives and reduce suffering. From there, he never looked back. 
Over the past three decades, Chris has become a world-renowned medical technologist. Companies Chris has worked on have set the industry gold standard for motion preservation, regeneration of cartilage and soft tissue through the use of novel peptides, tissue regeneration using DNA pairs, and stem cell and PRP technologies for use in regenerative medicine. Throughout his career, Chris has represented more than 150 medical device companies in a variety of business transactions including licensing agreements, joint ventures and M&A.
Chris reinvented surgical robotics with the founding and eventual $5.75 billion total exit of Auris Health. Chris has now turned his sights on revolutionizing the way we battle infectious disease, inventing surgical robots that can do what human hands cannot, and bringing technologies aimed to optimize human performance to the world.  
Chris attributes his success to his passion for entrepreneurial science, a differentiated approach to venture investing, and the ability to assemble the top minds to tackle a problem into teams that push to the cutting edge of performance. His friends credit his ability to manifest a market advantage like no other to his badger-like ability to unearth, and subsequently nurture, relationships with off-grid research departments that invest hundreds of millions in new technologies. 
Chris has given talks at the Hamlyn Symposium on Medical Robotics, China's Global Innovation and Entrepreneurship Fair, the U.A.E.'s Innovation Week, Massachusetts General Hospital's Biotech Funding Panel, LSI's Emerging MedTech Summit and Harvard University's Medical and Kennedy Schools. In 2016, Chris was honored by the U.A.E.'s Ministry of Health for his commitment to bringing MedTech innovation to MENA. He has been featured on NBC10, the Wall Street Journal, Boston Business Journal and PE Hub. Companies he has founded have won numerous awards including MedTech Insight Award for Best Technological Innovation, CNBC Disrupter 50, Acquisition International Finance Award for Best Medical Technology VC Firm and Corporate LiveWire M&A Award for Health & Medical Technology Consultancy of the Year.
Image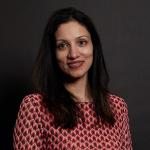 Nisha Varma
Chief Operating Officer
BOA Biomedical
Nisha Varma brings over 15 years of experience in direct investing, portfolio management, engineering and strategy for major multinational companies. As chief operating officer of BOA Biomedical, Varma focuses on licensing new patents, developing the company strategy, advancing corporate partnerships, overseeing operations, and commercializing new products. Before joining Miraki Innovation, Varma was Vice President at GE Capital's Private Equity group, where she originated, underwrote and managed equity investments. Before GE, she was an Associate at McKinsey & Company, where she advised major companies on marketing and strategic issues. Prior to McKinsey & Company, Varma worked on projects with early stage companies. Varma began her career as a computer engineer at Schlumberger. Nisha holds a Bachelor of Engineering in Electronics and Communications Engineering from Osmania University, a Master of Engineering in Computer Engineering from Texas A&M University and a Master of Business Administration from Harvard Business School.
Event Secondary Body
Please note: this event is by invitation only for family office investors and company founders/CEOs.
Hosted by:
ACG