Image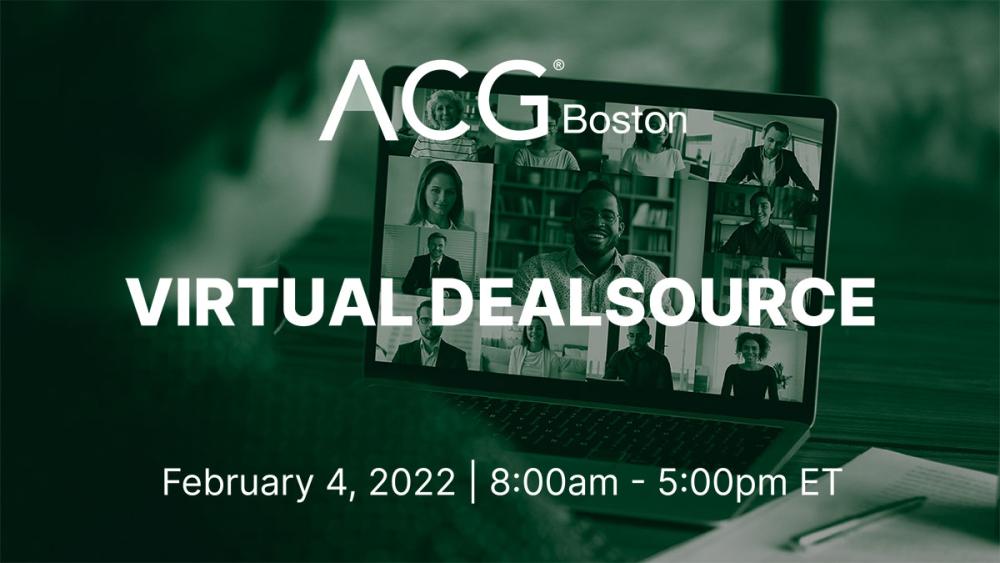 Event Secondary Body
*Online registration for this event is now closed. For questions, please contact ACG Boston.
 
ACG Boston would like to extend an invitation to investment banks, family offices, and private equity ACG members to participate in a virtual DealSource on Friday, February 4, 2022.
Using our exclusive platform, ACG Access, investment banks, family offices, and private equity firms can pre-schedule 1:1 virtual meetings with other investment banks, PE firms, family offices or corporate development professionals, all facilitated within secure virtual rooms. The platform will be available for use all day on February 4 from 8:00am-5:00pm ET, but participants have the flexibility to schedule as many meetings as they'd like, block off their schedule when not available, and invite their colleagues to join without having to leave their desk!
Participants control when and with whom they want to meet, creating a schedule that works for them!
If you are an investment bank (member or non-member), family office (member or non-member), or private equity ACG member, please email us for an invitation.
ACG Access
The scheduling tool will be available a week before the event (exact date TBA). You will receive an email to the email address you used to register for this event with the link and information on how to log in.
Click here for an ACG Access user guide.
Pricing
Investment Bankers: Complimentary
Family Office Professionals: Complimentary
Corporate Development Professionals: $100
PE Firms (1 registration per firm): $100
Note: PE registration is limited to ACG members only, and will sell out quickly. We are currently allowing only 1 registration per firm, but your colleagues can be invited to join the meetings, after those meetings have been confirmed, at no additional cost. Multiple meeting tracks for a single PE firm are not currently available.
Hosted by:
ACG